Easy insurance application
Quick claims process
Flexible monthly premiums
In-page navigation
---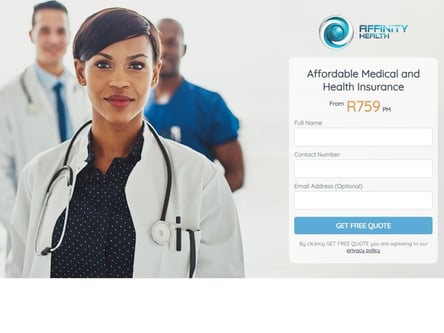 Author Affinity Health. Screenshot of Affinity Health website.


[Accessed February 7, 2023]
About Affinity Health
Should you require medical insurance from a firm that works efficiently with providing quotes, Affinity Health should be your ideal choice.
Should you want to request a quote, you may do so online by entering your name and contact details to get started. Followed by providing more specific details of yourself so they can ensure your agreement is tailored to your requirements and pocket. They also have an email you could easily contact them on or you could go to a branch.
Affinity Health was originally founded in 2011 and its main goal was to provide those who can't afford private health care with the means to access it through their medical insurance plan. They have been assisting thousands of people to obtain access to better healthcare by bridging the financial gap.
They offer day-to-day as well as hospital plans and should you wish to, you can combine the two and get the best of both plans. They are all about practicality hence why they have simplified both their application and claims process.
The quotation process
They have added a tool on their website which allows you to provide your contact details once you do that a trained staff member will contact you to find out more about you and the situation you are currently in.
They will want information like your age, health history, marital status, and roughly what your income is. These are all categories that are looked at when assessing profiles to determine risk and could affect your instalment or application status.
Affinity Health Services
Affinity Health offers a wide range of medical insurance plans that you can choose from based on your needs and budget.
These plans are as follows:
Day-to-day
This is a plan that caters to your day-to-day medical expenses such as dental cover or optometry visits, etc. Within this plan, you also get unlimited free visits to your GP making it easier on your pocket.
This plan begins at R649, when adding a spouse or a child to the policy the amount increases according to the stipulated amounts. The increase is subject to the member being added in terms of age and health.
Hospital plan
This plan provides you with numerous benefits when you have been hospitalized due to an accident, illness, or any other medical emergency. The benefit that stands out with this plan is that you gain access to private hospitals.
For this plan policy rates begin at R1028, this amount is subject to change according to the members added based on what age category they fall under.
Combined
When you wish to have both day-to-day and the hospital plan combined this option allows you to enjoy the benefits of both but at a lesser price when you combine them. For an instalment of R1488 per month, you can enjoy the health insurance benefits for a bargain price, whereas your original total would have been R1677.
Affinity Health – Medical Insurance
Product

Medical Insurance
Price

Get affordable day-to-day cover from as little as R719 a month

Combo cover

You can get a combination of day-to-day benefits and hospital cover from as little as R1629 a month
Benefits of Affinity Health
Comprehensive network - Affinity Health has a very comprehensive network of doctors and hospitals with whom they have negotiated the best possible care at the best prices for you.
Dentistry and optometry - the day-to-day benefits include dentistry and optometry for you to get all your needs met.
Service agents - Affinity Health has a dedicated team of specialists who can give you advice on which cover would best suit you.
---
Choose a plan that meets your needs
They have three booster categories including the accident booster, chronic essential, and ICU benefit.
Underneath are several add-ons that you may add to your insurance policy. This gives the client the freedom to select exactly what they need and not pay for benefits they will never need.
Start your application process
Your identification document as well as anyone you add as a member, for minors you can use a birth certificate.
Have proof of income
Main members need to be 18+ to apply.
Proof of residential address
The application process
Step 1
You will submit your basic contact details for them to get in touch with you. They then formulate a plan that meets all your requirements according to what type of plan you have told them you want.
Step 2
Once you are satisfied with the plan and the cost you may request an application form, fill it in and attach all the necessary documentation and submit it either online, via post, or in person at one of their branches.
Step 3
They will process and assess your application according to their criteria and will contact you again if they need to for any other details. Once they've approved your application, they will send you the agreement to read, sign once you're satisfied, and send it back to them.
Affinity health insurance benefits:
Their site is efficient and there is a contact method for each issue you might want to address so that one sector doesn't experience too much traffic.
They provide the best rates they possibly can with as many benefits as possible.
They break down the additional benefits into single ones so that you don't have to add a full package but rather just the exact benefit you want.
They have a team of friendly consultants waiting to assist you with whatever you need.
The application can be completed in the comfort of your own home as it is entirely online.
Customer Reviews & Testimonials
"
February 2021
I found it difficult to get medical insurance that suited my needs without unnecessary benefits that I wouldn't need. My plan is perfectly suited to me and my needs.
Adams A.
— Richards Bay —
April 2021
Their staff is very helpful and super friendly.
Freeman M.
— Port Alfred —
October 2021
I'm someone who always needs to see a doctor and having unlimited free GP visits is a huge help.
Masego T.
— Johannesburg —
Affinity Health Contact
Contact Number
E-Mail
Website
Physical Address
1 Dingler St, Rynfield,

Benoni

Gauteng

1514

South Africa
---
Postal Address
Posnet Suite 124, Private Bag x101, Farramere, , Benoni, 1518, South Africa
Opening Hours
Monday

08:30 – 16:30

Tuesday

08:30 – 16:30

Wednesday

08:30 – 16:30

Thursday

08:30 – 16:30

Friday

08:30 – 16:30

Saturday

– Closed

Sunday

– Closed