Fast insurance quotes
Affordable premiums
Friendly and helpful staff
In-page navigation
---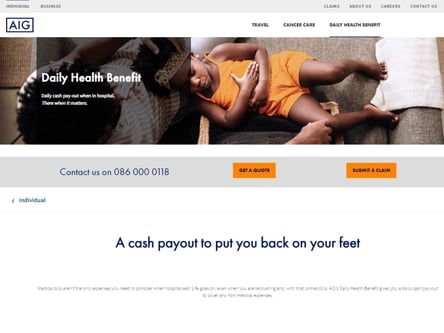 Author AIG. Screenshot of AIG website.


[Accessed February 7, 2023]
About AIG
Have you ever considered the fact that your medical aid might cover most costs but there might always be additional unforeseen costs to take into account? This is where AIG's medical insurance can help you fill the gaps.
Get the immediate cash you need for you to pay for any medical aid shortfalls, travel costs, airtime, accommodation for a family member, or for whatever you need it for to get you through a trying time.
Millions of South Africans have been trusting a global giant in the insurance industry, American International Group, Inc. (AIG), with their lives for over six decades. Access straight to the point, clear and trustworthy insurance that will protect you financially when the worst happens from a fast, transparent, and experienced insurer.
AIG is reliable
They have been delivering impeccable services and products in over 80 countries for the last 100 years across the world and have been in South Africa since 1962.
Insuring the building project of the Gariep Dam in 1962 was the first service they provided in South Africa and they greatly expanded from there, by further insuring government organizations and some of the country's top small and medium-sized businesses as well as providing insurance to individuals and now have multiple offices all over the country.
Get your medical insurance from a company that is extremely focused on the needs of their clients and how they can adapt, evolve and grow their products to better address those needs. They have strong relationships with their business partners, enabling them to always operate, innovate and develop from a position of strength and sustainability.
AIG Services
With AIG medical insurance you can receive instant cash directly when you get ill, are hospitalized, are in an accident, or need maternity care.
You can enjoy a daily cash payout of up to R1000 per day when you are admitted to the hospital. With this health insurance solution, you can rest assured that your entire family is properly covered.
Cover the following loved ones under your policy:
Your spouse
Up to five of your children aged under 18 (under 25 if they are still full-time students)
The great part is that you can enjoy the cover instantly from the moment your first premium went off.
Critical illness cover
Access a cover that will pay out an amount of between up to R50,000 and up to R300,000 in full upon the first diagnosis for a heart attack, cancer, stroke, kidney failure, or heart failure. You can enjoy comprehensive low-cost critical illness coverage from 90 days of your cover start date and up to the age of 75.
Lifetime personal accident insurance
Obtain cover of up to R1 Million to help you cope financially in the event of disablement due to an accident. This cover is mainly there to help you take care of your finances in the event that you are no longer able to earn an income to provide for yourself or your family.
This money can also be used for several other disability-related costs like home adjustments, wheelchair, physiotherapy, counselling, or whatever you might need to help you and your family.
AIG – Medical Insurance
Product

Medical Insurance
Instant cover

Get immediate cover after your first premium is paid for hospitilisation due to an accident

Cover you whole family

Cover you, your spouse and up to 5 children under on policy

Payouts

Receive up to R1000 per day that you are in hospital
Benefits of AIG
Critical illness cover - get a lump sum payout if you a diagnosed with one of the five dread disease. These include cancer, first heart attack, kidney failure, heart disease and stroke.
Travel insurance - make sure you are covered for a medical emergency while you are traveling. You can also cover your bags and personal belongings for theft and damage.
Business insurance - AIG has a wealth of comprehensive business insurance solutions including cyber theft and marine cargo
---
Apply for Medical insurance with AIG
To apply for medical insurance with AIG as a South African you need to produce a few documents.
You will need:
Have a valid SA ID number
Be not younger than 18 or older than 65
For Maternity benefits you need to be between the ages of 18 and 49
A cell phone number or an email address for them to contact you on
A bank account
Application process
One: Fill in your name, surname, and contact number and tick the box to permit them to call you for assistance.
Two: They will call you shortly after and ask you a few questions to complete their underwriting process. They will then also discuss with you the best medical insurance quote for your needs and budget.
They will also discuss all exclusions and waiting periods with you to make a proper decision, their waiting periods include and is not limited to:
maternity cover has a 12-month waiting period
For all covered causes except for an accidental injury, there is a 3-month waiting period from the day your first premium went off
For pre-existing conditions, there is a 12-month waiting period
Three: Provide them with your banking details and your preferred debit date to finalise your policy.
AIG Medical insurance benefits
For accidents or injuries, there are no waiting periods at all
You can submit a claim online, over the phone, or via email for a quick response
Affordable cover
Be able to pay for unforeseen costs in the event of hospitalisation
Friendly and experienced staff
Fast claims process
Customer Reviews & Testimonials
"
August 2021
Got a great deal with AIG and can now have the peace of mind I need for myself and my family.
Vosloo J.
— Bloemfontein —
May 2021
Great service delivery and well-trained and knowledgeable staff, I spoke to a very helpful consultant.
Kola S.
— Cape Town —
December 2020
They were able to answer all my questions and were straight to the point and open, and will definitely recommend them.
Booysens J.
— Graaff-Reinet —
AIG Contact
Contact Number
E-Mail
Website
Physical Address
Centennial Place, Ground Floor, East Block 1 Bridge Place, off Century Blvd, Century City,

Cape Town

Western Cape

7441

South Africa