Effortless medical insurance
Online application process
Simple claims process
In-page navigation
---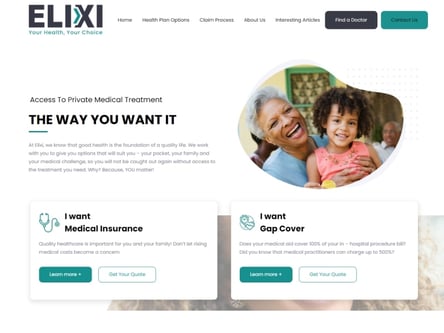 Author Elixi. Screenshot of Elixi website.


[Accessed February 7, 2023]
About Elixi
As people, we are often faced with unpredictable circumstances concerning our health.
Medical insurance allows you to put your mind at ease knowing you and your family will not have to compromise on the quality of health care you receive. Elixi has made it possible for you to receive a quote for no additional cost by creating a feature on their website called a medical insurance cost calculator. This enables you to enter your details and view the charges on all their plans.
You can contact them telephonically for queries, email them, utilize the online resources or visit their branch. You can enter your contact details and one of their friendly experts will contact you to complete the process of the application.
They have been striving towards helping hundreds of people, since they were founded in 2017, to secure themselves with a health insurance plan that is affordable. Their staff has been trained extensively into ensuring that any query is handled with utmost care. Upon submitting your contact request on the website they are quick with getting back in touch with you.
They have four different levels of medical insurance plans. You can look through the benefits of each one and choose the best match according to your budget.
Get Medical insurance
Elixi is aware of the situation within South Africa with the pressure on the public health care system. This is because most people can't afford the consultation fee of a private GP. Elixi has bridged that gap with its medical insurance scheme.
Should you need assistance in selecting a plan best for you, their team will be at your disposal where you may state your needs and financial standing and they will work out the best plan for you.
Elixi Services
Elixi medical insurance has a variety of plans that you can choose from.
These plans are as follows:
Blue plan
This is the most affordable plan, it offers primary cover, which allows you unlimited visits to a private GP, maternity benefits, basic health screenings, and several other primary benefits. The plan begins at R369 and as you add more members according to the age criteria the amount will increase.
Purple plan
This is the second level in the plans they offer. This offers everything the blue plan does and some more. Along with the primary cover, you will receive an additional accidental hospital cover up to the value of R260 000. Your installments will begin at R499 and increase as you add more members. They also provide hospital benefits such as emergency services, accidental death benefits, and many more.
Gold plan
This is the second-highest plan they offer with three additional primary cover benefits which are; chronic medication, dental treatment, and optometry. Their monthly instalment begins at R595 and is adjusted according to the members you add.
Within this plan, accidental hospital care is up to the value of R1,250,000. The hospital benefits from the purple plan remain the same in the gold plan, you will just receive more financial cover.
Black plan
This is the highest plan available and includes all the benefits. This covers all the primary benefits in the gold plan and in addition, includes visits to specialists. The monthly instalment begins at R790 and this is adjusted according to your quote's specifications. Your accidental hospital cover remains at R1,250,000 with the benefits remaining the same, you will just access more financial coverage.
Elixi – Medical Insurance
Product

Medical Insurance
Price

Get cover from as little as R369 a month

Why Elixi?

Elixi offers medical insurance which still has day to day benefits but does come with the price tag of a medical aid.

How to use Elixi

Your medical insurance from Elixi can be used to cover the shortfalls from your traditional medical aid.
Benefits of Elixi
Complete online solutions - get your quote online by filling in the form on the website. If you are happy with your quote you can then buy your cover with no paperwork.
Medical Claims - With most medical practitioners you can give them your Elixi Card and your ID and they will submit the claim directly to Elixi
Gap cover - Add gap cover to your day to day benefits to make sure you are fully covered
Gap Cover Claims - Send your form and accounts to Elixi for them to assess and reimburse you.
---
Get Medical insurance with Elixi today
Value-added services are additional services that Elixi offers to their clients at no additional cost, subject to the terms and conditions.
These services include household assistance, crisis centre, legal assistance, and funeral cover.
The application process
Documents needed to apply;
Main member's ID, ID/ birth certificate for minors, for those added on the plan.
Proof of address.
Payslip/ breakdown of assets, expenses, and liabilities.
The main member must be 18+.
Must be a South African citizen.
Easy steps to apply
Step 1
You get a quote from their online cost calculator that will work out your instalments per plan. You can then select the best-suited plan or enter your details for a consultant to contact and assist you.
Step 2
Once you have chosen a plan, complete your application form with your details and the required documents and send it to them via email or you can go to your nearest branch. They will analyse your application according to their terms and conditions and provide feedback as soon as possible.
Step 3
If your application was approved, they will then send you the agreement to review and sign, once you are satisfied with the stipulated terms.
Benefit from Elixi
Elixi is medical insurance that was founded after they had done thorough research into South Africa's medical healthcare system and found that a lot of people can't afford private healthcare or pay for medical aid. They aim to not only take some of the strain off the public health care system but to give people the means to afford private healthcare. You will benefit with;
Unlimited GP consultations
Pre-birth maternity care
Chronic medication
Accidental hospital cover
Regular basic health screening
Access to specialists, and many more
Benefit from their services
Receive a quotation at no additional cost
Applications can be handled online or at their branch whichever is more convenient for you.
With their selection of plans, you will be assisted by their trained consultants to find the best plan for you.
Customer Reviews & Testimonials
"
August 2021
Elixi has helped me a lot. I am my mother's only child and I receive an average salary, she is a very sickly woman, and having access to a private doctor all while not paying a consultation fee i...
Smith M.
— Johannesburg —
March 2021
I had been struggling to figure out what plan would be best suited to me when I was contacted by a consultant, they were friendly and helped me pick the best plan.
Hermanas J.
— Free State —
December 2020
I am currently on the purple plan and the accidental health care feature has been really helpful as I was in a motor vehicle accident and it helped with covering all the costs I did not plan for.
Plaaitjies M.
— Bellville —
Elixi Contact
Contact Number
E-Mail
Website
Physical Address
8 De Winnaar St, Halfway House, Midrand,

Johannesburg

Gauteng

1685

South Africa