Compare medical insurance
Quick lumpsum payout
Easy online application
In-page navigation
---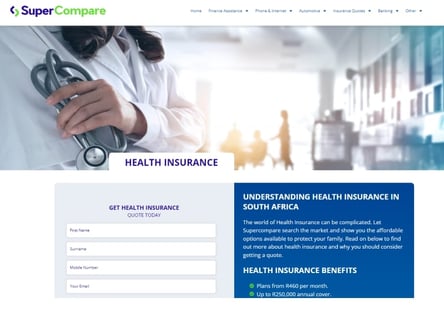 Author Super Compare. Screenshot of Super Compare website.


[Accessed February 7, 2023]
About Super Compare
Just the thought of not having the finances to pay for proper medical care when your own life or the life of a close family member is at risk is daunting.
With Super Compare you can compare an extensive list of medical insurance options from leading insurers in the country to find the peace of mind you are looking for at the very best value for money prices.
They only work with industry giants like 1Life, Clientele, AllLife, Mutual & Federal, Renault, Budget insurance, Omart, PMD, and many more, providing the public of South Africa with a range of products and services. A strongly motivated and innovative company with multiple upcoming new products as they are soon launching deals for gaming, jobs, internet deals, and more.
Compare with Super Compare
Remember every time you apply for, or do a quote for health insurance, a credit check is done on your name, this can be very harmful to your credit score, especially when you contact five or six different providers to get the best deal.
With Super Compare you will be able to save not only your score but also your time and effort as well as money. You can utilize their customer-friendly site to search for the greatest deals, whether you are looking for a new cell phone, a car service plan or warranty, a credit card, current account, personal finance or business finance, or Life, vehicle, house business or health insurance.
Super Compare Services
Protect yourself and your family by getting the most value for your money through Super Compare.
They will search the market for you and snuff out all the greatest deals available, you can then compare and choose the most suitable health solution for you.
With them you will find the following:
Low-priced plans from only as little as R360 per month.
Annual cover of up to R200,000.
Lump-sum payouts of a maximum of R20,000 if you are admitted for more than 72 hours.
If you need to stay in the hospital for longer than 10 days you can access a cash benefit of R2,000 per day.
Maternity benefits are included.
When you claim you also get R50 paid airtime paid.
Cover up to 4 of your children for free.
You can also opt for benefits like accidental death and accidental disability as well as dread disease on your health insurance cover that can cover you for an amount of up to R200,000.
Life insurance explained
Super Compare can help you find life insurance that is just the right life cover for your budget, your debt, and your needs. People without life cover die every day, leaving their families in unimaginable financial situations. This doesn't have to be you, after all, you wouldn't want your family to struggle when you're gone.
Obtain up to R10 million of cover for your life.
You can have up to 10 beneficiaries.
Only a standard HIV blood test is required.
An R50,000 funeral benefit.
Super Compare – Medical Insurance
Product

Medical Insurance
Price

Get cover from as little as R360 a month

Payouts

You will be paid out up to R20 000 in a lump sum if you are admitted for at least 72 hours
Benefits of Super Compare
Loans - Let Super Compare assist you in getting quotes on different loans from vehicle finance to a home loan. If you compare you can save.
Insurances - Source and compare insurance quotes including home contents and building, business and life insurance
Phone and internet - Get connected with phone and internet quotes from Super Compare
---
Get competitive prices with Super Compare
You can get multiple comparative quotes without damaging your credit score.
One: Fill in your details online, to access tailored quotes from several leading insurance companies in South Africa. They will only need your name, surname, mobile number, and email address.
Two: Answer a few quick and basic personal, medical, and lifestyle questions to complete a hassle-free underwriting process.
Three: Compare multiple quotes and choose the best one for you.
Questions they might ask you:
Your age
If you have any pre-existing conditions
If you are a smoker or not
Your Height and weight
Your occupation
How many members you would like to cover under your policy
How much cover you are looking for
Benefits of Super Compare health insurance
Do a fast comparison
Best value for money options
Quick claims process
Peace of mind by having quality medical insurance
Quality medical care
Customer Reviews & Testimonials
"
May 2021
I got everything I needed in just a few minutes, a great comparison site.
Jansen J.
— Jeffreys Bay —
September 2021
Extremely happy with the medical insurance deal I got through the help of Super Compare.
Nel J.
— Pretoria —
October 2021
High-quality service and insurance options are available, will definitely recommend them to anyone.
Kotze J.
— Durban —
Super Compare Contact
Contact Number
E-Mail
Website
Physical Address
312 Kent Ave, Ferndale, Randburg,

Johannesburg

Gauteng

2194

South Africa