Flexible insurance plans
Affordable monthly premiums
Effortless online application
In-page navigation
---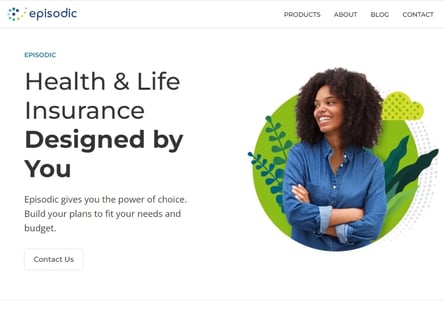 Author Episodic. Screenshot of Episodic website.


[Accessed February 7, 2023]
About Episodic
Get your medical insurance from an insurer you can trust with your life.
Episodic don't believe in just asking you for your trust as they believe in working hard to earn it. They understand that every person or family has different financial circumstances with different medical health needs.
Episodic also knows that you are the one that understands your situation the best, that is why they put the important decisions regarding your medical health in your hands as no one else should make these decisions on your behalf.
Get uniquely designed health insurance based on your finances, lifestyle, and health through Episodic, the most adaptable, straightforward, transparent, and sustainable medical insurance in South Africa.
Whether you are looking for peace of mind for your day-to-day health issues, accident emergencies, planned or emergency hospitalization, Episodic has all of that and more.
Affordable Medical health insurance
When you are looking for health insurance you need to ensure that the insurer is fast and accurate, not just at the inception of cover but also and more importantly at the claim stage.
Episodic was formed in 2019 to primarily service and assist all AfroCentric EssentialMED customers as AfroCentric EssentialMED made a decision to solely be an underwriting management agency.
So Episodic started very strong as they had to service already existing clients and just went from strength to strength from there, designing new and innovative products, branching out, etc.
Through their high values and superb experience, thousands of South Africans rely on them for financial assistance during difficult medical issues.
You can enjoy optimum flexibility with their medical health products and services at an extremely affordable price that will suit your budget. Remember you can add this cover onto your medical aid for advanced coverage.
Episodic Services
Access a variety of day-to-day plans starting from only R397 pm that will help you to cover unforeseen costs.
This covers for:
Nationwide GP visits.
Dentistry (different options available).
Chronic medication as well as acute and some over-the-counter medication from a network of pharmacies and doctors.
Pathology and Radiology for X-rays and blood tests.
Different Optometry options are available to cover eye tests, glasses and frames.
Medical cover for when you get referred to a specialist by a network doctor.
Hospital cover Medical insurance
This cover will help you to cover medical costs for your planned or unplanned visits to the hospital. You will be covered for up to 21 admitted days for an amount based on your chosen level:
Level 1
This allows for up to R6,500 cover for your first day, up to R4,500 for your second and third days each, and up to R1,500 per day afterwards.
Level 2
This will pay out up to R10,000 for your first day, a maximum of R6,500 for your second day, a maximum of R5,000 for your third day, and up to R1,500 for each day after that.
Level 3
This will cover you for everything under level 2 plus multiple other cash benefits for various issues such as hernias, appendectomies, gallbladders, kidney stones, miscarriages, hysterectomies, etc.
Accident and emergency benefits
Have you ever really thought about what will happen to your life, the lives of your loved ones, or your finances if you get into an accident?
Episodic has:
Access to a plan that will cover you in the event of an accident where hospitalization is required.
A 24/7 emergency service.
All private and public hospitals can be used.
Episodic – Medical Insurance
Product

Medical Insurance
Flexibility

Episodic understands that your needs change as you move through life. They strive to create products that you can tailor make to your budget and needs

Online solutions

Choose the cover that you think best suits you. Then you can easily request a quote online and have the cover structured to your needs
Benefits of Episodic
Accidents and emergencies - Add hospital cover, emergency hospital visits and permanent disability cover
Funeral cover to protect your family in the event of your death and all the costs that may come with this for an additional R26 a month
Day to day medical cover - use Episodic network professionals for your medical needs. This includes optometry and dentistry. They have already negotiated prices so you will save.
---
Easy application process with Episodic
Applying for medical insurance with Episodic is an easy process.
Get your peace of mind today, by following a few easy steps:
Step one
Fill in their online form.
Step two
Speak to an experienced and informative consultant that will work with you to put the best suited medical insurance option in place for you and your family. They will also take you through the terms and conditions including certain waiting periods, limits, and exclusions so that you can make an informed decision.
Step three
Select a debit date for your debit order to go off on and provide them with your banking details upon acceptance of your policy.
Start your application by filling out the following details:
Your name and surname.
Your email address.
Contact number.
The members you would like to be covered under your policy, adults must be under 65 years of age, and children must be under the age of 21 or under 26 if they are still students, and you can add up to 6 children per policy.
You'll need to advise if you have any existing medical aid or health insurance cover.
Select the benefits you are looking for.
A suitable time for them to call you.
Choosing Episodic is a great idea
You get to choose.
Quick insurance claims process.
Enjoy high-quality customer service.
Obtain comprehensive cover at a low cost.
Adaptable insurance options.
Easy application and underwriting process.
Customer Reviews & Testimonials
"
September 2021
They offer a great variety of covers for a very long list of conditions, I am very happy with the cover I have with them.
Ishmail F.
— Cape Town —
October 2021
A very friendly and knowledgeable expert assisted me through the whole process and answered all my questions, so I was able to make the best and most informed choice.
Maranyane S.
— Sandton —
October 2021
They are great with paying out claims and quick with their customer service, a very trustworthy insurer.
Van Staden J.
— Centurion —
Episodic Contact
Contact Number
E-Mail
Website
Physical Address
Office S10, The Sanctuary Shopping Centre Corner of de Beers Avenue & Broadway Boulevard R44, Paardevlei,

Cape Town

Western Cape

7130

South Africa
Opening Hours
Monday

08:00 – 17:00

Tuesday

08:00 – 17:00

Wednesday

08:00 – 17:00

Thursday

08:00 – 17:00

Friday

08:00 – 15:30

Saturday

– Closed

Sunday

– Closed