Discount medical insurance
No hidden costs
Swift claims process
In-page navigation
---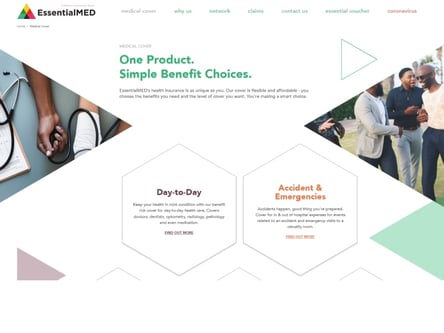 Author Essential Med. Screenshot of Essential Med website.


[Accessed February 7, 2023]
About Essential Med
Are you looking for Medical Insurance with a difference? A tailor-made solution to suit your medical needs? EssentialMED is here to give you just that.
EssentialMED was established in 2005 and with a growing commitment to providing innovative medical insurance, you can rest assured that you and your family's health are well taken care of. EssentialMED has partnered with the AfroCentric group of companies and is becoming even more focused on providing tailor-made medical insurance to all South Africans.
With EssentialMED being a health insurer and not a medical aid, they offer simple, flexible, and affordable products to their clients. With cover as unique as you are, they have a wide range of day-to-day hospital and life insurance packages to choose from. Tailor-made options to include employers and groups and meet their specific industry or company needs.
Choose EssentialMED insurance
When you are in a compromised medical position, being treated with dignity is of utmost importance and the team at EssentialMED understands this all too well, which is why they promise to provide you not only with the cover you deserve but also the dignity.
A part of their promise to you is to be clear, open, and honest about the benefits you are paying for. EssentialMED promises to always go the extra mile to service your requests, even if they are small. Not only do they strive to hold themselves to high standards but they expect nothing less from their service providers.
By giving you options to suit your specific needs and budget, the power of choice is yours. With low rates, carefully put together, you can be assured that you get the most value for your money. By using technology, research, and years of experience, EssentialMED is proud to bring you valuable, efficient, and relevant benefits.
Essential Med Services
Being affiliated with AfroCentric, EssentialMED has the backing and access to resources that no other health insurer can offer you.
By allowing you to choose the benefits you need and the level of cover that best suits you, EssentialMED is the best choice. With these options stitched together to suit you, the power is yours.
Day-to-day
With this option, you can access a wide network of doctors, dentists, optometrists, radiology, pathology, and of course medication. With this cover starting from R396.30 per month for single members and R595.10 per month for families, you have no excuse to not get covered.
Accident and emergency cover
With access to casualty rooms out of doctor's hours, cash amounts to cover hospital costs in an accident situation, immediate cover, and no waiting period, you can use any hospital nationwide. Starting at R165.30 per month for a single member and R196.50 per month per family.
Hospital cover
Cover available for hospital stays, cash payment on a comprehensive list of major illnesses, cover for intensive care stays, and maternity covers no matter the delivery method. Starting from R60.30 per month for a single member and R72.80 per month for families.
Life and Funeral cover
Cash in hand when an insured member passes away, cash payments for an accident resulting in disability for you or your spouse, lump-sum payouts, fewer costs incurred in some cases after treatment. Starting at R39.50 per month for a single member and R46.80 per month for a family. Funeral cover starts at R27 per month per policy.
Essential Med – Medical Insurance
Product

Medical Insurance
Choose your price

The price you pay is your choice. Essential Med Health allows you to tailor make your plan to your needs and budget.

Choose your cover

Choose from day-to-day cover including GP visits, dentistry and optometry. Or hospital plans for your family to cover accidents and emergencies.

Choose your provider

Essential Med Health has a comprehensive network of world class health care providers for you to choose from. By using the network doctors and hospitals you are afforded the best care by the best providers
Benefits of Essential Med
Group cover - Essential Med Health can help you with quality, tailor made affordable cover for your employees.
Added benefits - you can add illness hospitilasation to cover illness not covered in the emergency cover. ICU benefits and maternity benefits can also be added to the hospital benefits. Dread, disability and funeral covers can also be added to your portfolio.
Essential Voucher Program is a savings plan you can uses to redeem vouchers for any Pick and Pay store. Each month there will be a different savings vouchers available to give you more savings on your usual purchases at the store.
How to use your essential voucher - simply register on the Essential Med mobi site. You can then view all the vouchers available but you may only redeem one voucher at a time. Select the voucher you want and show it to the cashier at check out.
---
Cover your employees with Essential Med
By visiting EssentialMED's website, you have the option to download a brochure informing you about the options available to you.
You can put together the package that best suits your company's needs. Once you know what you need you can contact EssentialMED for your quote.
Apply for Health insurance
Obtaining medical insurance does not need to be a daunting task. With all the options available to you from EssentialMED, it is not only easy but also rewarding.
What you will need:
Proof of identification
Bank details for debit order
All relevant information regarding members you want to include
Steps to insure with EssentialMED:
Step one
Go online to EssentialMED's website. Look through the options and decide which tailored package will suit your budget and needs best.
Step two
Click on the request quote button. You will be directed to a list of simple and easy questions:
Your first name
Your surname
Your email address
Your telephone number
Step three
Once you have completed all those questions they will, based on the benefits you need and level of insurance cover put together a package specifically designed for you.
Step four
You will now give more package orientated answers to the following questions:
How many adults need cover
How many children need cover
Do you currently have any medical cover?
What benefits do you need?
Step five
Submit and sit back and relax. An agent will phone you soon to discuss your options with you.
Benefits of EssentialMED Medical insurance
EssentialMED offers you a variety of choices.
They are affordable and flexible.
They have a smart and unique approach to medical insurance.
EssentialMED is a credible institution.
Customer Reviews & Testimonials
"
October 2021
Never have I had the freedom of choice when it comes to health insurance. EssentialMED changed that.
Geyer C.
— Queenstown —
May 2021
A friend told me about EssentialMED for my employees. It was the best and most affordable choice ever. Thank you EssentialMED!
Sinclaire T.
— Germiston —
July 2021
If I knew that there was a way to tailor-make your health insurance, I would not have gone so long without it. EssentialMED offers it all and a lot more.
Van Heerden B.
— Plettenberg bay —
Essential Med Contact
Contact Number
E-Mail
Website
Physical Address
Unit G02 Crossfire Place, 15 Gardner Williams Ave, Paardevlei,

Cape Town

Western Cape

7130

South Africa
Opening Hours
Monday

08:00 – 17:00

Tuesday

08:00 – 17:00

Wednesday

08:00 – 17:00

Thursday

08:00 – 17:00

Friday

08:00 – 16:00

Saturday

– Closed

Sunday

– Closed