Various insurance plans
Easy online application
Discounted premiums
In-page navigation
---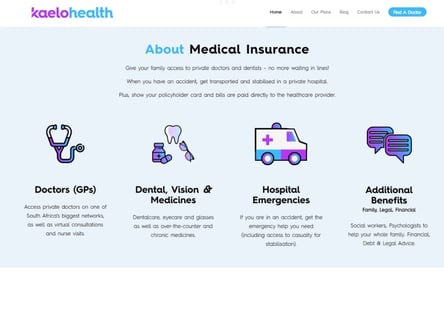 Author Kaelo Health. Screenshot of Kaelo Health website.


[Accessed February 7, 2023]
About Kaelo Health
Looking for Health Insurance in South Africa? Want to join health insurance that works for you when you need it to?
Kaelo Health is the answer to your problem with over 17 years of experience in the industry and over 140 000 satisfied clients to date. With their Prime Care Network supplying access to over 9500 healthcare providers and 470 hospitals, you can be sure that you are within 10km of a network doctor.
Kaelo Health was first started in 2004 with their first policy sold. They soon grew and over the years have created a network ready to assist you wherever you are. Their partnership with Netcare 911, the leading pre-hospital risk management, and emergency medical assistance provider, they have ensured that the best help is only a phone call away.
Whether you get sick and need to see a doctor and get medication, have accidental emergencies, or need eye tests or blood tests, Kaelohealth will have you covered for your specific needs.
Choose Kaelo Health
Standing in queues trying to access medical help? Need an affordable option that suits your specific needs? Kaelo Health has got you covered.
You will enjoy the benefits of gaining access to private doctors, virtual consultations, and nurse visits in one of South Africa's biggest networks. With chronic medication, eye care and glasses, dental insurance, and over-the-counter medication being part of the package. Whether it's an accidental emergency or a routine check-up, Kaelo Health has got you covered.
Kaelo Health also offers the added benefit of helping you with issues affecting your health, whether it be a psychologist, social worker or financial, debt, or legal advice. Your health matters and Kaelo Health understands that social, legal, and financial stressors may have an impact on your health.
Enjoy these and many other first-class benefits when you join Kaelo Health today. Give your family the peace of mind of having the health security they deserve.
Kaelo Health Services
With the options available at Kaelo Health, you can get medical insurance cover starting from as little as R486 per month.
Sounds great, right? With two health plans to choose from, each with its benefits and features, you can decide what suits you best.
Option one - MyHealth Core plan:
With the principal member paying R346 per month, R346 per month for an adult dependant, and R208 per month for a child dependant, you will enjoy the following cover:
Broad cover for treatment and medication for a range of health problems at affordable rates.
Private doctors, nursing, and pharmacy-based care with over-the-counter and prescription medication.
Dentistry and Oral Hygienists.
Eye exams, glasses, and frames.
Ambulance transportation and stabilization after an accident.
Access to private hospitals with up to R370 000 per event.
Flu immunization.
HIV disease management
Option two - MyHealth Plus plan:
With the principal member paying R546 per month, R546 per month for an adult dependant, and R328 per month for a child dependant, you will enjoy the following cover:
The most comprehensive medical insurance plan.
Extensive cover for personalized treatment.
Unlimited private doctors' visits.
Unlimited over-the-counter and prescription medication.
Additional cover for specialists.
Emergency medical transportation and stabilization from Netcare 911.
Increased accidental death benefit.
Flu immunization.
HIV management.
Dentures.
Optometry.
X-rays.
Maternity.
Telephonic counselling.
Legal advice.
Financial advice.
Road accident fund claim cover.
Workman's compensation cover
Kaelo Health – Medical Insurance
Product

Medical Insurance
Price

Kaelo Health's plans start from as little as R185 a month

Easily compare plans

With Kaelo Health's easy to use website you can compare their plans, pricing and benefits side by side
Benefits of Kaelo Health
Additional Benefits - Kaelo Health offers you access to social workers and psychologists to assist your family in times of crisis. You also have access to financial and legal advice to help navigate stressful situations.
A comprehensive network for you to choose from With Kaelo's wide network options every South African is within a 10km radius of a network doctor. So everyone can have access to professional care from qualified practitioners.
---
Choose Kaelo Health insurance today.
Choosing Health Insurance is the best decision you can make for yourself and your family.
With these amazing packages from KaeloHealth, the power to have access to top-class care has never been easier. Get your peace of mind today.
Get your application started
Simply go online and visit their website. Fill in your details like:
Your name
Your surname
Your cell phone number
Your email address
Click the dropdown menu indicating which option would suit you best. Agree to the terms and conditions of the website and submit. One of the friendly and helpful agents from KaeloHealth will contact you as soon as possible.
Getting your cover in place
Once you have chosen your option, you will provide them with all your details and that of your insured members. You will then provide KaeloHealth with your banking details and choose the date that you would like your debit order to go off on. You will then receive your welcome package and policyholder card.
You can now enjoy peace of mind knowing that you and your family are covered. No claim forms and no cash because KaeloHealth takes care of all the clutter by paying the medical professionals directly.
Benefits of KaeloHealth Medical insurance
They have over 17 years of experience in the field of health insurance.
They have over 140 000 satisfied clients to date.
They have strategic partnerships so help is just around the corner.
They are committed to offering only the best for every client.
Customer Reviews & Testimonials
"
June 2021
Getting my health insurance was the best step I could take. KaeloHealth has proven to live up to its promise.
Grundling R.
— Pretoria —
July 2021
I have been with KaeloHealth for 7 years and I have never regretted my decision. Thank you KaeloHealth!
Van der Spuy S.
— Port Alfred —
October 2021
I was scared to make the decision but I can now say that my fear was unfounded and that I will recommend KaeloHealth to everyone I know.
Ngezi S.
— Lady Smith —
Kaelo Health Contact
Contact Number
E-Mail
Website
Physical Address
52 Corlett Dr, Illovo, Sandton,

Johannesburg

Gauteng

2196

South Africa
Opening Hours
Monday

08:00 – 17:00

Tuesday

08:00 – 17:00

Wednesday

08:00 – 17:00

Thursday

08:00 – 17:00

Friday

08:00 – 17:00

Saturday

08:00 – 14:00

Sunday

– Closed