Pet insurance discounts
Get an online quote
Easy online calculator
In-page navigation
---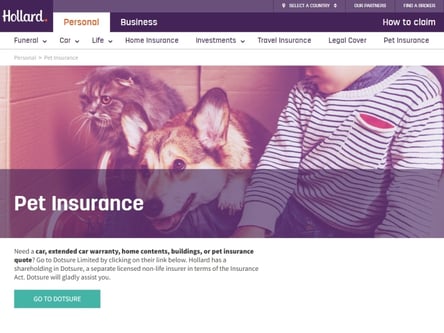 Author Hollard. Screenshot of Hollard website.


[Accessed February 7, 2023]
About Hollard
Puppies, kittens, love, and cuddles, Hollard knows what your pets mean to you.
But what about those days when your companion isn't feeling so cheerful and well? Are you financially prepared for treatment, pet surgery, or anything medical-related that needs quite a large sum of cash?
Pet insurance you can count on
It's a fact that an overnight stay at the vet can cost almost the same amount of money as it would for an adult to stay in a hospital. The fact of the matter is, pet care can be costly. But Hollard knows how much your furry friends mean to you, and that's why Hollard pet insurance is a must for every pet owner's home.
Various Pet insurance cover options
Hollard provides clients with a few different pet insurance options that will fit in with your budget, as well as in line with your pet. Hollard has been providing car, life, and funeral cover for many years, they know the industry well, and they know that having cover in place for everyone, including your pets, will save you financially long term.
Hollard Services
Hollard insurance offers pet owners the opportunity to cover their pets with a financial blanket when they get ill or just need their regular vaccinations and check-ups.
Keep your pet healthy through a company that cares about the well-being of your pet via their high-quality pet insurance products. Contact them today and get an online insurance quote.
Pet Insurance – Something to fall back on
Paying for vet bills can be expensive and having the right pet cover in place will ensure that you always have the proper financial backing you need. Let Hollard's pet insurance be the light at the end of your tunnel. Hollard offers a host of beneficial value-added services with their pet insurance.
Benefits of Pet insurance
All pets can enjoy cover up to the age of 8 years.
Get an added discount if you insure more than one pet.
Vet visits anywhere in South Africa.
Receive your reimbursement within 14 days of payment/submission of your claim.
You can receive all their news and profile info via their convenient mobile app.
Hollard – Pet Insurance
Product

Pet Insurance
Pets are family

When you have a fur baby they are family to you and you should be able to cover them like you cover the rest of your family. This is where pet cover steps in.

Choose the cover best for you

You can choose to cover your pet for just accidents or you can buy comprehensive cover that includes vet visits for check ups and vaccines. You can also insure not only your dogs and cats but also your horses or exotic pets

Exclusive partners

Hollard is part shareholder of an exclusive pet insurance company. Rest assured that they can offer your the best cover at the best prices.
Benefits of Hollard
Travel insurance from a company that understands the post Covid-19 world that we live in and all unexpected extra travel costs that this bring with it.
Funeral Cover with optional value added benefits which you can tailor to your family's needs
Invest and Save - comprehensive investment and savings plans that plan for big spends like university and retirement or that trip around the world
Cover for your car - let Hollard help you with not only comprehensive car insurance but also extended warranty from their various partners
Home contents cover - you work hard for all the things you have in your home. Make sure that you are covered in case of theft or natural disaster or fire. With home contents cover from Hollard you can replace what you have lost.
---
Hollard looks after your pets just as well as you do
Hollard pet insurance offers clients in South Africa a convenient solution for insuring their pets.
Hollard offers a unique range of benefits and valuable services that will keep your pet wagging his tail for many years to come.
Pet insurance is important
You have life insurance to cover the needs of your spouse and children, why not ensure that your pets are covered too? Hollard pet insurance covers pets that are under 8 years old, and need cover for accidental injuries or illness. Hollard cover has no expiry date; your pet will be covered for life.
A variety of Pet insurance plans
Hollard's different plan options offer clients the choice of many levels of cover for their pets. They understand, that no one size fits all, and the same goes for your pet cover.
To claim on your pet bills, clients can take their pets to the vet or clinic, and have whatever their pet needs taken care of. Clients are to pay the vet directly and submit their proof of payments along with their invoice or bill from the vet to Hollard as soon as possible.
How to make a Pet insurance claim
Claims can reach Hollard by email, fax, or however suit you. Hollard will then pay out a lump sum to you according to the amount or percentage stipulated on the policy you have chosen.
Whatever your pet needs to stay healthy, your pets deserve to be healthy as much as humans do. Hollard also has cover options to include general vaccination, routine procedures, dental work, deworming, flea and tick control as well as all emergencies that your pet may endure.
Get more information on Hollard's website
Hollard's online website allows clients to view a full list of their cover options, as well as what is and isn't included in the pet policy you choose. You can work out your monthly premiums through their easy-to-use online calculator. You can work out how much one or even multiple pets will cost.
Client premiums are fixed annually, so you know exactly what you pay each month, and Hollard premiums are very affordable. You can have the entire family covered through Hollard Insurance, even your furry friends.
Customer Reviews & Testimonials
"
May 2021
Got a great pet insurance policy from them that pays out every time. The premium I pay is also extremely competitive.
James. M
— Pretoria —
June 2021
Hollard cares about pets almost just as much as I do and they went the extra mile to ensure that I have the best possible cover for all my fur babies and I have seven.
Rosemary. J
— Johannesburg —
October 2020
Fast claiming process. Friendly staff and high-quality pet insurance. I am very happy with Hollard's pet cover.
Magdalene. H
— Durban —
Hollard Contact
Contact Number
E-Mail
Website
Physical Address
22 Oxford Road,

Johannesburg

Gauteng

2193

South Africa
---
Postal Address
PO Box 87 149, Houghton, 2041, South Africa
Opening Hours
Monday

08:00 – 17:00

Tuesday

08:00 – 17:00

Wednesday

08:00 – 17:00

Thursday

08:00 – 17:00

Friday

08:00 – 17:00

Saturday

– Closed

Sunday

– Closed