Pet Insurance starting from R82
Affordable premiums
No waiting period
In-page navigation
---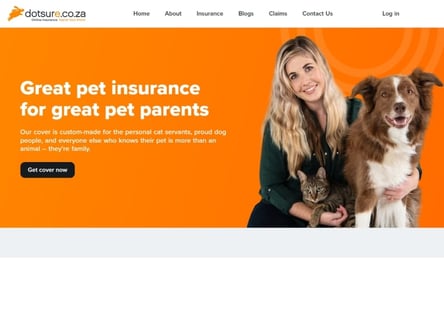 Author DotSure. Screenshot of DotSure website.


[Accessed February 7, 2023]
About DotSure
DotSure is a unique insurance company in South Africa, available to clients who care deeply for their pets.
They work differently from other insurance companies. DotSure strives to deliver impeccable service delivery for every client they help. DotSure staff are provided with ongoing training to be able to deliver the best-in-class insurance solutions that their clients can benefit from.
A range of Pet insurance options to choose from
DotSure has extensive experience in the pet insurance industry and has designed a variety of pet insurance products accordingly. With a diverse range of insurance options for their clients to choose from.
DotSure aims to provide the best products in the market, to allow clients to get the very best out of their policy.
High-quality Pet insurance
DotSure cares about your pet's well-being and they know how important it is for you to keep your pets safe and healthy without causing financial stress. For people who care deeply about their pets, DotSure provides a pet policy that will ensure should anything happen to them; they will assist financially to get them well again.
DotSure Services
Your animals deserve to be happy and healthy just as much as you do.
Life can be expensive, and so can those vet bills. Having pet insurance in place for your pets is becoming a must-have in the insurance sphere. Our pets are part of our family, and the cost of keeping them well and healthy can often weigh heavy on our pockets.
Pet insurance that covers illness and accidents
Keep your pet healthy with the help of Dotsure.co.za. They can cover you when an unexpected illness or accident occurs to your beloved pet.
Pet insurance that will provide peace of mind
We all know how costly vet bills can be, they are almost as expensive as human doctor bills which require medical insurance. Take the financial strain away from caring for your pet, with low premiums, your pet can get covered for those times when they need medical care. Enjoy their easy-to-use online applications and claiming processes that make caring for your pet properly a breeze.
DotSure – Pet Insurance
Product

Pet Insurance

Loan Amount

from R82
What pets can you insure

Dotsure offers comprehensive cover for dogs, cats, birds and different reptiles

Multiple pets can save you up to 15%

Do you have more than one pet? No problem! Dotsure offers up to 15% when you insure more than one pet at a time.
Benefits of DotSure
Simple and fast payouts - When you claim, you must upload your qualifying vet bill to the management portal on the website. Valid claims will be paid in just 48 hours. The money will be reimbursed directly back into your account.
Month-to-month contract - Dotsure understands that your circumstances can change at any time. This is why a pet insurance cover is a month-to-month contract. They allow you to cancel or upgrade your policy at any time.
Insure with the best - Dotsure was voted the best pet insurance company for 2020 by Star Reader's Choice Awards
---
DotSure keeps your canines healthy and covered financially
Pet Insurance has become an essential part of thousands of homes, that have pets in their lives.
DotSure pet cover allows you to cover as many pets as you like all under one policy. You can get a 15% discount on your premium for every additional pet you add.
Keep their tails wagging with proper Pet insurance
Animal lovers know how difficult it is to see your pets in pain, fall ill, or be involved in an accident. No matter what happens to your beloved pet, make sure you have pet insurance from Dotsure.co.za to keep your pets safe and help you get the medical assistance you need to have their tails wagging again.
Third-party liability cover
DotSure doesn't charge their clients when joining them, and they don't charge if you cancel your policy. DotSure also covers third-party liability claims, should your doggy friend get a little excited and destroy your mother-in-law's lounge suite, or cause harm to a runner passing by.
Get immediate Pet insurance cover
There is no waiting period on DotSure policies, the day you join is the day they start covering your pets. They have a variety of plan options to suit all pet owners.
You may only need certain benefits for your pet, or you may need the whole lot. Depending on your pet, and your budget, DotSure can provide a policy that suits all of your needs.
Comprehensive cover for all your Pet insurance needs
Some pets require more medical treatment than others. If you have a puppy that is going to require several vaccinations, and with a long life ahead of it, may need a few unexpected treatments, you may want to think about getting a more inclusive option.
DotSure has a full comparison brochure on all their options available to their clients online, which can be carefully viewed before settling on a pet insurance option.
Apply for Pet insurance online
Get everything you need for your pet insurance cover online. DotSure provides applications, helplines, email, and online submission all online for their client's convenience.
You can insure your pet within minutes, and make sure they get the best gift of all, your care. Low premiums that all pet owners can afford. DotSure has the insurance cover that will have your pets jumping for joy for many years to come.
Customer Reviews & Testimonials
"
May 2021
Having such lovely pet insurance in place gives me the confidence of taking my pup to the park, before having cover I was always so scared that something would happen out in the open. Now I can d...
Micky. M
— Bellville —
March 2021
They are very transparent and deliver affordable solutions that cover almost every scenario.
Felicia. T
— Wynberg —
May 2021
What a great company with great consultants that are always ready to take my call and answer my questions about my pet cover.
Amy. G
— Claremont —
DotSure Contact
Contact Number
E-Mail
Website
Physical Address
117A York Street,

George

Western Cape

6529

South Africa
Opening Hours
Monday

08:00 – 18:00

Tuesday

08:00 – 18:00

Wednesday

08:00 – 18:00

Thursday

08:00 – 18:00

Friday

08:00 – 18:00

Saturday

08:00 – 13:00

Sunday

– Closed