Pet cover up to R120 000
Payout within 72 hours
Best quality health care
In-page navigation
---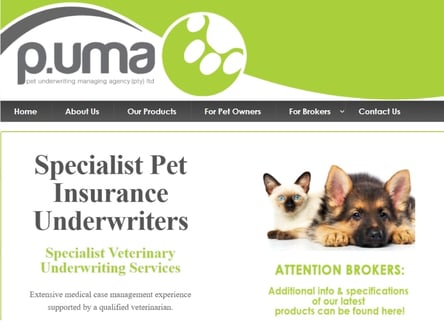 Author Puma Insurance. Screenshot of Puma Insurance website.


[Accessed February 7, 2023]
About Puma Insurance
Puma (Pet Underwriting Managing Agency) is an underwriting management agency that specialises in veterinary underwriting services that are supplied by Renasa Insurance Company Limited.
If you're a broker you can make use of their services to manage the underwriting process as well as access all the necessary information and documents to sell policies. Puma currently has four specialised pet insurance divisions which include PawPaw, DogSure, MEDiPET, and, the newly introduced SHU Equine Veterinary Insurance.
The Pet insurance market
South Africa has the sixth largest population of pet dogs with a total of just under 10 million. Shockingly only a tiny fraction (exactly 30,000) have some form of pet insurance. There is therefore a huge gap in the market for pet insurance – which is why Renasa launched their various brands and products. Their goal is to offer simple, affordable, and reliable pet insurance to help you take care of and manage the costs of various veterinary services.
What Puma does is not only manage the underwriting process for Renasa but also assist individuals and companies to apply to become brokers. You can find the broker application as well as get the support that you need.
Apply for Pet insurance via Puma
Since Puma acts as an underwriter for various pet insurance products as well as manages a host of brokers, you can find a complete list of brokers, listed by province, on their website.
You can also complete a contact form and someone from Puma will get back to you and help you secure your pet cover. Alternatively, you can select a broker from the list on their website and call them directly.
Make a Pet insurance claim
Puma makes it easy for your to make a claim on your PawPaw pet insurance plan by downloading the claim form on their website. You can then complete the document and send it back to Puma who will assess the claim and ensure you get the payment as soon as possible.
Puma Insurance Services
While Puma doesn't actually offer pet insurance plans directly to the public, they help Renasa with their underwriting, specifically PawPaw, DogSure, MEDiPET, and, SHU Equine Veterinary Insurance.
These four divisions are amongst the most popular pet insurance in South Africa and are responsible for the majority of policies held.
PawPaw Pet health insurance
PawPaw offers a comprehensive and accident-only pet insurance policy that will ensure your cat or dog is afforded the best treatment in the event that they're injured or become ill. This is currently one of the most popular and fastest-growing pet insurance products on the market. With three excess structures to choose from you can find a product with an affordable premium and an excess amount or percentage that you can be happy with.
DogSure Pet health insurance
Cat&DogSure also offers two budget pet insurance plans but their products offer a wider range of additional benefits and fewer exclusions. You can opt for cover for your cat or dog with either an R10,000 or an R20,000 annual limit as well as enjoy discounts if you add a second pet.
When it comes to excess, Cat&DogSure offers you the choice to either pay a standard excess rate which will result in a slightly higher premium or the voluntary excess rate which will reduce your monthly premium but require a larger excess payment if you make a claim.
MEDiPET dog and cat insurance
MEDiPET offers four plans that range from their budget accident plan which offers up to R25,000 annual cover per annum to their ultimate plan which offers double the yearly insurance cover limit and covers accidents, illnesses, emergencies, and holistic wellness needs.
SHU Equine veterinary insurance
SHU Equine Veterinary Insurance is the latest addition to Puma underwriting services and offers horse owners cover of up to R120,000.
Puma Insurance – Pet Insurance
Product

Pet Insurance
What Pets can you cover?

With Puma you can cover your dogs and cats as well as your exotic pets and even horses
Benefits of Puma Insurance
Brokers - Puma works exclusively through brokers. You can find a broker on the website. This allows you the opportunity to ask questions face-to-face and receive advice. You also have a point of contact when you need to claim.
---
Contact a Puma broker and secure affordable pet insurance today
As mentioned, Puma does not directly offer insurance but works via a host of capable brokers that sell their various policies and promote their four major pet insurance brands.
To apply for pet insurance for your dog or cat, you can contact any one of their brokers telephonically or even complete a contact me form to have someone get back to you.
Pet eligible for cover
As long as your pet is older than 8 weeks and is not older than 8 years, you can apply for pet insurance from PawPaw. All pre-existing conditions must be disclosed and will not be covered.
What's covered by PawPaw Pet insurance
If your dog or cat is injured or becomes ill, PawPaw will payout within 72 hours to cover the consultation, diagnostic expenses, surgery, treatment, and post-surgery rehabilitation. This will ensure you're able to give your pet the best quality health care without struggling to make the expensive vet bills.
Pet insurance policy details
After taking out pet insurance, you'll have a 30-day waiting period to pass through before you can make a claim. This does not apply to any accidental injuries.
The policy excess on PawPaw plans
PawPaw plans come with a 10% excess which means that you need to pay 10% of the claim amount. It's also important to remember that you contact them for pre-authorization for any non-emergency treatments that your pet needs.
What PawPaw Pet insurance doesn't cover
Your pet will not be covered for any pre-existing conditions or any conditions that arise during the 30-day waiting period. Routine care and pet sterilization as well as alternative treatments will not be covered by your pet insurance policy. Alternative treatments include things such as massage, homoeopathy, and acupuncture.
PawPaw pet lifestyle benefits
In addition to covering emergency care and illness treatment you also get a range of PawPaw lifestyle benefits that include an annual check-up of up to R600 per year (a policy year which means once every 12 months), puppy socialization or behaviour class of up to R600 per year, and a cremation benefit of up to R1,000.
Customer Reviews & Testimonials
"
August 2020
They only give you a 30 day waiting period then your pet is covered.
Sandra H
— Randburg —
June 2021
They get you the best deals that is possibly available for your cute hairy friends so you can take care of loving them more.
Hendrik V
— Vereeniging —
Puma Insurance Contact
Contact Number
E-Mail
Website
Physical Address
29th Floor Atterbury House, 9 Riebeek Street

Cape Town

Western Cape

8001

South Africa
---
Postal Address
PO Box 3047,, Cape Town, 8000, South Africa
Opening Hours
Monday

08:30 – 17:00

Tuesday

08:30 – 17:00

Wednesday

08:30 – 17:00

Thursday

08:30 – 17:00

Friday

08:30 – 17:00

Saturday

– Closed

Sunday

– Closed