Best pet insurance
Fast claims process
Up to R20 000 pet cover
In-page navigation
---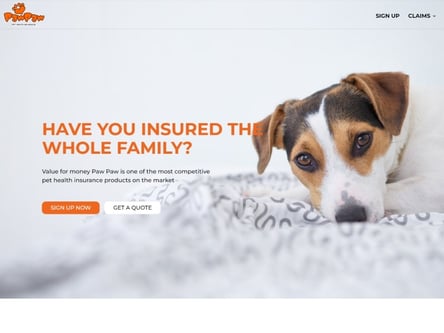 Author Paw Paw. Screenshot of Paw Paw website.


[Accessed February 7, 2023]
About Paw Paw
Paw Paw Pet Health Insurance offers pet owners a value-added cat and dog insurance policy to cover their beloved pets.
You never know when an unexpected injury could happen, your dog may need ongoing treatment, or your cat may develop diabetes.
Financial back-up when you need it
Whatever your pet goes through in his or her life, there will always be vet bills to pay. Make sure you have the financial backup for when you do have to pay those accounts. At Paw Paw, they offer convenient cost-effective solutions to ensure your pet is covered for life.
Apply for Pet insurance online today
Paw Paw offers online applications with easy-to-understand terms and conditions for all your pet's needs. Paw Paw covers your pet from the next calendar month, ensuring your pet never has to suffer when they need medical treatment.
Everything you need is available on one website, and Paw Paw staff are available to assist you via telephone if you have any questions concerning your policy.
Paw Paw Services
Paw Paw Pet Health Insurance offers a product that stands out in the market of South Africa.
It's easily accessible and transparently set out so all pet owners can understand the policy in full. Enjoy receiving a compact breakdown of your entire policy lined out on one single page. So no lengthy policy wording to read through.
Fast Pet insurance claims processing
Paw Paw covers all the necessary cost elements which your pet may endure in treatment and emergencies at the vet. Paw Paw processes their claims quickly, and they pay even quicker when you get pre-authorization for a medical emergency.
Save time with their insurance cover
Let Paw Paw save you time and money by covering your pet's medical bills and providing some relief to your pocket. An accident can happen in a heartbeat. That's why being prepared is so important to ensure your beloved pet stays healthy and happy. Their pet insurance is simple and the most cost-effective form of insurance you could invest in, after all, you are investing in the health of your pet.
Paw Paw – Pet Insurance
Product

Pet Insurance
2 Kinds of plans with various options

Paw Paw Pet insurance offers various plans to choose from under either comprehensive cover or accident only cover

Elective Excess options

You can tailor make your premiums according to what excess you can afford.
Benefits of Paw Paw
Brokers available - would you prefer to work through a broker? No problem. Simply go to the product specialist tab on the website and search for a broker in your area.
No breed exclusions - All breeds are welcome and there is no policy premium loading for certain breeds. You are assured of the best premiums for the best care.
Preapprove procedures - Paw Paw pet insurance allows you to get preapproval for any procedures that the vet may suggest. This will allow you to plan for any excess or shortfall that may occur.
---
The protection you need for your furry friends
Paw Paw pet insurance is your financial assistance when it comes to treating your pets with the care they need to stay healthy and strong.
They cover all your cats and dogs over 8 years old. They don't require that your pets are marked with tattoos or chipped.
Full Pet insurance cover after 30 days
You only have to wait one month after signing up to have the full cover offered by your insurance policy. However, emergency procedures are covered immediately. Paw Paw doesn't mind what breed of pet you have, and there are no specific condition restrictions.
Custom Pet insurance policies for individual clients
Paw Paw will formulate a customized policy specifically for your pet, which will have all these terms and conditions to your specific policy choice. All of which is available online through Paw Paw website. Their applications and claims are all processed online, with a helpful team of consultants that are always ready to assist you.
Affordable Pet insurance premiums
Paw Paw premiums are affordable and they cover up to R20 000 per annum for emergency procedures. Their claims are processed within only 72 hours. So, you will receive reimbursement on your payments made to the vet in no time.
In the event of an emergency procedure, clients can get a pre-authorization from Paw Paw to keep them aware of the costs that are involved.
Paw Paw Pet insurance covers a range of ailments for your pets including:
Illness and injuries
Vet consults and diagnosis investigation
Chronic illness
Surgery, bloods, and x-rays
Non-pre-existing conditions
Get the most out of your cover
Pet owners can get the most out of their insurance with low premiums, and a cover that will assist with the financial implications that come with unexpected casualties which can really be quite expensive. Your pet may seem bouncy and happy one day but could fall ill the next day.
For a long healthy happy life
Without proper treatment, vaccinations, or regular vet visits, your pet could have an underlying illness you aren't aware of, which could lead to a very sick pet.
For a long healthy happy life, allow your pets the same benefits as you would any other loved one in your family. Get pet cover today and have cover for the rest of their lives.
Customer Reviews & Testimonials
"
November 2021
I changed over to them about a year ago as they offered me so much more for a much better premium.
Shaileen. G
— Cape Town —
May 2021
I have 3 dogs, 2 cats, and a bird, and this insurance has been such a great financial backup to me and my beloved friends.
Robert. Y
— Bellville —
May 2021
Great service delivery and they pay out claims faster than most pet insurers do. I would highly recommend them to any pet owner.
Chrissie. V
— Bellville —
Paw Paw Contact
Contact Number
E-Mail
Website
Physical Address
29th Floor, The Box, 9 Lower Burg St, Cape Town City Centre

Cape Town

Western Cape

8001

South Africa
---
Postal Address
PO Box 6604 Roggebaai, Cape Town, 8012, South Africa
Opening Hours
Monday

09:00 – 17:00

Tuesday

09:00 – 17:00

Wednesday

09:00 – 17:00

Thursday

09:00 – 17:00

Friday

09:00 – 17:00

Saturday

– Closed

Sunday

– Closed