Pet Insurance starting from R89
Get an online quote
Affordable premiums
In-page navigation
---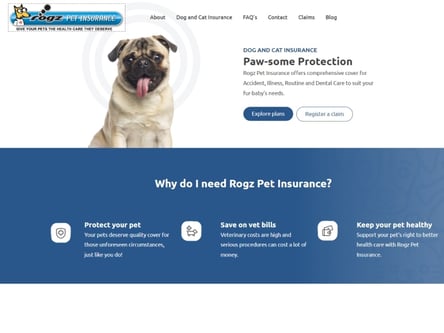 Author Rogz Pet Insurance. Screenshot of Rogz Pet Insurance website.


[Accessed February 7, 2023]
About Rogz Pet Insurance
Rogz pet insurance is a cover created especially for your pets.
When you want the best care and preventative measures to keep your pet safe and healthy, there should be no hesitation when it comes to covering your pets.
Impeccable Pet insurance
When it comes to your beloved pet you have to make sure that you can fully trust the insurance company you take your pet insurance with. Rogz is backed by one of the largest insurance giants in the country, Hollard Insurance. This gives their clients the satisfaction of knowing their pets are in good hands.
Rogz processes and systems run in the same well-known way as this specialized online insurance provider. Rogz cares for your pets and simply wants to protect them financially, should anything happen to them.
Rogz Pet Insurance Services
Pet insurance could be a lifesaver when it comes to helping your sick pet.
Pet cover can help you financially when your pet needs medical treatment of any kind. Vet bills can be stressful. Just like your children, your pet plays a vital role in your life, and also reserves the right to treatment and care if they fall ill.
Rogz Pet insurance savings policy
Rogz offers a savings insurance policy that builds up a safety net of financial security for those times when treatment from a vet is needed. You never know when something could happen. The postman could leave your garden gate open, and your precious dog could run into the street and be involved in an accident.
Get proper Pet insurance cover for your pets
You could be walking your pet down the road and another dog attacks your pup. There are so many factors that could change your life and your pet's well-being forever. Getting efficient financial backup for major and minor medical incidents can save you a whole lot.
Rogz Pet Insurance – Pet Insurance
Product

Pet Insurance

Loan Amount

from R89
Benefits of Rogz Pet Insurance
---
Rogz Pet Insurance, your well-known pet care provider
Rogz pet insurance makes claiming easy and fast. Our pets creep into our lives and become part of the family.
They are devoted to us, why shouldn't we give them the best cover they deserve?
Simple Pet insurance for all
Enjoy easy access to world-class pet insurance in South Africa. With convenient online forms which are downloadable from the Rogz website, clients can apply for insurance cover for their pets online, through Rogz fast, safe and efficient systems.
Pay, claim and get your money back
After taking your pet to the vet for any treatment, pay your bill and claim back from Rogz by providing them with your invoice and receipt, and they will act quickly to reimburse your payment into your bank account. Think of Rogz as medical savings account for your pet.
Pet insurance covers any medical need
Rogz Pet Insurance provides financial solutions for those vet bills in the form of accidental injuries, illness-related treatments, surgery, insect bites and stings, broken bones, and more. Rogz pays you back for those claims that you pay upfront and allows you to give your pet the best possible care a pet owner could give.
How to submit Pet insurance claims
Claims can be submitted through email, through Rogz's online platform, or even from your mobile. Enjoy getting your claims processed quicker than ever. Rogz pet insurance is administered by Hollard Insurance.
Pet insurance that provides the peace of mind you deserve
This gives clients the peace of mind that their insurance policy is created through a brand that is well known in the country, for impeccable service delivery and the ability to meet their needs. Rogz's pet insurance covers the necessary incidents and essential pet care necessities when it comes to keeping your pet healthy.
Rogz covers the following and more:
Accidental injury
Routine & preventative care
Hereditary and congenital conditions
Emergency boarding (up to R70 a day)
A car accident involving your pet and a motor vehicle
Special discounts on your Pet insurance for multiple pets
With low premiums and special discounts for enrolment of multiple pets, Rogz pet insurance is one insurance brand that is highly competitive in the industry. Rogz's client service is of the highest quality, with a team always available to listen to your concerns or offer assistance whenever you need it.
Pet insurance that provides advice on Pet care
Rogz offers valuable and informative advice on your pet care, and can also advise you on what insurance option would best suit the pet/pets you have. Your pet relies on you to make the right choice for them.
Be smart, be the owner your pet deserves, and get an online insurance quote today. Get your Rogz pet insurance cover today, and know you will have many happy years with your best furry friend.
Customer Reviews & Testimonials
"
May 2021
They are different from other pet insurance providers in the country as everyone can truly see how much they love what they do and that they care about much more than just money. I have been a cl...
Sofie. l
— Cape Town —
October 2021
Great customer service and an extremely fast claiming process. I am very pleased with the outcome of my recent claim as well.
Neuls. J
— Cape Town —
February 2021
Their pet cover is so comprehensive and the best part is that it is affordable.
Jamie. H
— Cape Town —
Rogz Pet Insurance Contact
Contact Number
E-Mail
Website
Physical Address
22 Oxford Road, Parktown, Houghton Estate

Johannesburg

Gauteng

2041

South Africa
Opening Hours
Monday

08:00 – 18:00

Tuesday

08:00 – 18:00

Wednesday

08:00 – 18:00

Thursday

08:00 – 18:00

Friday

08:00 – 18:00

Saturday

08:00 – 13:00

Sunday

08:00 – 13:00