Annual Payment Discounts
All breeds welcome
Get up to R15 000 cover
In-page navigation
---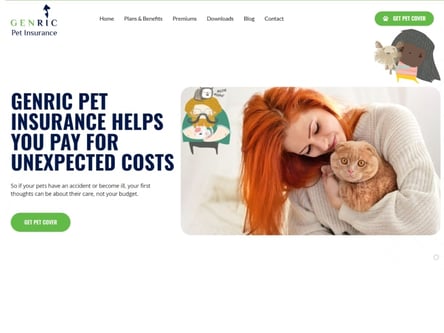 Author Genric Insurance. Screenshot of Genric Insurance website.


[Accessed February 7, 2023]
About Genric Insurance
Genric Pet Insurance is a division of Genric Insurance, a niche insurance provider driven to become a disrupter in the market through its innovative offerings.
Genric Insurance partners with a range of Underwriting Management Agencies (UMAs) and provides them with the insurance and reinsurance services they need to conduct their business.
By partnering up with Genric Insurance these UMAs can focus solely on growing their business and maintaining their customer base without having to worry about red tape.
Genric Pet Insurance
As a division of Genric Insurance, you can rest assured that you're dealing with a pet insurer that has strong backing and will be able to cater to your needs in a flexible and dependable way. Whether this is your first time taking out pet insurance or are looking for a provider that offers you more cover and fewer restrictions, then Genric Pet Insurance is just the partner you need.
Choose your Pet insurance plan
Genric Pet Insurance offers five pet insurance packages, each designed to offer a specific level of cover to meet your budget as well as your pet's needs. Whether you just want to cover your pet for expensive in-hospital treatment and emergency care or want to cover the more common out-of-hospital emergencies – there's a plan for you.
Genric offers five distinct pet insurance plans including the Comprehensive Medical Expenses + plan, the Comprehensive Medical Expenses Only plan, the Hospital Only plan, the Accident Only plan, and the Essential plan. Whichever plan you select you'll be able to enjoy affordable premiums which can be paid monthly or annually. You can also enjoy major discounts if you insure multiple pets.
A transparent insurer you can trust
Something that sets Genric Pet Insurance apart from its competitors is its high level of transparency. You won't need to wonder how much it will cost to get your pet covered or what their plans actually do and don't cover because they've already laid it out for your both on their website and via a booklet that lists both the annual and monthly premiums for up to five pets.
Genric Insurance Services
All plans cover accidents and emergency treatment in which your pet is admitted to the hospital.
You also get an optional savings plan as well as a Double Up Option which allows you to choose a plan and get double the maximum annual cover limit for double the premium.
All plans offer you the choice of either a monthly premium payment or an annual payment, with the annual payment offering you a discount. You can also choose to add multiple pets to any of the plans and enjoy significant discounts. Finally, all plans come with a 10% excess (at an R200 minimum), and you get to make use of any veterinarian of your choice.
The Comprehensive medical expense
These are the highest tier plans available from Genric Pet Insurance and offer an R45,000 or an R40,000 annual maximum benefit limit respectively. You also get emergency treatment cover even if your pet is not kept in the hospital. They also both cover out-of-hospital consultations (not covered on the lower-tier plans) and come with all the benefits offered on all Genric Pet Insurance plans.
The hospital only plan
This plan offers all the general benefits but only covers accidents and emergencies if your pet is kept in the hospital. This means you won't be covered for any out-of-hospital consultations, treatments, or accidents. The maximum annual limit on this plan is R35,000 and the monthly premium starts at R230.
Accident only plan
This plan is significantly cheaper because your pet is only covered for treatments that are required as a result of an accident and the annual limit is set to R25,000. For instance, illnesses requiring in-hospital treatments will not be covered. This plan starts from just R160 per month.
The affordable essential plan
Starting at just R85 per month this is the most affordable plan on offer by Genric Pet insurance and offers a maximum of R15,000 annual cover for your pets. Accidents and emergencies are only covered if your pet is not admitted to the hospital (it offers no in-hospital cover at all).
Genric Insurance – Pet Insurance
Product

Pet Insurance
Price

Get cover from as little as R85 a month

Easily compare plans and pricing

With the Genric website it is easy to compare the plans and pricing side by side and choose the best fit for you and your pets.
Benefits of Genric Insurance
Health Insurance with added gap cover - Genric offers you the opportunity to get quotes on health insurance. This is not a medical aid but a savings plan to help you pay for those medical emergencies. You can also add gap cover to make sure that you will not have to incur any costs when you need medical assistance.
Any insurance you can think of - Genric Insurance offers niche insurances in the market. If you can think it they insure it. From marine insurance to gadget insurance.
---
Apply for pet cover in minutes with Genric Pet Insurance
Genric Pet Insurance has tried to make things as simple, easy, and quick as possible so whether you're buying a plan online or are making a claim you'll enjoy a quick and simple process.
To get pet cover you must first review the five plans listed on their website (as discussed above) or download their brochure. You can then either call them directly to get your cover or complete the contact me form and someone will get back to you.
Insurance for older pets
In order to secure pet cover from Genric, your pet will generally have to be older than 8 weeks and no older than 9 years. That said, with the accident only cover, there is no age limit. This means that, unlike other companies that provide insurance in South Africa that discount older pets, you can make sure your pet will get the best possible care and treatment in the event that they're involved in an accident.
No breed exclusion explained
Certain breeds may be considered difficult or dangerous and some pet insurance providers will specifically exclude them. Genric Pet Insurance does not exclude any specific breed. Your pet also does not need to be tattooed or have a microchip to get cover.
How claims are processed
Claims will generally be processed within 72 hours and the payment will be made directly to the veterinary clinic that you chose to use. Remember that non-emergency treatments should be done only after a pre-authorization has been secured.
31-day waiting period
During the first 31-days of cover, you will not be able to make any illness-related claims so only accidents will be covered.
Routine care option
For an added premium you can get routine care cover for your pet which will offer your R1,000 annual cover for your pet for things such as general health checks and nail clipping.
Customer Reviews & Testimonials
"
July 2020
They have a variety of premiums but all they premiums cover emergencies and accidents.
Zandre N
— Cape Town —
August 2021
They offer you an option where you can open a savings plan for your pup and that's really a cute idea.
Pieter W
— Kwazulu Natal —
Genric Insurance Contact
Contact Number
E-Mail
Website
Physical Address
Block B, Western Entrance, Lynnwood Corporate Park, 36 Alkantrant Road, Lynnwood Ridge,

Pretoria

Gauteng

0081

South Africa
Opening Hours
Monday

07:00 – 16:30

Tuesday

07:00 – 16:30

Wednesday

07:00 – 16:30

Thursday

07:00 – 16:30

Friday

07:00 – 16:30

Saturday

– Closed

Sunday

– Closed