Pet Insurance starting from R80
Affordable premiums
Get an online quote
In-page navigation
---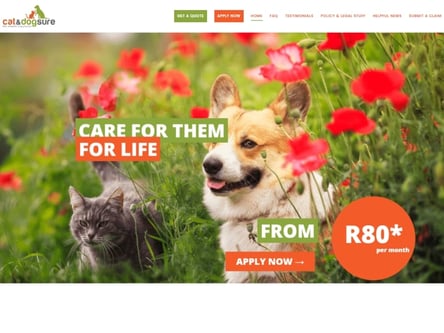 Author Dog Sure. Screenshot of Dog Sure website.


[Accessed February 7, 2023]
About Dog Sure
Dog Sure pet insurance offers pet owners no limit to their pet insurance needs.
Dog Sure is an online insurance company, that works in an efficient and timely manner in order to assist clients with the financial strain of pet treatments.
The best Pet insurance for your pets
Dog Sure understand how you love your dogs and cats, they also know that you want the best for their health long term. When taking your pet to the vet for general vaccination or even for something a little more invasive like surgery, the costs of your visit can reach enormous heights.
Affordable Pet insurance cover
Dog Sure has provided clients with an option of insurance cover, that will cover your costs, and help you afford the well-being of your pet for many years to come.
Don't let your pet suffer because of the financial aspect of keeping them healthy and happy. Now everyone can afford to give their pets the treatment they need, with a Dog Sure pet cover.
Dog Sure Services
Dog Sure pet insurance offers a solution to your pet health costs. They know how expensive vet bills can amount to.
Dog Sure knows that you would never want to see your beloved pet suffer due to financial issues. That is why they provide affordable pet insurance options, that every pet owner can easily afford.
Quality pet insurance plans
It's simple. If you love your pets, and want the best for their health and well-being, having pet insurance in place will cover those bills that you pay for general vaccinations, special treatment, or surgeries at the vet due to injuries or accidents.
Cover 90% of vet bills
Dog Sure can cover 90% of your vet bill, this will allow you to claim back most of the cash you paid towards your vet.
The importance of Pet insurance
Your pet should never have to suffer when they need medical care. Put the needed cover in place today to ensure they are able to live a longer healthier and happier life.
Dog Sure – Pet Insurance
Product

Pet Insurance

Loan Amount

from R80
Price

Cover your dog or cat from as little as R80

No paperwork

You can go to the Dogsure website and get your quote and buy your cover completely online.

Choose any vet

Dogsure does not have preferred service providers. You can go to any vet and submit your invoices for reimbursement.
Benefits of Dog Sure
No breed exclusion - Dogsure believes that all animals deserve the best care. They do not discriminate against any breed by refusing cover or loading prices according to breed.
Accident only cover - If you are happy to pay for the day to day vet bill but still want cover for those expensive accidents then you can opt for the accident only cover.
Wellness benefit - With Dogsure's comprehensive cover you can get assistance in paying for the yearly checkups and vaccines as well as dental work and deworming.
---
Dog Sure ensures your best friend is taken care of
Enjoy an easy and convenient application process to put in place an efficient and hassle-free cover.
Get your Pet insurance 100% online
Because technology allows Dog Sure so many informative forms of simplicity, they have adopted a complete online solution for their applications, claims, and communication.
Clients can access their insurance application online from the Dog Sure website, with easy-to-follow steps, to help you with everything you need to know and do, to get your pet covered.
How to make a Pet insurance claim
When you need to claim for any procedures administered to your pet, ask your vet to stamp the forms Dog Sure provides to you with the required invoice. These documents can be emailed directly to Dog Sure. They will then payout according to the plan you have chosen.
Get pre-authorization for non-emergencies
For any non-emergency surgeries or visits, clients can obtain a pre-authorization from Dog Sure, ensuring that they are aware of the claim that will be coming their way.
You should always take good care of your pets, remember as a pet owner you are the voice and the budgetary provider for your precious animals. Your dogs or cats cannot speak for themselves, or provide the financial means to keep them safe and healthy. We as pet owners take responsibility for them, and by taking out pet insurance in South Africa, you are taking care of the financial aspect of their needs.
Pet insurance to ensure your peace of mind
Have peace of mind knowing that the costs will be covered when your fluffy child requires a visit to the vet. Dog Sure covers any animals under the age of 8 years, living in South Africa. They require that puppies have all their vaccinations before joining.
With only a few requirements needed, any pet owner can have the benefits of pet insurance, to assist with the financial issues of pet care, and ensure their pets live a long healthy life. Once you sign up, your pet will be covered from the first day of the next month that you sign up.
Insurance claim requirements
Claims require a minimal excess of 10% and a small fee per claim.
Any claim needs to reach Dog Sure within 30 days of treatment – in order to be paid.
Any emergency treatments or procedures need to be notified to Dog Sure immediately (over a 72-hour period)
Any cancellation on a policy needs one calendar month cancellation and payment.
Customer Reviews & Testimonials
"
May 2021
I got an all-inclusive pet insurance cover for all my pets at home at a great premium. Now I can enjoy the peace of mind that I will be able to claim back whatever I spend at the vet.
Thomas. D
— Cape Town —
August 2021
They offer the best pet insurance in South Africa and have been helping me take good care of my puppy.
Julia. F
— Cape Town —
September 2021
I have been a very happy client for the past 3 years and I had to claim a few times and never was there any issues whatsoever. They deliver great service.
Henry. J
— Cape Town —
Dog Sure Contact
Contact Number
E-Mail
Website
Physical Address
Unit 1, Forest Mews, Lonsdale Way, Pinelands,

Cape Town

Western Cape

7405

South Africa
---
Postal Address
PO Box 486, Howard Place, 7450, South Africa