Best pet insurance
Affordable premiums
Apply online
In-page navigation
---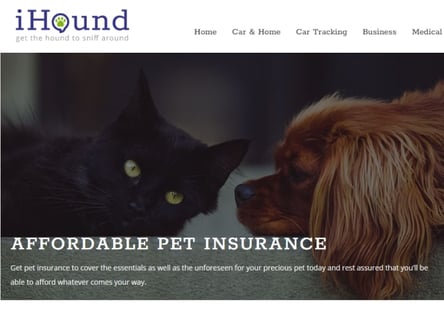 Author iHound. Screenshot of iHound website.


[Accessed February 7, 2023]
About iHound
InsuranceHound is an insurance comparison site that offers ways to find the best insurance deals.
iHound helps individuals to get in touch with the top insurance companies and brokers in South Africa by making use of the quote request and response system.
Peace of mind insurance
iHound Pet Insurance seeks to provide pet insurance in South Africa that gives pet owners peace of mind when it comes to being prepared for those unforeseen events when the fur kids are in need of extra care.
iHound Services
iHound Pet Insurance looks to offer pet insurance in South Africa.
The insurance will cover pet owners for those costly vet bills that arise from unexpected events that can be unaffordable if not properly prepared for.
Need a loan?
iHound can find you a loan in just 3 easy steps. The money will be paid directly into your account and you can pay it back with payments each month.
iHound – Pet Insurance
Product

Pet Insurance
Fast Free Quotes

With iHound you can easily compare quotes side by side. Simply fill in the online form with all your details and they will source the quotes for you.

Insure for your pets needs

You can make sure that you get the cover that your require. You can get accident only cover or comprehensive cover for your pet.
Benefits of iHound
Car and home insurance - let iHound sniff out the best quote for you. They have various partners who will send you quotes in just minutes of filling out the online form.
Life insurance - make sure that your family is covered if you are ever no longer around. iHound will source quotes for you to make sure that you get the best cover at the best price.
---
Get pet cover today.
To get a pet insurance quote, visit their website and within the pet insurance category, complete the necessary fields of the information under the section titled "FAST FREE QUOTES".
After this, you can select GET QUOTES & SAVE to have iHound assist with the best pet insurance price in South Africa. For those seeking more information, one can contact iHound Pet Insurance by calling 087 350 1794 for the best pet insurance quote.
Pet insurance benefits South Africa
With iHound's Pet Insurance in South Africa, pet owners can cover the unforeseen as well as the essentials that are needed to keep the fur kids in good health. There is also the option to add cover for extra areas of concern for those that have pets with special requirements and pet owners can enjoy a discount for insuring multiple pets, as well as get a discount for pets with a high body condition score.
These benefits give pet owners the opportunity to cover multiple pets at an affordable pet insurance price, as well as make health a top priority, which as a result could potentially keep the fur kids away from the vet.
The unforeseen events can be seen as:
Injury resulting from another animal such as a dog fight, for example
A motor vehicle accident
The diagnosis of a temporary or terminal illness
A near-drowning event
A fall from a dangerous height
An allergic reaction to an animal bite, such as a snake, for example
Customer Reviews & Testimonials
"
September 2020
We have a pool and your pup loves swimming but he almost drowned one day and he was unconscious for a while but iHound responded so quickly he is still alive and swimming today.
Daniel N
— Hogsback —
December 2021
Best decision I've made for my pets seeing that the vet cost is getting so high I literally save every month.
Ntombi U
— Nelspruit —
June 2021
My daughter is only 15 and she pays her doggy's own insurance that's how affordable pet insurance is at iHound there is no excuse.
Victoria J
— Mbombela —
iHound Contact
Contact Number
E-Mail
Website
Physical Address
100A Frances Road, Norwood,

Johannesburg

Gauteng

2192

South Africa