Pet Insurance starting from R89
Pet insurance up to R69 500
Get a discount for many pets
In-page navigation
---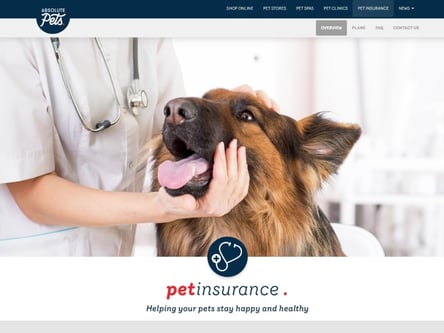 Author Absolute Pets. Screenshot of Absolute Pets website.


[Accessed February 7, 2023]
About Absolute Pets
Absolute Pets is a chain of stores nationwide that offer everything from pet food, toys, feeding supplies, accessories, medication, and also pet insurance.
Absolute Pets has recently been acquired by Dotsure. The company is currently undergoing a merging of the brands and some details of the pet insurance such as premiums and benefits may or may not change.
Pet insurance plans with Absolute Pets
Pet insurance with Absolute Pets has 3 different types of cover that you can purchase. These plans are accidental, classic, and premium.
Accident Pet insurance
Starting with accident pet cover. This is the cheapest available pet insurance with Absolute Pets. Its insurance premiums start at a monthly rate of only R100 for Dogs and R90 for cats, with the benefit of a 10% discount when you insure 2 or more pets.
Absolute Pets Services
The benefits will not be as extensive as the comprehensive plans.
But you do receive accident benefits above all things. Absolute Pets insurance will define an accident as any unforeseen event that results in visible, physical or bodily injuries.
Insurance claims on injuries from:
Motor vehicle accident
Burn or electrocution
Actions of another animal
Swallowing a foreign object that will require surgery
Snake Bite
Allergic reaction following an insect bite other than a typical tick or flea bite.
Claims for accidents that result in:
A fracture
Broken bone
Traumatic ligament or tendon injury
Lacerations, abrasions or wounds.
Absolute Pets – Pet Insurance
Product

Pet Insurance

Loan Amount

from R89
Accident Cover

Get accident cover for your pet to ensure the best possible health care

Save up 10%

When you insure two pets you can save up to 10% on your monthly premiums

Shop for the perfect gift

Absolute Pet makes gifting easy with their online shop
Benefits of Absolute Pets
Caring for your pet made easy - Absolute pets have over 100 stores in malls across South Africa. You can easily take care of your pet by going in store or shopping online and having it delivered to your door for free if you spend R500 or more.
Pet Spas - Cape Town and Pretoria residents can enjoy the wonderful offerings at the Absolute Pet spas. Get your 10th grooming session for free.
Pet Clinic - They even have a pet clinic in Cape Town with the best support and advice to keep your pet fit and healthy.
---
Insure your pets with Absolute pets today
Apart from the accident benefit you also receive a list of illnesses that will be covered, all with differing rates up to which they will be covered.
These illnesses are only valid if they are not pre-existing conditions that the pet already has. The list of illnesses and procedures are:
Acute skin conditions
Gastrointestinal conditions
Tick-borne disease
Clinical pathology
Consultations
Hospitalisations
Injection fees
In-theatre materials
Medicine and injectable drugs
Radiology
The procedure list extends to many more. What is not covered with this option of pet insurance is the routine check-ups, this must all be done out of your own pocket.
Classic Pet insurance
Classic cover will be able to cover you for both accidents and illnesses for your pets. The price for this cover starts at R245 per month for dogs and R200 per month for cats, with the same discount applied, which is 10% off when you insure 2 or more pets.
As part of the benefits, you will be able to claim for up to R35 000 per year, with sub-limits placed on specific procedures. The excess is also at R300 or 10% of the applicable benefit, and thereafter you will receive up to 90% reimbursement of the Absolute Pets insurance tariff rate.
Premium Pet insurance
By far the most expensive pet cover that Absolute Pets offers, yet it is the most comprehensive pet insurance it has available. This cover starts at R350 a month for dogs and R300 a month for cats. The exact same discounts apply when you buy pet insurance for 2 or more pets and the excess fee along with reimbursement is similar. You are covered for up to R45 000 per annum and any reimbursements will be for 100% of the Absolute Pet Insurance Tariff rate.
As part of your accident cover, you are insured for up to R9000 per annum, with a maximum of R4500 per incident. And as part of the excess for your insurance claim, you are required to pay up to R300 or 10% in excess, whichever is greater in the incident.
All accidents are covered by this option, as well as illnesses as mentioned in the classic cover, the addition that separates this cover is the addition of maintenance that is added to the cover.
This maintenance includes:
A routine, annual checkup
Dentistry for an amount up to R800
Sterilisations for R900
And a fee of R800 towards vaccinations, deworming and tick and flea control.
Claiming with Absolute Pets
You can start claiming for accident cover with all 3 policies after the first month of your cover date and after 6 months for cruciate ligament claims. In order to start claiming you can contact Absolute Pets via their email, or you can call them directly. The website does also have a downloadable pdf version of a claims form you can fill out and then email directly to your pet insurer.
Customer Reviews & Testimonials
"
September 2020
They don't have all the cover that others have but they are affordable and they cover all the needs of your animals perfect for those who don't earn a lot.
Andrea K
— Benoni —
March 2020
They are absolutely 100% about pets they make sure they are taken care of in any event.
Sisomizi H
— Rivonia —
September 2021
My cat needed a small operation after a car accident and they helped through the whole procedure.
Faye R
— Knysna —
Absolute Pets Contact
Contact Number
E-Mail
Website
Physical Address
Absolute Pets 13 Dorsetshire Street Paarden Eiland

Cape Town

Western Cape

7420

South Africa
Opening Hours
Monday

08:00 – 17:00

Tuesday

08:00 – 17:00

Wednesday

08:00 – 17:00

Thursday

08:00 – 17:00

Friday

08:00 – 17:00

Saturday

– Closed

Sunday

– Closed