Online pet insurance
Affordable premiums
Easy claims process
In-page navigation
---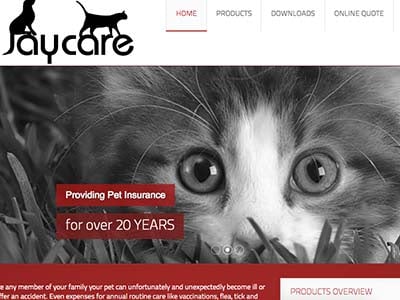 Author JAYCARE. Screenshot of JAYCARE website.


[Accessed February 7, 2023]
About JAYCARE
JayCare pet insurance in South Africa is an online-based company, allowing clients the simplest solution to getting their pets covered.
JayCare is not new to the pet world as they have been assisting financially in the caring of clients' pets since 1992.
Years of experience with Pet insurance
JayCare has years of experience in researching the needs of their clients and delivering on expectations of what its pets need to stay healthy. JayCare has created a range of options and plans, all with specific criteria, that will address the needs of your pet specifically.
JayCare offers unique Pet insurance solutions
Plans differ from each other depending on your pet's age, breed, health, and lifestyle. No matter what your need may be, JayCare has a solution that will take away the financial stress of vet bills. JayCare staff is dedicated to assisting you with any questions you have in regards to anything you need to know about their pet insurance options.
JAYCARE Services
JayCare pet insurance is the perfect option for those who really care about their pets.
Unexpected injuries and accidents can happen in the blink of an eye, and this can happen with your pets as well.
Get reliable Pet insurance
A broken bone or even something more serious could bring forth a very expensive vet bill at the end of the day. Your dog could need ongoing treatment after an illness, or need constant check-ups for diabetes.
The importance of having Pet insurance
Are you giving your pets the care they deserve? Your love can only go that far as they all need medical attention at some point. Make sure they get proper care through JayCare's pet insurance.
Jay Care now makes the financial part of pet health care a lot more affordable. You can claim back every cent you paid towards the vet and receive a quick reimbursement from JayCare's pet cover. It's so easy. Pay, claim and smile! JayCare will enable you to properly protect your pets without financial stress.
---
JAYCARE offers comprehensive cover to protect your Pet's health
Jaycare Pet Insurance offers customers in South Africa a helpful alternative to safeguarding their pets.
They offer an exceptional scope of advantages and significant value that will keep your pet happy and healthy for many years.
Another member of your family
Your pet is just like another member of your family, so why not make sure that they are also secured with an insurance policy? JayCare pet protection covers pets that are under 8 years of age, and need cover for coincidental wounds or ailments.
A diverse range of Pet insurance options
JayCare cover has no expiry date; your pet will be secured forever. JayCare diverse choices offer customers many levels of cover for their pets. No pet is the same, and nor is their policy cover options.
To guarantee payment on your pet bills, you can take your pets to the vet or animal medical facility for whatever treatment is needed. Customers are to pay the vet directly and present their evidence of payment alongside their receipt or bill to JayCare as quickly as they can.
Get in touch to apply for Pet insurance with JayCare
You can contact JayCare by email, fax, or however suits you. They will then repay you in accordance with the sum or rate stipulated on the pet insurance policy you have picked. Whatever your pet needs to remain sound and well, pet owners should really invest in a cover that will cover the bills.
Additional Pet insurance cover options
JayCare likewise has cover choices to incorporate general inoculation, routine operations, dental work, deworming, insect and tick control, and additionally all crisis situations like being involved in a hit and run or accident.
JayCare online site permits customers to see a full rundown of their cover choices, and what is and isn't excluded. With JayCare's online calculator you can work out your month-to-month premiums based on the number of pets you would like to cover.
JayCare's Pet insurance will take care of you and your pet
All clients with their pet's best interests at heart can find an insurance solution that meets the specific needs of their precious animals. Get an online insurance quote and find out how affordable it is to take care of your best friend for life.
Customer Reviews & Testimonials
"
April 2021
Being able to count on such a great company that always pays out promptly gives me the confidence I need when it is time for Bobby (my dog) to go to the vet.
Annette. L
— Johannesburg —
October 2021
My cat has diabetes and it is not always easy when she needs to get her treatment as it is very expensive. Luckily, I can now ask JayCare to assist me.
Danie. K
— Johannesburg —
June 2021
They have extremely friendly and helpful advisors that are always more than willing to go the extra mile to ensure that you and your pets are properly taken care of.
Thabiso. M
— Pretoria —
JAYCARE Contact
Contact Number
E-Mail
Website
Physical Address
1 Myrtle Rd

George

Western Cape

6529

South Africa
---
Postal Address
PO Box 360, George, 6530, South Africa
Opening Hours
Monday

08:30 – 17:30

Tuesday

08:30 – 17:30

Wednesday

08:30 – 17:30

Thursday

08:30 – 17:30

Friday

08:30 – 17:30

Saturday

09:00 – 14:00

Sunday

– Closed