Apply for insurance online
Fast claims process
Affordable premiums
In-page navigation
---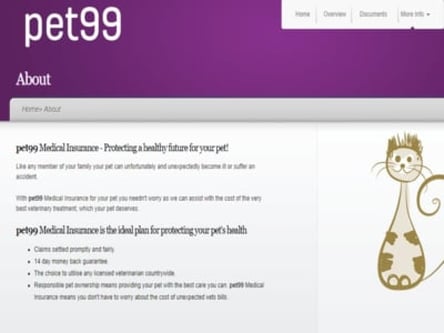 Author Pet99. Screenshot of Pet99 website.


[Accessed February 7, 2023]
About Pet99
Pet99 is all about protecting your pets. Pet99 is your helpline and your financial lifeline when it comes to those vet bills.
Keeping your pet healthy can take a lot out of your pocket, especially if you have a pet that has an ongoing ailment, cancer, or diabetes.
Keep them healthy with the right Pet insurance
Pet99 knows that as an animal lover, you would not let your pet suffer if they needed to see a vet at some point in their lives.
Covering the costs of keeping your pets healthy is no longer a concern. Pet99 saves their clients thousands in vet bills every year.
Fast Pet insurance claims
Pet99 processes claims quickly so you can get back the cash you pay on your vet bills fast. As an online insurance company, they provide simple and affordable solutions with the quickest turnaround times available.
Underwritten by the powerhouse in insurance brands, Hollard, Pet99 provides a top-shelf insurance service to keep your pets happy and healthy.
Pet99 Services
Pet99 medical insurance is versatile, cheap, and backed by a team of incurably passionate people.
They care about you and your pets and they know that every pet owner only wants the best for their beloved friends.
Easy to apply for Pet insurance
Get your Pet99 pet insurance policy today by completing a simple and easy online insurance quote form, and emailing it to them. Once Pet99 has activated your policy you can start claiming after three months.
Any emergencies or accidents will be covered after only one month from the inception of the cover. Pet99 covers dogs and cats older than 8 months and younger than 8 years old, allowing your pets to receive good health care for a long and happy life.
Information about Pet insurance with Pet99
You will receive a simple policy schedule of tariffs and policy terms, that will provide you with a breakdown of what is covered or excluded according to the plan you've chosen.
Let Pet99 ensure that your pets live a happy, long, and healthy life by providing you with the financial backing you need to take good care of your fur friends.
Pet99 – Pet Insurance
Product

Pet Insurance
Price

Pet insurance for your dog or cat at just R99 a month

Annual limit of R5000

With Pet99 you get a spending limit of R5000 to use as your dog or cat may need during the year

What pet can I insure

Your dog or cat needs to be at least 8 weeks old but not older than 8 years old
Benefits of Pet99
A life time of cover - your pet will be covered for their entire life once you have bought your policy. (This will be after the mandatory waiting periods) The cover will continue provided that you keep up with paying the premiums for the insurance.
Low excess - Pet99 overs a very low excess at only R300 per claim
3 Easy steps to claiming - Take your pet to any registered vet in SA, pay the bill for all the required procedures and medications then simply send in your invoice, receipt and claim for to be reimbursed for all your costs.
---
Care for your pets - Get cover to keep them safe
Pet99 is one of South Africa's well-known pet insurance covers, with the most convenient and efficient pet care solutions that their clients need, to keep their dogs and cats healthy.
Covering the costs of vet bills and treatment
When the costs of vet bills and treatment for your pet start building up to the point where you can't afford to keep them well anymore, then you know you have been waiting too long to get the cover they need.
Don't despair, Pet99 pet insurance offers clients a helping hand with the cost of caring for their pets. Pet99 will reimburse all those accounts that you get from the vet every time your pet needs a check-up, vaccination, surgery, x-rays, blood tests, deworming treatment, and more.
Pet99's Pet insurance also offers a range of benefits
Pet99 covers animal surgery and will give your pet the treatment they need should they be involved in an accident. They also aid your pets with treatment for cancer and diabetes.
Claiming is as simple as ever with Pet99
Policyholders can attach their proof of payment for the account they have paid the vet, and email or fax it to Pet99 as soon as possible, to receive reimbursement in less than 72 hours.
Because this is an insurance policy, there are a few exclusions to what Pet99 pays for of which include things like pregnancy, defects, pre-existing conditions, behaviour problems, and a few other ailments which will be stipulated in your policy.
Pet insurance that will allow you to use any local vet
Clients can take their pets to any vet they like. So, no choosing a name from a list. Any pets of 8 years and younger qualify for pet insurance. To start your application process, contact Pet99 via email or telephone, and they will provide you with the steps to take, to get your pet insured or get an online insurance quote.
Get the best Pet insurance with Pet99 completely online
They can provide everything you need online, for fast processing. Pet99 doesn't require any invasive documents, they don't need collateral or asset values, and they purely want to take care of your pets.
Pet99 is all about the continuous health and well-being of your pets. Let them help you take care of them financially, so you can make many more memories together.
Customer Reviews & Testimonials
"
May 2021
It only took me a few minutes to fill out their online form and they are much faster than most pet insurers with providing a decent quote.
Deon. G
— Pretoria —
June 2021
I had a few claims in a row and they paid out every time, no issues whatsoever.
Caroline. D
— Johannesburg —
May 2021
Got the greatest benefits on my policy with them. They truly care about their customers and their love for animals can also be seen through the personalized service they deliver.
Lwazi. N
— Johannesburg —
Pet99 Contact
Contact Number
E-Mail
Website
Physical Address
24 Wellington Rd, Parktown,

Johannesburg

Gauteng

2193

South Africa