Uncomplicated insurance
Get an online quote
Simplified costings
In-page navigation
---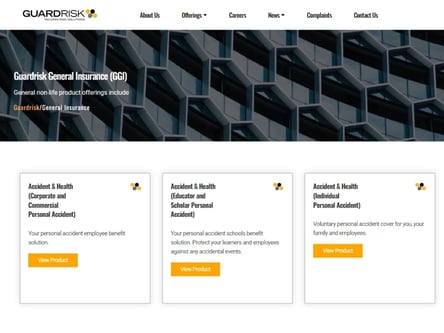 Author Guardrisk. Screenshot of Guardrisk website.


[Accessed February 7, 2023]
About Guardrisk
Guardrisk is a leading South African firm, with a strong background in the insurance and investment industry.
What makes them different is that they understand their clients. They are real people, dealing with real day-to-day life realities.
Guarding you against risks
Guardrisk knows that it's often a scary world out there, and life has its challenges. They are here to guard you against the risks faced in those everyday challenges through life insurance. With their professional manner, experience in the industry, and strive for excellence, they take their service to the next level and think ahead for their clients.
Providing value with Term Life Insurance
Guardrisk aims to provide value in every interaction they provide with their customers. They want to be your first choice when you think of term life insurance cover. Their vision is to provide cost-effective term life insurance that covers all your needs.
Guardrisk has the most experienced and knowledgeable staff on board their team, who are always available to assist you through any queries or step-by-step processes you need assistance with.
Guardrisk Services
Guardrisk knows that customers in South Africa require not only car insurance and insurance for their valuable belongings, but their term life insurance as well.
They offer risk protection which is diverse. It covers personal insurance, business insurance, and so much more.
Your assets covered with Term Life Insurance
We have many valuable assets in our lives and our homes or businesses, but our most valuable asset in life is our family. Imagine leaving them with the burden of your financial debts in the event of your death or disability.
Leave your family debt-free with Insurance
Should you become critically ill and unable to earn an income, or pass away and leave several unpaid debts? Guardrisk has term life insurance that will take care of these situations and leave your family debt-free.
They will tailor a solution to match your total values and asset amounts, debts, and anything else that requires a covered solution. Guardrisk is your protector against the risk that can take your world by storm.
Guardrisk – Term Life Insurance
Product

Term Life Insurance
Tailor made premiums for you

A comprehensive risk assessment of your health and lifestyle is done to determine your individual needs. Gaurdrisk will the put together a package that suites all your needs. They don't give you unnecessary things to pay on your premium you just pay for what you need.

Loss of your source of income

With their term life insurance, your debt and loan payments are covered if you are involved in an accident. This allows you to recover with peace of mind.

Your life matters

People often over look the need for life insurance or term life insurance. We always remember to insure our homes or cars. Gaurdrisk will help you assess you specific needs and offer you cover for eventualities.
Benefits of Guardrisk
Get your car insured - They provide you with a car when your own personal vehicle is in for repairs and you don't have any other way of transportation so you won't be left stranded when you need to get from A - B.
Insure your school - Owning and running and entire school is hard and can be very expensive and there is so many risks that can cause you to lose it all. Why not get the Edu8 cover where they give you a premium that covers all the assets in your school.
Motor traders this is for you - One of the most risky businesses is motor trading. There are endless risk in this industry but Guardrisk has created a risk free premium for your business so if you own a lot of cars that you are trading, rather get them insured and know you won't suffer any losses when you get a dodgy deal or theft happens in the place of business, you would be covered.
Get what you pay for - NO HIDDEN COSTS & NO EXTRA SURPRISES!
---
Guardrisk provides tailored term life insurance
Guardrisk in South Africa provides term life insurance in a simple, accessible, and efficient way.
Their process is simple, quick, and very transparent. Guardrisk communicates with their clients. They tell you how it is.
What you see is what you get with Term life insurance
Guardrisk doesn't hide behind the fine print and definitely doesn't charge you more than what you get out. Their main goal is to cover you and your family should something drastic happen. Guardrisk conveniently provides an online application process for those who live a hectic lifestyle.
Getting Term life insurance has never been this easy
Guardrisk has provided step-by-step guided details on their website to assist you to get the life cover you need. Click on the contact button on their website, and see a number of options to get hold of them. You can email them with your requirements, and they will contact you timeously and go through your term life insurance application with you.
Get Term life insurance online
Clients no longer need to find a branch or wait for an appointment. Guardrisk consultants are highly experienced and qualified to sort out all your application details and requirements over the phone.
They have many years of experience in putting together suitable and affordable term life insurance cover options with the premiums to suit your family, yourself, and your budget.
It's never too late to get covered for Term life insurance
The sooner you start, the easier it is to afford, and the greater your term life insurance cover will be. Guardrisk will organize that your monthly premiums get deducted from your bank account via direct debit, on the same day every month, so you can budget properly, and not have the hassles of remembering to pay your instalments on time.
The peace of mind you deserve with Term life insurance in place
Guardrisk makes life simple, and having the peace of mind that you are covered, makes a world of difference, not only for yourself but for your family as well.
We never know what turn our path may lead to, but having the right term life insurance in place when it does, can be the saving grace for any family. Let Guardrisk guard you against risk! They are your safety net in times of the unknown – apply for an insurance quote online today.
Customer Reviews & Testimonials
"
November 2020
I thought I would not be able to get term life insurance because of my age and affordability, but Guardrisk gave me the cover I needed.
Bernhard. C
— Johannesburg —
September 2021
I just want to say thank you to Guardrisk you are truly professional and set me up with the best cover.
Thembi. S
— Pretoria —
March 2021
This was the quickest application ever. Will tell all my friends how good you guys are.
Liam. B
— Johannesburg —
Guardrisk Contact
Contact Number
E-Mail
Website
Physical Address
Tower 2, The MARC, 129 Rivonia Rd, Sandown, Sandton,

Johannesburg

Gauteng

2196

South Africa
---
Postal Address
PO Box 786 015, Sandton, 2146, South Africa
Opening Hours
Monday

08:00 – 17:00

Tuesday

08:00 – 17:00

Wednesday

08:00 – 17:00

Thursday

08:00 – 17:00

Friday

08:00 – 17:00

Saturday

– Closed

Sunday

– Closed