Swift insurance process
No hidden costs
Quick claims payout
In-page navigation
---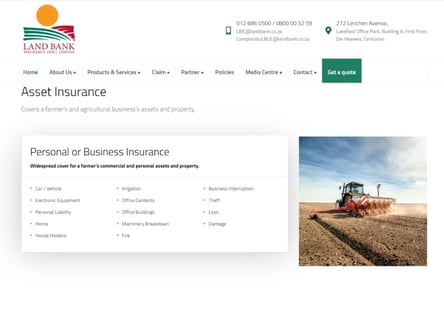 Author Land Bank. Screenshot of Land Bank website.


[Accessed February 7, 2023]
About Land Bank
Land Bank Insurance (LBI) is different from other insurance companies.
They offer an asset, crop, term life insurance, and life insurance benefits to farmers who need to insure their greatest assets, their crops, farming equipment, and their lives. Farmers in South Africa take the major strain with the loss of animals, crops and machinery, and equipment damages.
They know how hard farmers work and how their lives depend on their farming outcomes. It can be a devastating situation when a farmer passes away and having adequate cover in place, as a farmer, is an absolute must. Land Bank will keep you protected through every step of your life of farming.
A specialized market
This industry has become a necessity in this country and having an insurance company, that specialises in the cover for these farmers, has made them highly recognizable in the insurance industry. Land Bank has vast experience with years of helping farmers reach their potential financially; buy covering them when they need it.
Term life insurance all farmers can count on
Land Bank is not new to the insurance industry and backs its clients with over 60 years of experience and over 27 branches across the country. Their service delivery goes beyond expectations, and they aim to be the farmer's term life insurance provider of choice every time.
Land Bank Services
Land Bank Insurance offers superior and specialised term life insurance options for farmers in South Africa.
They comprise their term life insurance and insurance covers around your assets, your ability to work, and all that is included in the farming area. This means Landbank will take care of you and your family financially in the case of your death, disability, or illness. They also offer cover to take care of your vehicles, fences, machines, animals, and more against harsh risks including fire, damage, theft, and more.
Taking care of its clients
Land Bank takes care of its farmers and understands that the risks involved in farming can often lead to the risk of financial situations, especially when a farmer can no longer perform his or her physical duties.
Making sure that your family and workers have the finances in the event of your disablement, severe illness or death is what they do best. They also have crop insurance cover to protect farmers against weather conditions that may damage their crops.
Peace of mind with Term life insurance cover
With this cover in place, farmers are protected during those devastating times which are unpredictable, and which they have no control over. Land Bank's term life insurance and credit life insurance cover can give you the peace of mind that your long hard-earned farming condition is always looked after.
Land Bank – Term Life Insurance
Product

Term Life Insurance
Cover yourself or a group

They have premiums for single individuals and they also offer cover for families or group cover for businesses, so feel free to add your employees on your premium plan for affordable prices and easy access.

Protec your family and your employees

When the owner of a farm passes away it can far reaching effects on not only his or her family but also one the families who depend on the business. Make sure that all involved are covered.

Fast and Reliable

They pay out your lump sum after you passed to your loved ones so they can carry on living the life you built for them.
Benefits of Land Bank
All in one insurance solution - With Land Bank you can insure all of the lands you own and also your life stock, your crops and everything on the farm like your assets, also remember to get your industrial equipment insured they can cost a lot of money to fix and even more when they are broken down and you cant get the farming done.
Pay those loans - Owning a farm can lead up to taking a lot of loans out to keep your farm running smoothly, what happens to those unpaid loans when you pass away? Your family must carry the burden or get credit life insurance today and know those loans are taken care of when you are no longer here to provide.
Hassle-free cover - Call today and get their professional team to help you get the quote you need and they will assist you through the whole application process.
---
Cover your farming insurance needs precisely
To apply for Land Bank term life insurance cover, you can contact them directly through Land Bank's direct contact number or email address.
For clients who wish to make an appointment for a face-to-face meeting, Land Bank has branches available throughout the country.
Processing your Term life insurance application
Once Land Bank has received all the documentation they require from your application, the process to implement your term life insurance cover takes up to 6 weeks. From then, you are covered and will receive all the benefits of your term life insurance cover.
Do you qualify
To qualify for term life assurance or insurance, farmers need to be of South African nationality, have a clean credit score, and have security through assets. Land Bank needs to know you can comfortably afford your premiums, therefore, you will need to show you are receiving a positive income through your farming. If you are blacklisted, they can still help you if you have settled your outstanding debts before applying for term life insurance cover.
Experienced in the farming industry
Land Bank consultants are extremely experienced in the farming industry and with the term life insurance cover that they offer the farming community. They will be able to assist with all your questions and enquiries, whenever you need them.
They are here to provide you with the service and the cover you need, to protect yourself from risk at every stage of life. Call the Land Bank today, and get an online term life insurance quote. Land Bank will make sure you never run the risk of losing out financially and that your family and workers are taken care of when you are no longer there.
Customer Reviews & Testimonials
"
February 2021
I am so glad that we asked them for help with our life cover. Not even a month later my husband passed away and they paid out without any issues.
Mattie. R
— Pretoria —
June 2021
They are extremely reliable and they truly care about their clients. I have a few friends that have cover with them and I have reason to believe that they are the best.
Robbie. Y
— Johannesburg —
November 2021
A very innovative and open insurer. They have been fully transparent with me from the get-go and I know that I can trust every word they say.
Yogesh. P
— Johannesburg —
Land Bank Contact
Contact Number
E-Mail
Website
Physical Address
2, Block, Eco Glades, D 420 Witch-Hazel Ave, Eco-Park Estate, Centurion,

Johannesburg

Gauteng

0157

South Africa
---
Postal Address
P.O.BOX 375, Tshwane, 0001, South Africa
Opening Hours
Monday

07:30 – 16:00

Tuesday

07:30 – 16:00

Wednesday

07:30 – 16:00

Thursday

07:30 – 16:00

Friday

07:30 – 16:00

Saturday

– Closed

Sunday

– Closed