Rapid insurance quote
Competitive premiums
Family oriented company
In-page navigation
---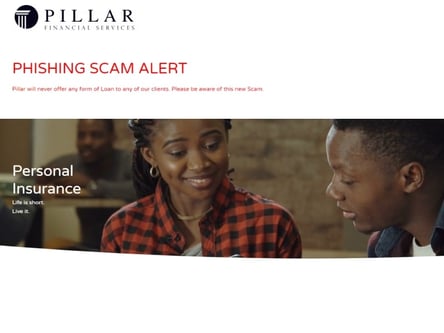 Author Pillar. Screenshot of Pillar website.


[Accessed February 7, 2023]
About Pillar
Pillar Insurance has over many years secured the financial future of clients in the country.
They have learned over the years, what works, what is effective, and what is valuable. Pillar services its clients in very high-quality and professional ways.
Offering custom Term life insurance solutions
Every step of their journey with you provides in-depth communication, pricing which is affordable, and term life insurance that covers all your needs.
What makes them unique is their ability to understand your needs. Pillar put itself in your scenario and creates a custom term life insurance solution that will fit you perfectly.
Pillar understands their client's needs
Another benefit of partnering with Pillar is the fact that they take the hassles out of the term life insurance processes. Everything they do is streamlined and integrated through the latest technology.
Pillar's service is fast, and they eliminate the waste of time when it comes to term life insurance and life insurance applications and claiming on your insurance policies. Pillar creates lasting relationships with its clients, and its support services are impeccable. They are always available to take your call and answer your questions.
Pillar Services
Short-term and long-term insurance through Pillar Insurance will cover you when you need the cover for your family.
Pillar offers their clients in South Africa a convenient way to make sure every step of their lives is covered, from credit to term life insurance cover options, they will make the choice easy.
Cover your assets
Short-term insurance covers your valuables and assets, in case you need to claim for your car, home, or anything else of value because of theft, damage, or loss. Pillar has specially designed individual cover options for home and home content as well as car insurance to keep you protected in those areas of crisis.
Insurance for the long term
Long-term insurance options cover clients who are retrenched and unable to earn a salary for a period of time, disability, or dread disease and death. If you are retrenched or need long-term care, their insurance cover will pay out a portion of your cover to fill the salary gap until you find other work or a source of income.
Pillar disability and dread disease cover will pay a portion while you are unable to work and the balance on your passing. Pillar death, term life insurance, or life cover will payout to your beneficiary in the event of your death.
Pillar – Term Life Insurance
Product

Term Life Insurance
Personally made just for you

Pillar insurance considers your biggest responsibilities you have to take care of when customizing a premium for you. If you have children and a partner the long term cover would be best suited for you but they do offer short term cover as well.

Financial assistance

They pay out a lump sum to your family, you have the options to have it as one installment to pay of all debt and bonds that needs to be paid or you can choose to let them pay out monthly installments to help with everyday expenses.

Get Your Car Covered

They will customize your premium so your car is also covered in your short or long term life insurance premium.
Benefits of Pillar
Medical insurance can save your life - When an emergency happens you don't always have the money to cover that emergency but with medical insurance, you don't need to worry about the cost at the emergency room. This can assist with payments from the E.R to the dentist chair with no hassles.
Get personal - You can add affordable insurance that covers all your personal belongings and valuable assets such as your home, everything inside of your home and also your car and other forms of transport or assets you may have.
Best premiums - Pillar insurance will help find the best and most competitive premiums that companies have to offer to get you the best deal that suits all your needs and gives you exactly what you want at affordable prices.
Not good at negotiating? - No problem they will do the talking and negotiating for you.
---
Pillar's clients can depend on them for the long run
Pillar Financial Services uses its unique approach to addressing customer needs, through a streamlined innovative process.
They are passionate and vibrant people with the willingness to help people with the services they want. Pillar is focused on their clients, making sure they deliver on their expectations, and it all starts from the beginning when they apply for their term life insurance offerings.
Interact with Pillar online
Clients can go onto the Pillar webpage, and click on the contact button. Complete the personal details and choose the service they wish to enquire about. Submit and wait for one of Pillar's experienced consultants to get back to you.
They won't make you wait, they will be in touch with you within the quickest possible turnaround time, to ensure you get the information you need and the online insurance quote you're looking for, fast.
Pillar consultants will get all the information they need from you to put together a proposal, which will include all the areas of cover you require, as well as a term life insurance quote on what your premiums will be, and what your cover will include upon payout.
Pillar considers the long term
When putting together your proposal, they look at every possible angle where they can save you on your premiums and will discuss these alternate options with you. Pillar aims to make their services of value to their clients.
Pillar won't push unnecessary products and costs onto you, they will not try to sell you cover that will have no value to you and your family. This is what makes Pillar term life insurance that of the highest calibre. They really do care about what happens long-term for you.
Term life insurance that's easily accessible
Pillar makes term life insurance options easily accessible, within your budget, and applicable to every risk in your portfolio. They have a team ready to assist you whenever you need to have a question answered and their knowledge of the industry will keep you updated with new and improved products which they can offer you at any time. Pillar is your term life insurance company of choice; they know what you need and they give it to you.
Get access to simple Term life insurance
Pillar is a young, vibrant team of dedicated financial brokers focused on personal risk planning. They take the complications and industry jargon out of life, credit, and term life insurance – making it easy for their clients to understand.
Pillar clients know exactly what they are insured for, as well as what areas are not covered by their term life insurance policies. They are completely comfortable with their financial investments and trust in their future planning.
And they ensure that they are aware of potential loopholes and understand the technical clauses in their financial contracts. This is what makes relying on an experienced broker so valuable.
Get the best deal with Pillar in terms of Term life insurance
Pillar fully manages your complete portfolio and helps you cut down on costs, by negotiating on your behalf with the major insurers. Operating from Uitenhage, they conveniently service clientele across South Africa.
Presenting a variety of services categorised under insurance, financial investments, and future planning, Pillar offers you one central contact person and the utmost peace of mind.
Customer Reviews & Testimonials
"
February 2021
Their premiums are affordable and they truly care about their clients. Great company to have life cover with.
Lisedi. D
— Cape Town —
April 2021
They are fully transparent and play 100% by the rules, meaning that I am fully protected.
Joe. H
— Johannesburg —
December 2020
Friendly and informative staff that will go the extra mile to get you the best premium for the most cover.
Lean-Marie. N
— Cape Town —
Pillar Contact
Contact Number
E-Mail
Website
Physical Address
10 Gert Kotze St, Springbokpark, Bellville

Cape Town

Western Cape

7560

South Africa
Opening Hours
Monday

08:30 – 16:30

Tuesday

08:30 – 16:30

Wednesday

08:30 – 16:30

Thursday

08:30 – 16:30

Friday

08:30 – 16:30

Saturday

– Closed

Sunday

– Closed