Long-term insurance solutions
Get a quote online
Easy claims process
In-page navigation
---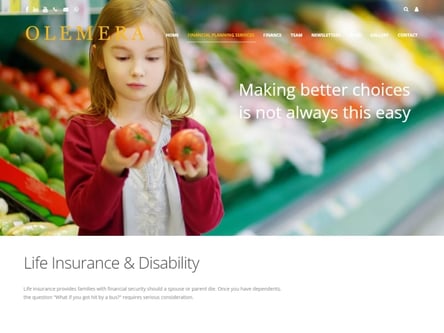 Author Olemera. Screenshot of Olemera website.


[Accessed February 7, 2023]
About Olemera
Olemera Financial Services, have many years in the insurance industry and have perfectly aligned with the needs of their clients.
They provide term life insurance cover to meet every stage of their clients' lives in South Africa, and they strive to deliver on their services and their promise to deliver exceptional quality throughout every process and stage they offer.
Committed to you, long-term
Olemera is committed to ensuring their clients get the right term life insurance or life cover when they need it, and benefit from the premiums which are in line with their budget and the product they choose. They have an extremely high customer retention rate which speaks volumes for their service.
Solutions for all stages of life
Olemera created its products around covering the risks that their clients may endure. They offer short-term insurance which may cover your assets and valuables, as well as term life insurance and long-term insurance needs such as life and death.
They also offer other insurance products such as long-term care insurance or disability cover. Through every stage of your life, they have an insurance solution for you.
Olemera Services
Term Life Insurance from Olemera provides term life insurance options to suit every client in South Africa.
Olemera term life insurance policies will look after your spouse and children as well as an extended family in the event of your passing.
Be prepared for anything
We never know how long we have left on this earth, however, being prepared can save your family a lot of financial stress at the time when they need it.
Thinking ahead can mean your family is well supported when you are no longer around.
Insurance cover for breadwinners
If you are the breadwinner in the family, a lump sum will pay out on your life policy and can really provide for your family, when they rely on your income every month.
Short-term insurance cover has opted for vehicles, homes, and valuables. If you are in an accident, and your car is damaged, this will be your lifeline financially. Home invasions, damage, and theft can be covered to give you the peace of mind that you will get paid out during this unexpected time.
Olemera – Term Life Insurance
Product

Term Life Insurance
Short term insurance that goes a long way

They have short term life insurance premiums that covers all your personal assets like your car and household items. As well as a liability insurance premium for when times get hard, you fall ill or have an accident or even lost your source of income.

Long term life insurance

This premium is perfect for when you paying of the house you just bought, this premium expires as soon as you are done paying what you needed to pay so you won't be paying extra for nothing.
Benefits of Olemera
Did you know they help with Tax - Olemera offers a professional team to assist with estate and tax planning.
Planning for your family's future - They have a great team who helps you set up your last will and testimony. Already have one but need to be adjusted, that's no problem. They will assist you in any way possible. Olemera is here to make life a bit easier and stress free.
Business insurance - If you running your own business you know how important it is to insure your business. At Olemera they believe you must work smart. They can assist you with an insurance needs assessment and quotes to cover all the different aspects of your business.
---
The financial services group of choice
Olemera aims to provide term life insurance cover to clients in the country that will meet their needs.
Their term life insurance options are easily accessible to their clients, either through emailing Olemera directly or calling them on the contact numbers provided on the Olemera website.
Client-centric services
Olemera is extremely client-centric and focuses on taking care of each client's needs on an individual level, customizing term life insurance solutions accordingly. To access Olemera term life insurance cover, you can simply call Olemera or email them, and one of their experienced consultants will be in touch with you fast.
Insurance should be a priority
They believe that getting a car, life, term life insurance, and medical insurance should be a priority, no matter what kind you choose. With life being unpredictable, you never know when you need short-term or long-term insurance cover in place.
Olemera insurance can protect you from the early stages of life, be it your car, home, or cell phone right down to when you pass away.
Choose the right option for you
When you are making the choice on what term life insurance cover to take, the factors that will determine your premiums and coverage of insurance will depend on your age, marital status, how many children you have, your lifestyle choices, and how much you can afford to pay each month.
The more you put towards your term life insurance cover, the more and most beneficial your term life insurance cover will be. Olemera suggests you take an in-depth look at what you can afford each month before taking out term life insurance. This will make the choice a lot easier.
Make payments by debit order
By implementing a debit order on a monthly basis for your premiums/instalments, you won't run the risk of lapsing on payments. If you have children or a spouse, funeral cover may be a good option to give your family the peace of mind that you have that bit covered in the event of your death.
You are important to Olemera
At Olemera, their clients are very important to them, and they aim to always meet their needs. They create a passionate and positive working environment for their employees, so they will always have the energy and skills to deliver the best possible solutions to their clients.
Customer Reviews & Testimonials
"
October 2021
A great and reliable company that can be trusted with our lives.
Janika. T
— Johannesburg —
July 2021
They have helped my family through a very difficult time. Despite the heartache, we were at least taken care of financially.
Santie. G
— Pretoria —
October 2021
I recommend them to anyone. Their term life insurance is a must. Life can happen at any time and they are great with paying out claims.
Luthando. T
— Johannesburg —
Olemera Contact
Contact Number
E-Mail
Website
Physical Address
42 Shepherd Ave, Bryanston, Sandton,

Johannesburg

Gauteng

2194

South Africa
---
Postal Address
PO Box 3052, North Riding, 2162, South Africa
Opening Hours
Monday

08:00 – 16:30

Tuesday

08:00 – 16:30

Wednesday

08:00 – 16:30

Thursday

08:00 – 16:30

Friday

08:00 – 16:30

Saturday

– Closed

Sunday

– Closed