Free insurance quotes
Unmatched plans available
Discount premiums
In-page navigation
---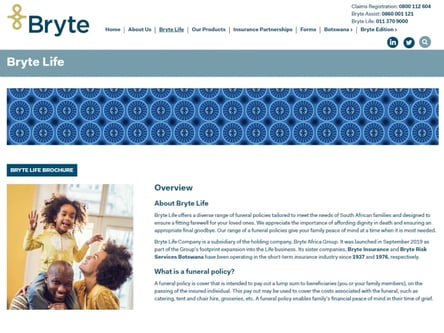 Author Bryte. Screenshot of Bryte website.


[Accessed February 7, 2023]
About Bryte
Bryte is a large multinational and multi-line insurance company, with over 54 000 loyal and passionate employees.
They cover a footprint of over 210 countries across the globe, making them an insurance force to be reckoned with.
Personal & business Term life insurance cover
Bryte provides insurance cover for personal needs as well as for businesses wanting to make use of their experience and abilities. They have the capability and capacity to handle any size market and any life insurance or term life insurance cover their clients may need.
An insurance giant that cares
Bryte has been in business for many decades, dating back as far as 1872 when they established their small insurance and financial services in a small market. Since then, Bryte has evolved into the insurance giant it is today. The Bryte brand is known for its competent services and for putting its customers first. They address each client on a personal level, making every client count.
Bryte Services
Bryte has extensive experience in protecting clients and their families from life's unexpected turns.
Bryte offers term life insurance options, each with its own set of value-added benefits.
Long term cover and Term life insurance
Bryte finds that many of their clients prefer to take long-term and term life insurance options, to ensure every step of their life is covered, whether you get disabled, critically ill, retrenched, or pass away.
They also offer short-term insurance cover to make sure that your assets are covered in case of theft or damage. This can mean your home, car and any other valuables are covered. Their long-term and term life insurance can cover your life and that of your family at an affordable rate.
Bryte – Term Life Insurance
Product

Term Life Insurance
Term Life Insurance On Your Time

They provide you with premiums you can decide when you want it to pay out, so if you are looking for something short term or something long term they have a premium for you, and if you looking to set your future and want a premium for both long and short term that is also possible.

They Give You What You Need When You Need It

When life starts throwing obstacles your way and an incident happens where you lose your income, Bryte insurance pay out a % of your cover so you can survive your everyday life and get back on your feet. Its like they cut you a piece of your pie and save the rest for later.
Benefits of Bryte
Funeral cover for everyone and anyone - They have diverse options for funeral cover. They help you get a premium that suits you and your family's needs the best. When you and your family are covered by their funeral plans you get the funeral you deserve, very dignifying and they make sure the last farewell is something unforgettable for the rest of the family so they can remember you as you were before you passed on.
Exclusive Business Insurance - They have a variety of business policies. No matter the kind of business you have, give Bryte a call today, they have a solution for you at premiums that you will appreciate. You can also have them take care of the insurance policies you have and combine them so you just have to pay one combined premium. Be smart, make a change today.
---
The world of knowledge in the insurance sector
Bryte insurance delivers on every aspect of its promise. They want you to get the most out of whichever insurance option you choose.
Whether you are a large business corporation looking to invest in your business with business insurance, or a private client looking out for the best of your assets and family, they have a smooth process to get you covered fast.
Expertise to assist you all the way with Term life insurance
With a highly qualified group of people on board the Bryte team, they have the expertise to assist you with whatever your term life insurance needs may be. For a complete analysis of your term life insurance application, contact Bryte via email or telephone, and they will get straight back to you.
Quoting you on Term life insurance cover with a difference
Bryte will follow the necessary steps by gathering your information and creating a personal portfolio for you. From that, they can analyze your requirements and put them into a proposal that will allow you to review what you can obtain.
Alleviate loss of income
Should you become ill and unable to earn an income. Bryte cover will pay out a percentage of your cover to alleviate the loss of income. In the event of your death, their life cover will pay out a lump sum to your family or whoever is stipulated as the beneficiary of your policy.
Passionate about their services
Bryte is extremely passionate about its services and positive about its delivery to their clients. With their specialist term life insurance products, Bryte knows they can match the right solution to your specific needs.
They will tailor a term life insurance proposal including your premium amounts, and once you have agreed to the terms, they will put the wheels into motion.
Monthly premium deductions for Term life insurance
Once your term life insurance is set in motion, they will ensure your monthly premium is deducted each month from your bank account, and allow you the peace of mind that you are covered.
You can instantly apply for an online insurance quote or call Bryte for more information. If you choose to meet with them face-to-face, they will be happy to set up an appointment with you at any of the Bryte branches located across the country.
Providing you with the Term life insurance you need
With Bryte's strong global alliance and leverage off a financially secure market, they can provide their clients with the security that their investment in their term life insurance is never at risk. Bryte has the capacity to serve everyone in multiple countries.
They will handle your request for term life insurance as well as your claims swiftly and with the utmost professionalism. Bryte builds on its strengths as a global leader, to provide the best outcomes for its clients!
Customer Reviews & Testimonials
"
October 2021
My friend passed away after just a year of buying her first house and Bryte took care of her bond, with no issues. Her husband and children can now still live in the house without any financial s...
Jenny. L
— Johannesburg —
November 2021
They offer great service and phenomenal products. I am a very happy client that knows that I can trust them.
Carol. L
— Pretoria —
June 2021
Bryte has great experts that work for them. They are always friendly and ready to answer all my questions.
Simpiwe. H
— Pretoria —
Bryte Contact
Contact Number
E-Mail
Website
Physical Address
15 Marshall St, Ferreiras Dorp, Johannesburg,

Johannesburg

Gauteng

2001

South Africa
---
Postal Address
PO Box 61 489, Marshalltown, 2107, South Africa
Opening Hours
Monday

08:00 – 17:00

Tuesday

08:00 – 17:00

Wednesday

08:00 – 17:00

Thursday

08:00 – 17:00

Friday

08:00 – 17:00

Saturday

– Closed

Sunday

– Closed