Reliable building cover
Available emergency services
Affordable premiums
In-page navigation
---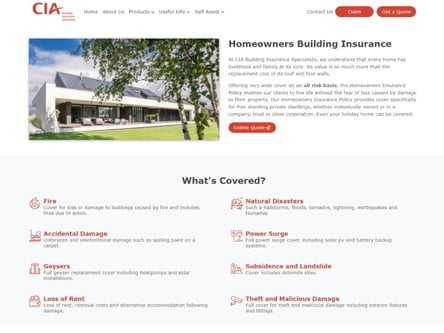 Author CIA. Screenshot of CIA website.


[Accessed February 7, 2023]
About CIA
CIA Building Insurance Specialists are a division of Hannover Reinsurance Group Africa Limited and are underwritten by Compass Insurance Co. Ltd.
Their journey began in the late 1990s as they entered the insurance industry determined to make a difference and become the most respected providers of building insurance services in the country.
CIA's core values
CIA has three core values that drive them and ensure they continue to grow while still maintaining excellent relationships with their existing customers.
CIA is committed to their customers whose interests are at the heart of all that they do.
As a company with the lowest Ombud overturn ratio in the country, you can be sure that CIA guards its integrity with unwavering determination.
With more than 20 years in the business, CIA has the expertise, skills, and experience to get things done the right way.
Not afraid of change
CIA attempts to stay ahead of the competition and make sure that the changing needs of their customers are considered – even before these needs become apparent. They achieve this by committing their time and resources to research and development, and as a result, are at the forefront of innovation in the industry.
6 branches ready to serve
CIA Building Insurance Specialists have 6 branches across South Africa that are ready to service you and take care of all your building insurance needs. Their expert staff is ready to offer you the advice and assistance you need but also remain approachable, friendly, and committed to giving you the best possible customer service experience.
This dedication to personalized service stems from their roots as a family-owned and operated business – roots that are honoured and values that are upheld to this day.
A nationwide network of brokers
CIA has an extensive network of more than 1600 insurance brokers across the country, ready to assist you in obtaining the right cover for your building. In fact, if you need a bit of help with any of their products and services, you can use their broker database to find one near you.
CIA Services
CIA is able to provide buildings insurance to properties between the value of R500,000 and R50 million – and you're free to insurance a second or holiday home too.
What you get with Building cover from CIA
In exchange for a monthly premium, your home will be covered for any damage or loss that occurs as a result of one or more of the insured events listed in your policy wording. This includes things such as fire, explosions, flooding, subsidence and landslides, and damage caused as a result of theft, attempted theft, or vandalism.
You will be covered for damage to roofs, walls, your landscaped garden, and more. CIA will also cover things such as hiring a generation, providing alternative accommodation, replacing keys and locks, hiring a guard, replacing title deeds, and boarding pets.
Medical, trauma, funeral costs for employees
CIA also covers medical, trauma, and funeral costs for employees on your property including guards and gardeners if they're the victim of an unlawful attack while undertaking their duties.
Water loss cover
Any charges for water that result from leaking or broken pipes will also be covered under your policy if it exceeds the average of the past four months by more than 50%.
Limitations of cover
As with all insurance policies, there are certain exclusions that you need to be aware of. All of the exclusions can be found in your policy wording and schedule. Examples of exclusions include any damage resulting from construction work being done on your property, loss of damage to your property if it has been left vacant for a period exceeding 31 consecutive days, cracking and collapse as well as damage caused by roots, pests, insects, and pets.
Cover for large sectional title schemes
CIA also provides cover to large sectional title schemes to ensure that all residents can safeguard their homes and investments. This includes cover for damage and loss resulting from fire, natural disasters, accidental damage, geyser, subsidence, and landslides, power surges, as well as public liability cover of up to R100 million.
CIA – Building Insurance
Product

Building Insurance
Insure your new home

You can insure your new home before your property transfer

Building insurance covers you

Building insurance from the Building Insurance Specialists will cover you in the event of damage to your buildings from power surges, weather and fire
Benefits of CIA
Accidental damage- Accidents happen every day. CIA will cover you in case of an accident such as paint messed on a carpet etc.
Geysers - You geyser will be covered for replacement but not only the geyser, you can also replace your heat pump or solar installations.
Security guards can be made available if there has been a breach to your property. They will be there to assist in protecting your home.
---
Get an accurate online quote in under a minute
CIA has a simple quote automatic quotation system on their website that you can make use of to get a quote in under a minute.
Simply provide them with details about the building you're looking to insure including its value, some details about the materials and constitution of the building, as well as whether or not it's often left vacant.
How to proceed when a claim is imminent
If an emergency occurs it's important for you to follow some critical steps to ensure a smooth and hassle-free claims process. The first thing you need to do is take action to stop any further damage after an emergency. This may mean calling emergency services or turning off the water supply to your home.
Next, you must take action to conduct emergency repairs – especially if these repairs would further minimise damage. Next, you should take photos of the damage and if you replace any items, the old damaged ones should be kept.
Any claims related to robbery, theft, malicious damage, riots, or civil disobedience must be reported to the police and a case number noted down. You must then contact the CIA and inform them of the claim as well as send them all the required documents, evidence, and information.
Commercial property insurance
In addition to their homeowners and community living insurance products, CIA also offers commercial, industrial, and residential buildings insurance in South Africa.
Request an insurance certificate online
CIA has made it easy for you to provide proof of insurance by allowing you to quickly and effortlessly request an insurance certificate online via their website.
Sign up for their newsletter
If you want to stay up to date on the latest information regarding building insurance, legal developments, sectional titles rules, and regulations, and more, sign up for CIA's newsletter! They also have an archive of all their previously issued newsletters on their website.
Customer Reviews & Testimonials
"
August 2021
Only go occasionally to your holiday home? Whos looking after it when you living in reality? Time to give CIA building insurance a go you wont regret it.
Megan S
— Durban —
April 2021
You never struggle to get hold of them, always available and reliable with affordable prices. And big bonus is that its hassle free when you claim!
Mbekela J
— Mahikeng —
June 2020
I had a break-in and they send an armed response team immediately to my house and took action, thanks to them nothing were stolen and the covered any damage.
Jason G
— Pietermaritzburg —
CIA Contact
Contact Number
E-Mail
Website
Physical Address
13 Riley Rd Bedfordview Germiston

Johannesburg

Gauteng

2008

South Africa
Opening Hours
Monday

08:00 – 16:15

Tuesday

08:00 – 16:15

Wednesday

08:00 – 16:15

Thursday

08:00 – 16:15

Friday

08:00 – 16:15

Saturday

– Closed

Sunday

– Closed