Affordable insurance
Apply online
Get a quote online
In-page navigation
---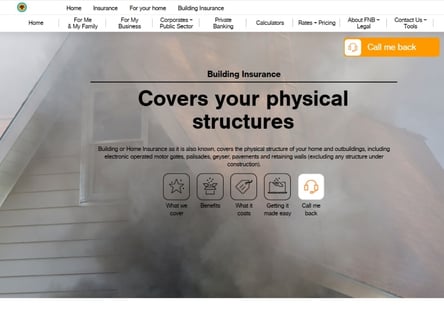 Author FNB. Screenshot of FNB website.


[Accessed February 7, 2023]
About FNB
FNB is one of South Africa's largest, most innovative, and loved banks with millions of happy customers and an extensive product range that puts their competitors to shame.
As one of the country's oldest banks, FNB has grown with the people of the nation and this has ensured their ability to understand their needs on a very personal level. Whether you're looking for a simple transactional account, complex forex services, or affordable insurance products to meet your life stage needs - FNB can deliver with a smile.
An unforgettable journey
Founded back in 1883 in Grahamstown, FNB has made it through many trials and tribulations and the fact that they're still standing today is a testament to their resilience and dedication to serving the people.
In 1998 Rand Merchant Bank Holdings and Anglo American came together to form FirstRand Limited which is the mega-large Financial Services Provider (FSP) that we all know and love today. Not only are they growing both in size and profit but also as an organization with an ever-growing culture of diversity, respect, and excellence.
FNB Services
FNB offers flexible and affordable building insurance for all FNB and non-FNB homeowners and bondholders who want to secure themselves financially.
This is an insurance product that covers the physical structures on your property against specific loss or damage that may occur and is a requirement for anyone who has a bond in South Africa.
What Building insurance covers
Building insurance will cover you in the event that your home and/or any of the outbuildings are damaged or destroyed as a result of any of the covered events. These events will be listed in your policy schedule in detail but include fire, explosions, lightning, burglary damage, weather-related incidents, and burst pipes and water appliances.
FNB's building insurance will also cover you for third-party liability in the event that someone or someone's property is damaged while at your home and they take legal action to claim damages.
FNB – Building Insurance
Product

Building Insurance
Storm Damage

FNB will cover your brick and mortar structures against loss or damage from fire, sever weather or damage from theft

Replace Keys

If you feel unsafe in your home after a burglary your building insurance can help you replace all your keys

Rent when you can't stay

If your home has been damaged and you can't stay there anymore then FNB will assist you with accommodation.
Benefits of FNB
For Business - FNB has been helping small, medium and big business for years. With their expertise and tailor made business solutions they can help any business grow to its full potential.
Life insurance - FNB offers comprehensive life insurance with the added benefits of critical illness, permanent disability and income protection cover.
Car insurance - You can insure you car with comprehensive cover or third party only.
Digital FNB - FNB offers you completely digital solutions with its innovative app and online banking. Most application and transactions can be done from the palm of your hand or the comfort of your home.
---
Get a building insurance quote in minutes.
All you need to do to get a building insurance quote is contact the FNB call center and speak to an agent.
They'll gather some personal information about you and then use the value of your home and the value of outbuildings and specific items you want to insure to provide you with an accurate quote.
What isn't covered
If you're the owner of a rental property or building, you will need to get commercial building insurance in South Africa which is a separate product altogether. Building insurance will only cover your personal home that is not used for commercial purposes.
In addition, you must take note of all the exclusions that apply to your FNB building insurance policy. This includes damage to pool cleaning equipment, regular wear and tear, and damage to home contents.
Ready to get covered
If you own the home or building you're looking to insure, then you're set and ready to go! All you need to provide is a copy of your South African ID book as well as proof of address to apply.
Additional benefits you'll get
If your home is damaged and destroyed and you cannot live on the property while repairs and rebuilding are completed, FNB's building insurance will cover the cost of alternative accommodation for you and your immediate family for a specific period of time.
Additional insurance products
FNB also offers home insurance that perfectly complements their building insurance offering. This product will pay out a specified amount to repair or replace home contents like your TV, fridge, furniture, loose carpets, electronic devices, and even the personal belongings of domestic employees.
They also conveniently offer you portable possessions insurance that will cover you for the loss of personal items while you're outside of your homes. This can be anything from your watches and jewellery to your fancy road bike and running shoes.
Corporate Social Investment we can all be proud of
FNB places great emphasis on reducing its impact on the environment while also investing in a range of sustainability efforts. One of the ways that FNB reduced abs continue to reduce their impact is by completely overhauling their head offices BankCity to use less energy and be more environmentally friendly. They not only improved the efficiency of their lighting and aircon doting systems but they implemented new technologies such as more energy-efficient electronics to support their goals.
They've also converted many appliances from electrical to gas, changed over to energy-efficient bulbs, and they run energy efficiency competitions among their employees to encourage further innovation in this area.
Insurance from FNB
In addition to the products specified above FNB also offers life and disability cover, funeral insurance, a health cash plan, and affordable travel insurance. You can also get car, legal, domestic worker, and debt protection insurance plans that will be customized to meet your unique needs and your budget.
To find out more about their compressive range of personal insurance products or to purchase affordable building insurance you can visit their website, make use of the FNB app, call them, or visit an FNB branch.
Guarding against being underinsured
It's wise to regularly review your policy to ensure that it's up to date. That's said, before opting to choose a certain policy because of the lower premiums offered you must ensure that you're not underinsured. To be insured properly you must get cover for the true replacement or rebuild value of your home.
Customer Reviews & Testimonials
"
November 2021
My house flooded because my pipe burst but luckily I got building insurance by my bank FNB they really help as they promised.
Belinda Z
— King Williams Town —
June 2020
My tenant set the outbuilding on fire, I thought that I was going have to rebuild it myself but FNB covered it with my building insurance premium I have by them.
Kelly R
— Germiston —
March 2021
Affordable prices and easy application for an old lady like me, my house is all I have so I have to protect it.
Athuma D
— Grahamstown —
FNB Contact
Contact Number
E-Mail
Website
Physical Address
3, First Place, Kerk &, Simmonds St, Bank City,

Johannesburg

Gauteng

2000

South Africa
Opening Hours
Monday

09:00 – 15:30

Tuesday

09:00 – 15:30

Wednesday

09:00 – 15:30

Thursday

09:00 – 15:30

Friday

09:00 – 15:30

Saturday

09:00 – 11:00

Sunday

– Closed