Affordable building cover
Quick online application
Get a quote online
In-page navigation
---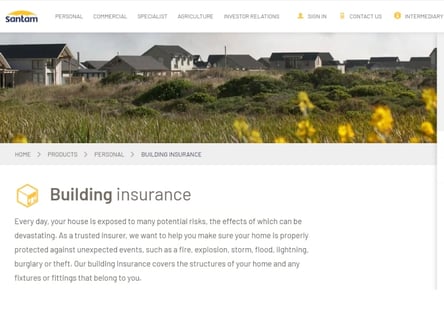 Author Santam. Screenshot of Santam website.


[Accessed February 7, 2023]
About Santam
Santam is known as a leading general insurer that provides insurance products and services in South Africa, as well as internationally, with over 102 years of experience.
These products and services include categories of Personal, Commercial, Specialist and Agriculture Insurance. Within the category of Personal Insurance, those looking to insure their newly purchased home or building can rely on Santam's Building Insurance to provide cover for those unforeseen circumstances such as fire, explosion, storm, flood, lightning, burglary or, theft.
Building insurance South Africa
To protect the investment that one makes when purchasing a house or building and make provision for any unexpected damages, building insurance is a must. A good building insurance policy needs to cover everything that is permanent and cannot be moved. In the case of any unexpected events that could lead to damages or loss relating to a building structure.
Santam's Building insurance offers cover for:
Structures of the home and any fixtures or fittings that belong to the policyholder.
Walls
Paving
Swimming pool
Building insurance benefits
Even more reason to sign up with Santam Building Insurance in South Africa is that of the extended benefits one can make use of when taking out building insurance, which includes cover for:
Alternative accommodation
Loss of water
Power surge
The cost of tracing a leak as well as necessary repairs.
Fire brigade charges incurred during their work to prevent or reduce damage to the property.
Property transfer before a new house the policyholder purchased is legally transferred to them.
Professional fees and demolition costs that would take place in the case of a fire.
Rental costs for alternative accommodation should the house be damaged and uninhabitable.
Santam Services
Santam offers 24/7 SOS services for claims assistance at no additional cost.
This SOS service is beneficial for those with building insurance as it offers assistance for emergency household repairs 24/7- within 2 hours related to plumbing, electrical, locksmiths, and glaziers. To make use of this 24/7 service, contact 0860 505 911.
Home Contents benefits
While Building Insurance covers all aspects of the outside of the building or home, Home Contents Insurance covers all aspects inside the home which need to be protected too. Similar to building insurance, Santam's Home Contents Insurance covers loss of or damage to household contents caused by an insured event, such as a fire, explosion, storm, flood, lightning, burglary, or, theft.
Those who choose to take out a Home Contents Insurance policy will also be entitled to benefits at no additional cost, in the form of:
Accidental breakage of mirrors and certain glass items inside the house.
Rental costs for alternative accommodation if the house is damaged and it is not sufficient to live in.
Fire brigade charges incurred during their work to prevent or reduce damage to the property.
Personal effects of guests or domestic employees while inside the home.
Accidental spoiling of the contents of refrigerators or freezers inside the house, which can add up to be a costly event.
Necessary costs of removing debris or damaged contents after loss or damage caused by an insured event.
Laundry on the washing line, which is covered against any insured event.
Santam – Building Insurance
Product

Building Insurance
Building Calculator

Use the online building calculator to work out how much you should cover your structures for

Online Process

On the Santam website you can fill in the form to get a quote as well as submit your claim and track your claim

Brokers

If you would like to speak to a broker and get face-to-face advice you can search for a broker in your area
Benefits of Santam
Specialist insurance - Santam offers insurances for a niche market from aviation to insuring your crop. If you are looking for something specific you can search for a broker and discuss your needs with them to get advice on the best cover for you.
Car insurance - Santam is the number one choice of insurer for car and home insurance for most South Africans
Agriculture forms a large sector of our economy and Santam understands that cookie cutter insurance solutions may not be what farmers need so they have developed insurance solutions tailor made to the agriculture industry.
---
Quick and easy to claim building insurance
Santam offers an easy and convenient claims process that can be accessed by visiting santam.co.za or via the Santam App.
Policyholders can register and link their account on the client website online at client.santam.co.za. For already registered policyholders, one can log into the respective account and find their way to the Policy page.
On the policy page, one can:
Register a claim
Track open claims
View claims history
View policy details
View payment details
Request policy changes
Once a claim has been submitted, a claims number will be sent to the policyholder and with this, all claims progress can be tracked. Alternatively, one can conduct all claims and insurance matters directly from the comfort of their phone by downloading the Santam App at Google Playstore.
Building insurance quote
To get a Santam Building Insurance quote, one can make use of the online insurance quote function when visiting santam.co.za and heading to the Building Insurance section. Simply click on "Get quote" and complete the necessary fields. After this, select "Submit Quote" and Building Insurance is one step closer. For more information regarding Santam Building Insurance in South Africa, one can call 0860 444 444 to speak to a Santam agent.
Building insurance cost
From Santam claims statistics it has been discovered that one out of three homes in South Africa is underinsured by as much as 30%. Being underinsured means that the sum insured is less than the cost of rebuilding, repairing or replacing the buildings and structures. Therefore it is of utmost importance to ensure that one has sufficient cover and includes these building insurance costs.
Santam offers the useful function of the "building calculator" to determine potential building insurance costs and cover to assess whether the building is adequately covered. This function can be used when visiting santam.co.za and can be found within the Building Insurance category. Here, the potential policyholder can follow the steps and complete the necessary fields according to their personal information directly linked to building and property specifications. This function is efficient in calculating building insurance costs which vary according to the needs of each individual.
Customer Reviews & Testimonials
"
February 2020
Imagine your business caught fire at midnight!! Who you going to call? SANTAM!!!! They have 24 hour claims for free!
Tony S
— Roodepoort —
May 2020
What I like about Santam's building insurance is that they cover both the outside and the inside continents no need to have separate premiums.
Nicky C
— Cape Town —
Santam Contact
Contact Number
E-Mail
Website
Physical Address
1 Sportica Crescent Tyger Valley Bellville,

Cape Town

Western Cape

7530

South Africa
Opening Hours
Monday

09:00 – 17:00

Tuesday

09:00 – 17:00

Wednesday

09:00 – 17:00

Thursday

09:00 – 17:00

Friday

09:00 – 17:00

Saturday

– Closed

Sunday

– Closed