Best building insurance
Get an online quote
Quick application process
In-page navigation
---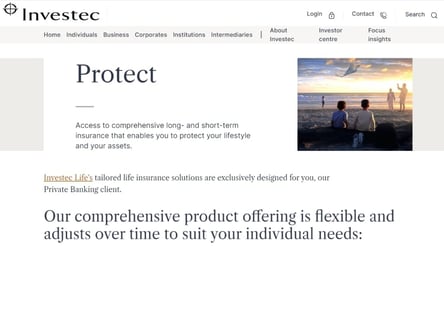 Author Investec. Screenshot of Investec website.


[Accessed February 7, 2023]
About Investec
Investec is not a new name in the country.
Investec is the personal investment firm of choice stated by thousands of private and business professionals throughout the country. Investec invests in the future and the present of your life.
A legacy of excellence
With a legacy of profound excellence reaching all corners of the globe, Investec interacts with its clients on a level that provides open communication, quality service, and impeccable processes.
Investec is confident in what they offer
Investec's confidence in providing superior service, enables them to strive further in their industry, to be the best at providing what customers want, and work around proving a solution that can grow from a single platform to multiple benefits to cover you through every aspect of life.
Providing you with the much-deserved security
Through Investec building insurance offerings, Investec aims to provide security to their clients with the financial backing that will guarantee their clients the peace of mind that all losses will be covered.
Investec Services
Investec building insurance and Investec home contents cover are on offer from Investec as an affordable way for clients to protect their homes.
For a single monthly charge, the Investec Private Bank Account consolidates all of your daily transactional banking into one account.
They're all about simplicity
Investec provides access to services through a preferred channel of communication for your insurance that you choose. This can be done via telephone, email, in person, or via their mobile app. Investec is all about making life simple and accessible for their clients.
Building and Home contents cover
Investec allows clients the option of homeowners and home contents insurance services to meet their requirements. This cover provides the needed cover in the event that you experience damage to your home or home contents through the means of floods, fire, electrical faults, or other disasters that can result in overwhelming problems or loss of valuables. Investec will cover your priceless home contents when removed or stolen if you were burgled.
Investec – Building Insurance
Product

Building Insurance
---
Investec invests in your building insurance needs
Investec in South Africa is known for its experience in investing in people's lives. Their experience extends further than investments; they also invest in your personal lives including insurance.
Investec works in partnership with AON comprehensive home insurance cover provider. You can receive unique benefits and value-added services through their partnership, providing you with an insurance partner of choice.
Tailored Building insurance solutions for South Africans
Investec offers clients a tailored solution to cover all the risks of owning a home with building insurance and home content insurance cover. This includes asset cover. A percentage of your home insurance will go towards the cover of household contents, which will take care of your valuables such as your laptops, TVs, jewelry, and cell phones.
These are the most popular items to grab when your home is burgled. Making sure your insurance company has these items covered is a necessity, especially when your valuables come at a hefty price.
So, when someone invades your home and steals those valuables, your heart may sink into your feet, but knowing that your insurance company has you covered, will put your mind at ease.
Benefits of their Building insurance include
A waiver on the condition of your building cover – through Investec bonded buildings. Clients get a specialized solution that covers any household asset from art to jewelry, vehicles, and furniture.
Need to get in touch
If you have any queries or would like to contact the Investec team in regards to an online insurance application, contact Investec on 0860 746 466 or email them at investecsales@aon.co.za.
When you get home content or building insurance through Investec and AON, you get a lifelong partner who understands your needs and bends over backwards to ensure your assets and valuables are protected.
Investec insurance options are accessible with a simple process to follow. With the easy application process, clients can get the full coverage they need and are protected from any damages that could affect your contents and home from fire, theft, floods, or disasters.
Every client is important to Investec
Contact one of Investec's experienced and helpful consultants today for a package that will meet your building insurance needs.
Customer Reviews & Testimonials
"
August 2021
Affordable no-nonsense home cover from a well-known company. Cover for what I need, no extra stuff not needed.
Clark. N
— Johannesburg —
May 2021
Thank you, Investec, for your quick response to my query and my payout to fix my home back to standard.
Mtimbi. K
— Pretoria —
June 2021
This was the fastest and easiest process I have ever experienced. Never thought that an application could be handled this fast.
Braam. E
— Johannesburg —
Investec Contact
Contact Number
E-Mail
Website
Physical Address
100 Grayston Dr, Sandown, Sandton,

Johannesburg

Gauteng

2196

South Africa
Opening Hours
Monday

08:00 – 17:00

Tuesday

08:00 – 17:00

Wednesday

08:00 – 17:00

Thursday

08:00 – 17:00

Friday

08:00 – 17:00

Saturday

– Closed

Sunday

– Closed