Building insurance up to R200 000
Fixed yearly premiums
Fixed excess fees
In-page navigation
---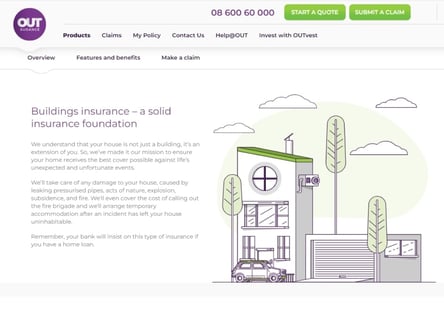 Author OUTsurance. Screenshot of OUTsurance website.


[Accessed February 7, 2023]
About OUTsurance
For more than 21 years, OUTsurance South Africa has been known for its concept of money back and OUTbonuses which saves members hundreds of millions of rands in premiums.
Furthermore, OUTsurance Holdings Limited is a member of, and 87% is owned by Rand Merchant Investments Holdings Limited.
They are listed on the Johannesburg Stock Exchange and own a portfolio of high-quality insurance investments. This portrays the level of quality insurance that OUTsurance South Africa has to offer.
A range of insurance products is available, OUTsurance offers car insurance, home and contents insurance, life insurance, business insurance, building insurance, and many more.
OUTsurance Building insurance
As a requirement when becoming a homeowner, all banks will insist on building insurance. This is to safeguard the homeowner, as well as the respective bank in the unforeseen event of any structural and household damage.
With OUTsurance building insurance in South Africa, policyholders will be covered for damages as a result of:
Leaking pressurised pipes
Acts of nature
Explosion
Subsidence
Fire
Furthermore, OUTsurance will even cover the building insurance cost of calling out the fire brigade and will arrange temporary accommodation after an incident has left the insured house uninhabitable.
OUTsurance Services
Building Insurance from OUTsurance has a lot of benefits.
These benefits can be described as:
OUTbonus-The OUTbonus benefit is one of OUTsurance's best-known benefits. The OUTbonus is a cash bonus that rewards policyholders for not claiming. After three consecutive claim-free years, OUTsurance pays 10% of one's insurance premiums back in cash.
Help@OUT- Free emergency roadside and home assistance are made available 24/7 and can be accessed by calling 08 600 80 000 or via the OUTsurance app which can be downloaded from Google Playstore.
12-month guarantee- Policyholders will not have to worry about increases in premiums as the premium is guaranteed not to change for 12 months at a time, even if you submit a claim during this period.
Low flat excess- This means that irrespective of the size or value of a claim, the excess remains fixed.
Approved partners-OUTsurance works with a well-respected list of service providers further ensuring that all repairs are completed as soon as possible.
Glass cover- Policyholders can get automatic cover for accidental damage to fixed glass and sanitaryware, as well as utility connections between home and the municipal supply.
Lightning surge protection- This benefit is very beneficial for moments of load shedding, power surges, and when lightning strikes to avoid the costly expense of replacing electrical equipment and appliances A surge or lightning protection device prevents damage to electrical equipment from over-voltage transient events by blocking or redirecting surge current to the ground instead of passing through the equipment.
OUTsurance – Building Insurance
Product

Building Insurance
Help it Out

Help it Out guarantees assistance from plumber, electricians and more 24 hours a day. Help when you need it most

Save Money

Fixed premiums for 12 months and low flat excess.
Benefits of OUTsurance
Life insurance - get comprehensive life insurance which can include death cover, disability cover and critical illness cover. You can add a funeral plan to cover you and your loved ones as well.
OutBonus - Enjoy your premiums back after 3 claim free years with the famous Outbonus
Pet Insurance - the furry babies in your family are also important and they can be covered with their own insurance.
---
Get affordable building insurance today.
For those wanting to add on to their already existing OUTsurance building insurance policy in South Africa, there are numerous options.
One can add on:
Portable possessions insurance and home contents insurance- This offers cover for jewelry, watches, cellphones, and photographic equipment.
Legal and medical assistance- Once this category of cover is added to a policyholder's Help@OUT package, they will get 24/7 advice over the phone. This advice will include legal assistance and documentation, as well as medical support that includes emergency response, medical transportation, hospital transfers, and more.
Personal accident insurance- One this category of cover is added to a policyholder's vehicle, home contents, and buildings insurance policy, any member of the household between 14 and 70 will get R25 000 cover if death or disability results from an accident.
Affordable Building insurance South Africa
Building insurance is an essential component when purchasing a property, but that does not mean that it is always necessarily affordable for everyone. This is where OUTsurance Essential provides for building cover up to a maximum of R200 000 and essential contents cover provides cover up to a maximum of R50 000.
Essential Buildings insurance South Africa
With Essential buildings insurance through OUTsurance, policyholders will be able to cover essential building insurance needs efficiently and affordably. Furthermore, all claims will be settled in cash, which means that policyholders are in control of selecting repair options and replacements that work for them.
All Essential buildings insurance policyholders will be entitled to the following:
The building will be covered for a maximum of R200 000 in case of fire, explosion and any acts of nature such as earthquakes, wind or, hail storms.
Cover will be provided for burst geysers or if the building gets damaged as a result of impact from a vehicle.
Liability covers up to R50,000 in the event that the policyholder can be held legally liable for injuries or damage to someone else's property.
Building insurance claims
OUTsurance members can choose to submit a claim online via the website at my.outsurance.co.za portal, or the OUTsurance App which can be downloaded from Google Playstore. Alternatively, those wanting to speak directly to an OUTsurance advisor can call 08600 70 000.
Building insurance cost and quotes
To determine the building insurance cost that one will pay, OUTsurance provides an easy-to-follow system at outsurance.co.za. Potential policyholders can find the "Start a building insurance quote" title on the building insurance page and simply complete the necessary fields of information. After this, by clicking "START A QUOTE", OUTsurance will take care of the rest. If talking to an OUTsurance agent is wanted for further assistance, there is the option of selecting "GIVE ME A CALL" to have an OUTsurance agent call you back directly.
Customer Reviews & Testimonials
"
August 2020
OUT-BONUS is all I have to say when it comes to what make outsurance the best.
Marchello B
— Klerksdorp —
December 2020
They truly assist you with everything from advise to actually going to your building when there is a problem and they let you claim immediately so you wont be losing money.
Ndubabla W
— Thohoyandou —
September 2021
So i had rats eat all my wiring of the building where my business is and guess what outsurance covered it in an instant!
Stephen G
— Hartenbos —
OUTsurance Contact
Contact Number
E-Mail
Website
Physical Address
1241 Embankment Rd Zwartkop Ext 7, Centurion

Johannesburg

Gauteng

0157

South Africa
---
Postal Address
P.O. Box 8443 Centurion , Johannesburg, 0046 , South Africa
Opening Hours
Monday

08:00 – 18:00

Tuesday

08:00 – 18:00

Wednesday

08:00 – 18:00

Thursday

08:00 – 18:00

Friday

08:00 – 18:00

Saturday

08:00 – 13:00

Sunday

– Closed