Fixed building cover
No hidden costs
Quick online application
In-page navigation
---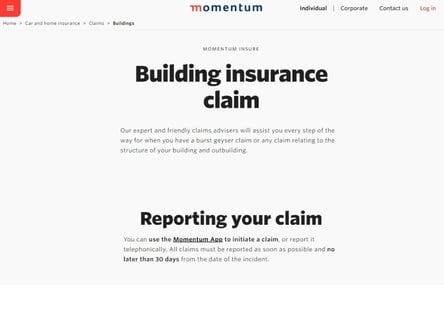 Author Momentum. Screenshot of Momentum website.


[Accessed February 7, 2023]
About Momentum
Momentum is known for its savvy ability to meet the needs of South Africans and drive efficiencies to create streamlined processes that make life easier.
Building insurance, you can count on
No matter what sector of Momentum you partner with, you know you are getting the service and the people you can count on. Get more than expected with Momentum building insurance, home contents insurance, car insurance, and life insurance, providing you with peace of mind with knowing Momentum has got you covered.
Get the financial backup you deserve
Momentum will provide the financial backup and cover that you need when your home is damaged or destroyed. You will always get more than you have put in with their benefits and extras.
Momentum communicates to their clients, always keeping you informed and in the loop of their building insurance policy and cover, and treats you as part of the Momentum family throughout your journey with them. Let Momentum protect your home and home contents, you know you can trust them with your home.
Momentum Services
In the home contents and property insurance industry Momentum is the specialist.
Providing services that are fast and efficient with services on offer for building insurance, car insurance, life insurance, funeral insurance, and medical insurance.
Momentum knows that time is critical
In the event that something happens to your home Momentum knows you don't have time to waste. When the unexpected happens you need to get your home or contents replaced and fixed as quickly as possible and you need a cover that pays out fast. With a cashback reward program on offer from Momentum, clients receive back money paid on premiums without claiming for a period of three years.
Tailored Building insurance cover for you
Momentum will tailor a cover just for you in line with your home contents cover needs, making sure you receive what you want without all the unnecessary stuff, they provide the convenience of technology and a handy innovative mobile app to assist clients. Stay in contact with your homeowner's insurance needs when claiming from any place at any time.
Momentum – Building Insurance
Product

Building Insurance
Momentum Building insurance

Building insurance from Momentum includes cover for loss due to severe weather, fire and theft

Security Guard

If your home is unsafe due to damage then your building insurance will provided a guard

Leaking Pipes

If you have incurred costs because of a burst pipe then your insurance cover will help you pay these municipal bills.
Benefits of Momentum
Life cover - Momentum offers comprehensive life cover for you to add to your portfolio. They also offer disability and critical illness cover.
Momentum App allows you to view all Momentum products from your phone. You are able to keep track of your Multiply points and you can submit claims via the app.
Online quotes make it quick and easy to get covered. If you would like some additional advise from the industry leaders you can simply request a call back.
Multiply Rewards offer you the opportunity to earn discounts and cashbacks for living your everyday life and doing all the things you would usually do.
---
Momentum has the building insurance you need to feel secure
Momentum home and building insurance offer their South African clients the value and benefits for more than what they expect.
They believe that because you put so much into your home, you deserve to get covered for the assets and the work that goes into it.
Get the Building insurance you need
A burglary, fire, flood, or any other kind of damage can affect your home in a split second. All the hard work and time and money you have spent in making your home a safe environment and comfortable living area for your family can be destroyed in minutes. So, ask yourself, are you covered?
Replacing and rebuilding
Your building insurance through Momentum can be the key to replacing and rebuilding what you have lost should something drastic happen. Crime is on the rise, and even alarm systems are not keeping homes safe anymore. Don't risk everything you worked hard for.
24 hour support for customers
Don't lose what is valuable to you in an instant. Momentum offers their valued clients a 24-hour support line because you never know what time a catastrophe could hit your home and you need your home contents covered. You will have the advantage of having their team on call for you no matter what time of day or night it may be.
Momentum can cover you
Momentum property insurance covers all fixed structures – be it a home or flat. This also includes outbuildings, fittings, and fixtures that are in your home. Momentum terms and premiums are set at a fixed rate for 12 months with no hidden fees that could surprise you during your insurance term. Momentum will arrange for temporary accommodation in the event that your home is unlivable due to damages caused by a natural disaster or a fire.
Optional on Building insurance:
Unoccupied building theft
Geyser and pipes - and the wear and tear from old age
If the land your home is on suddenly sinks due to an environmental disaster
Momentum has a building insurance plan according to your needs, receive the benefits you deserve, get an online insurance quote from one of Momentum's experienced consultants today.
Customer Reviews & Testimonials
"
June 2021
This was the worst time of our lives and Momentum stepped up and handled everything, life can change in an instant. Thank you for rebuilding our home.
Hendrik. V
— Cape Town —
October 2021
Got a very good quote from Momentum, I'm a first-time homebuyer and am very pleased with the assistance I have received from them.
Thembi. L
— Johannesburg —
August 2021
Changed my cover over to Momentum as they offer the best benefits and I like the rewards as well.
Cindy. B
— Johannesburg —
Momentum Contact
Contact Number
E-Mail
Website
Physical Address
268 West Ave, Die Hoewes, Centurion,

Johannesburg

Gauteng

0157

South Africa