Affordable building cover
Competitive insurance
Fast and efficient claims process
In-page navigation
---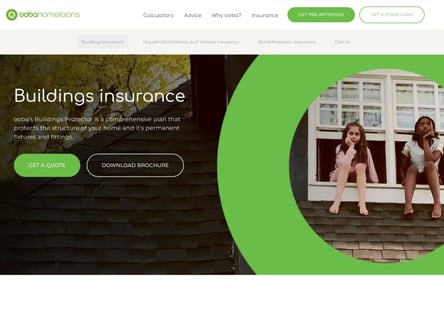 Author Ooba. Screenshot of Ooba website.


[Accessed February 7, 2023]
About Ooba
Ooba Insurance in South Africa offers a variety of insurance services and products that provide optimal cover.
Ooba can be defined as customer-centric and service-driven with a focus on helping people realize the dream of owning and securing their own homes. When becoming a homeowner, there are many different categories of cover that one needs to secure. With Ooba Insurance in South Africa, these insurance options include buildings insurance, home contents insurance, vehicle insurance, and home loan debt insurance. All of which aim to protect and secure the homes of South Africans.
Building insurance South Africa
As a statutory requirement for those who have a building that is bonded, building insurance is a vital component for ensuring that the owner, as well as the bank, is protected in the event of structural damage to the building as a result of unforeseen circumstances such as a fire, flooding, lightning and/ or burst geysers.
Ooba's Buildings Protector is a building insurance policy that offers comprehensive cover that protects the structure of a home as well as its permanent fixtures and fittings.
Buildings protector Building insurance
With Ooba's Building protector insurance in South Africa, one is covered for:
Bricks and mortar-This provide cover for the bricks and mortar, protecting one from the cost of damage to the structure of the home.
Geyser damage-This provides total cover for geysers including bursting, wear and tear and resultant damage.
Unforeseen events-This offers cover for protection against damage from a fire, flood, storms, and other unforeseen events.
Alterations to the dwelling in the event that the policyholder becomes confined to a wheelchair.
Damage to the garden.
Emergency services expenses.
Key, locks, and remote control units.
Electrical gate and garage door motors.
Loss of rent.
Burglary, meaning in the event of crime-related damage or loss.
Impact damage, in the case of, for example, damage caused by the impact of a vehicle to the exterior of the building which would cause structural damage to the building.
Wrongful arrest.
Accidental breakage to fixed glass and sanitary ware.
Ooba Services
Ooba is dedicated to providing convenience when it comes to insurance.
A further reason to choose Ooba's Buildings Protector policy is that it:
Included protects the biggest asset, which protects the biggest asset from serious and extremely costly damage.
Offers competitive prices with low excess options and many additional benefits.
And let's not forget to mention the fact that Ooba's Building Protector cover is accepted by all banks, which means that there will be no delay in bond registration.
Additional insurance options
Along with Ooba's Building Protector insurance in South Africa, is the offer of insuring all the contents inside the already insured building or home.
Ooba offers a short-term insurance policy for all valuable possessions, such as car and household contents, which offers insurance to cover damages and loss to these valuable items by offering:
Multiple quotes from some of South Africa's largest insurers.
Tailor-made cover to suit the individual needs and budget of each member.
Comprehensive cover.
An easy paperless process to secure cover.
Furthermore, Ooba offers a Bond Protector, which looks to cover homeowners that may face unexpected circumstances where they may be unable to pay their bond. This for anyone can be a devastating situation.
With Bond Protector, Ooba offers premiums that never increase which makes the cover even more affordable for the duration of the bond. Bond Protector assists homeowners with a cover that offers:
Outstanding bond cover, which will cover the outstanding bond amount in the event of death, disability or dread disease.
Monthly bond cover, which will cover monthly bond repayments in the event of temporary disability or loss of income.
Free accidental death cover bond acceptance and bond registration.
Ooba – Building Insurance
Product

Building Insurance
Building insurance for your bond

When your property is bonded it is a requirement for you to have building insurance

Burst Geyser

You building insurance will cover the replacement of your geyser and pay for the repairs for any damaged caused.
Benefits of Ooba
Home loans - Ooba can help you to find a home loan. You can either apply for a loan amount once you have found your dream home or you can apply for pre-approval before you start to search for your home so that you have an idea of how much you qualify for.
Insurance - Ooba assists in insuring the contents of your home as well as insuring that the outstanding amount on your home loan can be paid in case of death or disability.
---
Get affordable cover with ooba now.
When determining the building insurance cost and premiums, Ooba looks at various factors.
Ooba agents will take the following factors into account:
Replacement cost of dwelling/outbuildings/walls/swimming pool/paving.
Type of roof.
Type of walls.
The postal code or area where the building is situated.
Building insurance quote
To determine the building insurance cost and get a quote for Ooba Buildings Protector, one can visit ooba.co.za and complete the necessary fields under "Get a quote", within the Building Protector category.
Buildings insurance claims
To submit an Ooba's Building Insurance claim, one can call 0860 00 66 22 or (+27) 481 7300 from Monday to Friday between 8 am to 5 pm. All after-hour calls can be made by calling 0861 007 200.
For the email option, all claims can be submitted online to claims@ooba.co.za. For those seeking further assistance, one can complete the necessary fields under "Request a call", within the claims section of insurance to have an Ooba agent contact them directly.
Building insurance application
To apply for building insurance in South Africa with Ooba, contact an insurance expert to discuss Buildings Protector on 0860 006 622 or email at insurancesales@ooba.co.za.
Customer Reviews & Testimonials
"
May 2021
So what I just want to tell everyone is that if you all about a convenient life then ooba is the way for you to insure your place of business.
Nicholas L
— Alberton —
August 2020
There is no delay when it comes to registering a bond, they are fast and reliable plus approved by banks all over South Africa.
Chris B
— Patensie —
Ooba Contact
Contact Number
E-Mail
Website
Physical Address
8th Floor, ooba House 33 Bree Street

Cape Town

Western Cape

8000

South Africa
---
Postal Address
PO Box 1535 , Cape Town, 8000, South Africa