Insurance made simple
Get an online quote
Quick and easy application
In-page navigation
---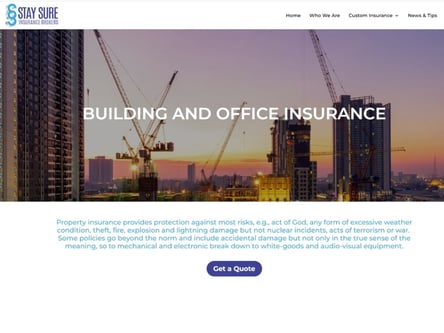 Author Stay Sure. Screenshot of Stay Sure website.


[Accessed February 7, 2023]
About Stay Sure
Get the building insurance you deserve with Stay Sure.
They are the over 50's experts that provide tailored financial cover to thousands of South Africans across the country. Stay Sure make sure that their services meet your needs every time. You can have access to their services whenever you need them as they offer their services 24 hours a day.
A unique Building insurance provider
Stay Sure is definitely a unique insurance provider. With a presence across the globe, they have found their services to be extremely beneficial to clients especially homeowners and tenants. With almost two decades in the industry, Stay Sure have done their research and covered the most essential areas in the lives of clients.
Building insurance that offers financial security
Enjoy building insurance in South Africa from a company you can rely on. They have secured strong partnerships over the years that enable them to provide the stability and the financial security that their clients depend on.
Stay Sure definitely is the insurance brand with a difference. They create innovative ideas, provide home content and building cover options and quality processes to make life easier and more affordable for their everyday clients.
Stay Sure Services
Stay Sure believe that everyone, no matter what age, deserves the home contents and building insurance benefits offered through a reputable insurance company.
Stay Sure has identified a need in the market for a product that attends to the needs of clients who are over a specific age, and have somehow or at some point, not been able to get insurance cover before.
Get proper Building insurance you can afford
Stay Sure provides suitable options and products for clients over the age of 50, to cover them and their homes in the event that something should happen.
Stay Sure always goes the extra mile
Stay Sure will also provide over and above benefits to Stay Sure clients, to ensure any damages, theft, or loss of belongings that your home may endure, will be covered. You will be provided with an outcome that will have you pleasantly surprised.
Stay Sure will go the extra mile to ensure you have accommodation should your home be so badly damaged that you can't live in it for a period. If you need an online insurance quote, you can call to immediately speak to one of their very experienced consultants for assistance.
Stay Sure – Building Insurance
Product

Building Insurance
---
Stay Sure offers unbeatable value & unique building insurance
Stay Sure ensures that there is a homeowner's cover that will suit your customized needs.
As specialists in the insurance industry, their main goal is to keep their clients happy with every insurance cover possible.
A company that takes protection and security very seriously
Stay Sure takes your needs, and uses them to tailor a solution that will ensure that you are properly covered should anything happen to you. With their vast global experience, they can assist clients, who don't always get the opportunity to enjoy the cover, with their insurance needs.
Get the best Building insurance
Many insurance companies only cover clients up to a certain age. Stay Sure believe there should be no age limit to covering the people they care about, and that includes their homes. This is why Stay Sure has designed an ideal insurance cover, to cover clients over the age of 50 years.
They understand that when you get to over 50, you are starting to think of retiring in the next decade, and are planning to slow down slightly. This doesn't mean that you should have the insurance options that younger people have.
Building insurance with unbeatable benefits and premiums
Enjoy unbeatable benefits and premiums which are definitely value for money. Get the best cover for your home as well as your home contents. Apply for a quick insurance quote online via the Stay Sure website at any time.
Stay Sure are also unique with their service options, which not only cover home and property owners but also covers tenants, with a home contents insurance cover that covers your assets and contents even if you are renting a flat or building.
Cover your Home contents for ultimate peace of mind
Your home contents can be extremely valuable to you. Take a moment to think about your long hard-earned cash which you slave away for each month, just to buy that new flat-screen TV, or to fill your wardrobe with designer clothes.
What if you go out for the night and come home to an empty house? Put the right cover in place that will protect you financially when an event so daunting occurs.
Building insurance is the answer
Being insured for your home contents and the building is an absolute necessity. You never know when something horrific can happen to you so get your online insurance quote now.
A hail storm can damage your roof, a fire can leave you with a few ashes. Imagine paying a bond for a house that is not liveable anymore. That is why building insurance is so important.
Stay Sure will even insure your food items if your fridge goes on the blink, furniture and valuables in case of fire or flooding, and a lot more unique areas of home contents cover, which you won't find anywhere else.
Customer Reviews & Testimonials
"
May 2021
Our house burnt down a week ago and there was almost nothing left. They came out to investigate the cause of the fire and paid out immediately.
Joan. G
— Cape Town —
June 2021
A hail storm broke a few windows and left a gap in our roof, they repaired the damages without any hassles.
Portia. F
— Cape Town —
February 2021
I am paying such a great premium for an all-inclusive building insurance policy. I am also very happy with their friendly and informative service.
Adriaan. R
— Cape Town —
Stay Sure Contact
Contact Number
E-Mail
Website
Physical Address
21 Somerset St

Durbanville

Cape Town

7550

South Africa
Opening Hours
Monday

08:00 – 17:00

Tuesday

08:00 – 17:00

Wednesday

08:00 – 17:00

Thursday

08:00 – 17:00

Friday

08:00 – 17:00

Saturday

– Closed

Sunday

– Closed