Tailor-made insurance cover
24 hour emergency assistance
Apply online
In-page navigation
---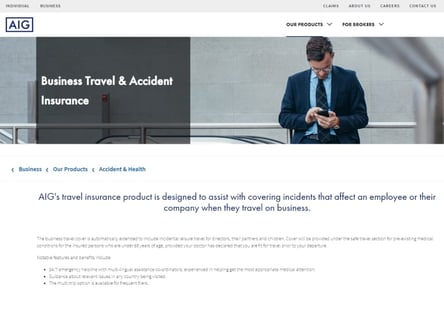 Author AIG. Screenshot of AIG website.


[Accessed February 7, 2023]
About AIG
AIG in South Africa provides unique business travel insurance that covers your travellers from day one.
AIG has over 50 years of experience in providing safe and valuable business travel insurance for business travellers, who enjoy the services of having an insurance company by their side 24/7 whenever they need them.
Proudly South African
As a proudly South African business, they work in line with the transformation of their services to incorporate the needs and specifications of their clients. Moving in line with the BBBEE requirements, they deliver on the prospect of building a better country and creating opportunities for people to grow.
High-quality Business travel cover insurance
AIG pride itself in the upskilling of people in the country, including their own people. This allows for the best service delivery through a team of professionals who know the business and are able to provide the best quality-driven services to your business. Let AIG cover your business, to ensure consistency and compliance throughout your business travels.
AIG Services
AIG in South Africa can protect your business employees, throughout their travels from beginning to end of their business trips.
They have developed an instinct and knowledge of what business travellers need when they leave their home soil and venture off into the unknown.
AIG assist your travel with:
Crisis management
They assist with the risk factors that could occur in an emergency and the recovery of your travellers in this event. This could be in areas of unrest or violence.
Loss and theft
Should your luggage or valuables get lost or stolen, they will cover you for those costs.
Liability insurance
They offer a customized solution in cases where your employees are injured or equipment is taken these events will be insured for liability.
AIG – Business Travel Insurance
Product

Business Travel Insurance
---
Protect your business with insurance that keeps your company moving
AIG provides a safety net for your business travellers, with the unique services and business travel insurance options that they provide for major business clients.
AIG works in line with your business travel policies and SLAs to ensure there is a strong connection in providing you with a partnership that works with your company's requirements.
AIG consultants are expertly trained
They train consultants thoroughly on your travel policy and preferred requirements to ensure wherever your travellers go, they have the backup of a preferred insurance provider.
When your business travellers are presented with options, your negotiated rates will always be quoted if applicable, since these are programmed into your insurance cover before your travellers leave the home ground.
Dynamic technology at work
AIG dynamic technology can prompt accounting requirements specific to your needs to ensure the accuracy of your required travel insurance. This will meet your travellers' profiles as well as your business profile.
Traveller Tracking Capabilities allow them to assist your travellers in the event of a serious incident, their operational teams all contribute to checking for affected travellers. AIG understands that Duty of Care, and specifically traveller safety and security, is important to you as a company.
In times of crisis, such as political unrest or natural disasters, they would call on their strong partner network to provide assistance to your business travellers.
AIG staff have a proven track record of acting swiftly during these incidents. All resources within their organization, and across their network, would be mobilised wherever necessary to provide assistance.
Support when you need it
AIG Directors and senior management would become personally involved if necessary to provide direction and obtain support, across any geographical boundaries.
They have excellent supplier relationships and arrange for secure transfers and evacuations at short notice. They have done this before, and they understand the logistics involved. AIG can also provide online insurance quotes at a moment's notice for business clients.
24 hour emergency assistance
AIG's 24/7 emergency assistance will ensure your travellers are never alone. At any time, day or night, they are there for them to assist with any emergency that may come their way.
When it comes to claiming, they provide swift, efficient, and effective processes to ensure your business travel insurance claims are processed fast. Claims are to be submitted in full with supporting documentation and you will receive a claim number within 24 hours. AIG knows that your business relies upon efficiency, so they do their very best to work within those guidelines.
Tailor-made solutions for your needs
Whatever your business travel cover needs, they will tailor a solution that protects your travellers and business valuables, in the event of a risk. You can rely on AIG to cover your business needs on and off the ground, wherever you are.
Customer Reviews & Testimonials
"
September 2021
With AIG you can rest assured that you are getting the best from the best. Unlike typical insurance companies that never look for excuses not to pay.
Suzan. H
— Pretoria —
November 2021
I have a courier company and AIF carries the risk for me at a very reasonable rate.
Simphiwe. G
— Johannesburg —
August 2021
While my team was busy moving furniture from one factory to the next there was an armed robbery and all their valuables were stolen. AIG was there for me and my guys.
Jack. B
— Johannesburg —
AIG Contact
Contact Number
E-Mail
Website
Physical Address
88 Stella St,Sandown

Sandton

Gauteng

2031

South Africa
---
Postal Address
PO Box 31983, Braamfontein, 2017, South Africa
Opening Hours
Monday

08:00 – 16:30

Tuesday

08:00 – 16:30

Wednesday

08:00 – 16:30

Thursday

08:00 – 16:30

Friday

08:00 – 16:30

Saturday

– Closed

Sunday

– Closed