Affordable travel insurance
Can be reached globally
Various packages offered
In-page navigation
---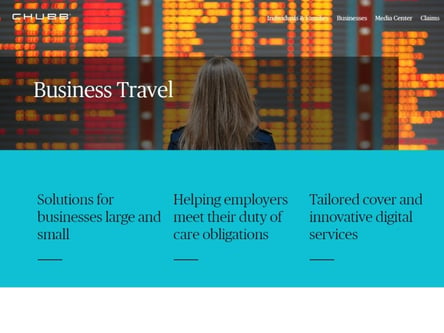 Author Chubb. Screenshot of Chubb website.


[Accessed February 7, 2023]
About Chubb
Chubb is in the business of keeping your business safe and they have many years of experience, not only in South Africa but on a global scale.
They are specialists in assisting clients in keeping their business safe. They work hard to ensure that no time is lost during their claims process that follows damages or theft in your company.
Establishing your risk areas
Chubb's ability to offer more to business clients on the business side is known in the industry with their business travel insurance. By establishing their client's risks and pain points, they are able to create and innovate a solution that keeps your company thriving.
Chubb believes in growth
They believe in taking their clients further, by evolving with technology resources available and sharing them with their customers. They don't only promise but deliver with the highest level of service delivery and quality control and add value to their clients' lives. Chubb really cares about your business future with a trusted global partner that your business can benefit from.
Chubb Services
Chubb has substantial experience in business insurance providing options on a global level.
With this experience, they can deliver on higher standards, and provide and meet the demands of successful businesses' unique needs in the South African Market.
Risk management experts
Chubb is a risk management expert. They provide global risk management services in the commercial sectors by mitigating the risks involved in larger companies, creating a solution with a positive outcome. They also portray a multinational liability cover with a global underwriting capability to enable their clients to receive a best practice service.
Chubb understands your insurance needs
They understand the needs of their business clients, and look further outside the box, to ensure that they deliver an exceptional service. With their quality-driven capabilities, they will meet all your business travel insurance requirements.
Chubb business insurance offers you all you need to keep your company safe and running smoothly, even though a bumpy road. Contact Chubb today, and get all areas of your business covered.
Chubb – Business Travel Insurance
Product

Business Travel Insurance
Last Minute Cancelation

They pay the cancelation fee when you have to cancel last minute because of an emergency or any valid reason for why you can not make your trip.

Medical Cost Locally And Internationally

When you are travelling overseas getting sick or injured can be expensive but they take care of those extra cost for you if you have medical or hospital expenses.

Lost Luggage

Being in a foreign place with no luggage is the worst ever. They reimburse you with every thing that you need on a daily day so you can go on like normal with your trip till your luggage is found.
Benefits of Chubb
Crime Insurance - Internal Crime - When you have dishonest employees and they end up stealing from you, you can suffer a big loss. With this premium they don't only have the best advice for you available but also they pay you out the losses you lost when you put a claim in for theft.
Crime Insurance - External - This premium covers the following: Third party computer crime, third party forgery, third party counterfeit, third party fraudulent alteration, third party theft.
Cyber Insurance - This is when there is a internet outage and your business suffers and loses money because of the outage. They cover the losses you have lost during the outage.
There Is A Variety Of Packages To Choose From - With their online access you can easily go have a look at what they have to offer.
---
Travel safe with insurance that protects you all the way
Chubb assists small & medium-sized businesses (SMEs) with their business cover needs. In South Africa, every business has its risks.
Chubb's aim is to take those risks and create a solution should you encounter a situation that causes a risk to your business.
Business travel cover insurance designed for you
Through careful planning and by putting their best foot forward, they developed business insurance that attends to the needs of their business clients, covering them with business travel cover insurance that is tailored according to their needs.
They offer a Flexi Guard cover with a global underwriting benefit that will ensure you receive a valuable and beneficial insurance cover that will cover all risk exposure to your company.
Chubb offers cover that includes:
Fire and fire damages
Burglary and theft of equipment and valuables as well as business vehicle theft
Cash theft or loss
Employer liability
Consequential loss
Group personal accident
Business travel cover insurance for your basic needs
Although they offer so much more, these are the basic risks involved in any business. They do, however, tailor your needs into a specific cover. For instance, should your business be about driving around seeing clients, they will focus more on the business vehicle aspect and put a higher percentage of value in that area.
If your business is equipped with a lot of expensive machinery, they will insure your equipment at a larger percentage of your business cover.
Time is money
There is a broader picture of how they evaluate your insurance needs. They will ensure that you never lose out and that you get your claims processed quickly, avoiding any lost workdays or time – as they understand that in every business, time is money.
Get insured fast
Everything you need to get insured is offered through Chubb's convenient website. With all their processes followed through on an innovative technology platform, they can get your business insured immediately. They also have a valuable asset, their people.
An experienced team in the field
Chubb teams are highly experienced in assisting and dealing with any questions and queries that you may have in regards to getting your business covered. Contact Chubb today and get an online insurance quote and join thousands of businesses that prosper no matter what comes their way.
Customer Reviews & Testimonials
"
May 2021
My business has been through some tough times and I will never go with any other Business travel insurance as Chubb is the best.
Juan-Marie. B
— Johannesburg —
August 2021
I recently had to claim, as one of my consultants was robbed on the plane. Chubb immediately paid out to replace the work laptop that was stolen.
Kobus. D
— Pretoria —
May 2021
One of our delivery trucks got into an accident on the way to Cape Town, they sent out a breakdown and had it repaired without any hassles.
Thabo. G
— Pretoria —
Chubb Contact
Contact Number
E-Mail
Website
Physical Address
Ground Floor, The Bridle, Hunts End Office Park 38 Wierda Road West, Wierda Valley Sandton

Johannesburg

Gauteng

2196

South Africa
---
Postal Address
PO Box 1192, Saxonwold, 2132, South Africa
Opening Hours
Monday

08:00 – 15:00

Tuesday

08:00 – 15:00

Wednesday

08:00 – 15:00

Thursday

08:00 – 15:00

Friday

08:00 – 15:00

Saturday

– Closed

Sunday

– Closed