Automatic travel insurance
24 hour assistance
Quick online claims process
In-page navigation
---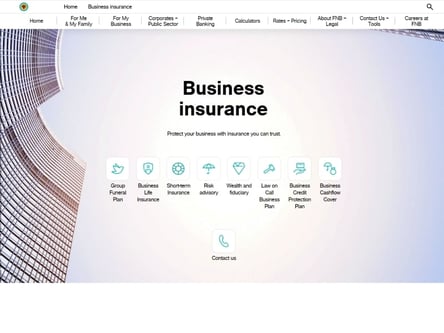 Author FNB. Screenshot of FNB website.


[Accessed February 7, 2023]
About FNB
FNB is one of the oldest and most experienced banking institutions in the country.
Through this experience, they have been exposed to the risk management of businesses that they cover daily. This has allowed them to create business travel cover insurance solutions that work for you.
Making the incredible happen
FNB has a history of taking up a challenge and making something incredible happen with it. They can help any business no matter what the size or location. By getting business travel insurance for your business you will be taking ownership of protecting your company from the risks at hand.
They are all about creating custom solutions
No matter what your industry, they can create a custom solution that will provide a cover that meets every spectrum of your business needs and risks. Their processes are efficient and streamlined, allowing for fast claiming.
Their people are experienced and helpful, and available to assist their business clients whenever they need questions answered. They have what it takes to deliver business insurance cover to keep your company running forward no matter what.
FNB Services
FNB provides business insurance options that are quick, simple, and efficient.
They use modern technology options for the busy businessman, to ensure you don't waste any time when getting your travel business insurance underway.
Their success in offering cover solutions
FNB has had huge success over the decades in providing short-term and business insurance services for corporations. Their direct approach and valuable products are straightforward to understand. They don't offer you the jargon and hidden print, they tell it like it is. They alleviate the interruption in your business should any risk arise.
Business interruption cover
Their business interruption cover offers processes of a fast and efficient nature to allow you to get on with business as usual.
A paperless insurance process
They're paperless, all their claims can be handled online through their dependable and secure technology processes. They assist 24/7, with an experienced team on board who are there to assist you when you need help throughout their processes.
FNB – Business Travel Insurance
Product

Business Travel Insurance
They Pay Big Amounts

They will cover your medical cost anywhere you are in the world when you are busy traveling up and till R5 million.

Delays With Flights Can Cost You Money

FNB cover any losses you obtain from delays of flights or travel times and any damage that have been done to any of your businesses assets or products where you have lost money.

Missed Your Flight?

When you miss your flight or miss your whole trip you are costing your business money. Not if you are covered then they make sure to take of the cancelation fees for you.
Benefits of FNB
Group Funeral Cover - This is for the business owner who care about his employees and and want to make sure that the future is taking care off. With this premium you as employer don't have to pay a lot of expenses to the diseased family they pay their family or loved one a lump sum of money to help towards the funeral.
The More The Merrier - They offer you discount the more people you cover in your business, taking care of your employees needs can have amazing deals for you as owner.
We Give Your Money Back - Every month they pay you back a portion of your premium you pay but just in the form of e bucks which you can spend anywhere it is allowed.
---
FNB offers insurance that you can depend on
They will provide the means to ensure every aspect of your business is covered for any situation that may occur.
Cover the risks that you worry about when running your company through a customized solution that fits your business needs
FNB Business travel insurance covers your business in the event of:
Fire, accidental damage, and glass breakage.
Office equipment and contents.
Business interruption.
Burglary and theft.
Goods in transit.
All business risk.
Public liability and employer liability.
Electronics and technology equipment.
Optional Business travel insurance cover includes:
Business vehicles are insured for businesses that make use of drivers on the road during business hours. As well as roadside and emergency assistance for those vehicles on the road.
Other benefits included in your Business travel insurance:
You can get quality insurance coverage with premiums that are affordable and within your business budget.
Any interruption within your business is covered.
They include vehicles and other alternate covers that your business relies on.
Their pricing is competitive in the insurance markets.
Clients get assistance 24/7 as well as emergency and roadside assistance 365 days a year.
The fees of their business travel insurance cover are affordable, you can calculate your premiums through their handy premium calculator online.
For a business with a turnover of R2 million your premiums would be roughly R17 200.
This cover includes:
2-million fire cover for damages.
R20,000 office equipment and contents.
R960,000 interruptions of business.
R20,000 burglary.
R20,000 cash.
R20,000 goods in transit.
R40,000 risk cover on your business.
5 million public liabilities.
R60,000 electronics and technical equipment.
You can also get R150,000 vehicle cover at an additional R562.50 per month.
Cover your business today
Should you wish to learn more about their process and cover, they would be happy to discuss options with you in line with your company's needs. Their consultants are highly experienced in the business insurance space. This allows clients to get a full brief on what their value ads may be, and what you can get out of the cover you choose.
Customer Reviews & Testimonials
"
October 2021
Their consultants are so helpful and I was able to complete my application with their assistance in choosing the best option for me.
Themba M
— Cape Town —
August 2021
Their online application makes it so much more convenient to apply. I was able to apply from the comfort of my own home.
Theresa R
— Johannesburg —
August 2021
I am extremely impressed with the number of benefits they offer; I feel like I'm getting value for each cent I pay.
Rebecca K
— Pretoria —
FNB Contact
Contact Number
E-Mail
Website
Physical Address
Shop 10 Village Square Cnr Oxford & Queen Street Durbanville Central Durbanville,

Cape Town

Western Cape

6899

South Africa
---
Postal Address
PO Box 1153, Johannesburg, 2000, South Africa
Opening Hours
Monday

09:00 – 16:00

Tuesday

09:00 – 16:00

Wednesday

09:00 – 16:00

Thursday

09:00 – 16:00

Friday

08:30 – 16:00

Saturday

08:30 – 12:00

Sunday

– Closed