Up to R100m travel cover
Range of cover options
Easy online claims
In-page navigation
---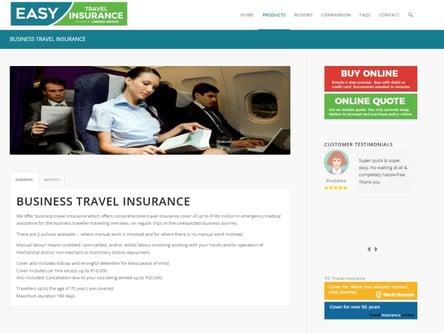 Author Easy Travel Insurance. Screenshot of Easy Travel Insurance website.


[Accessed February 7, 2023]
About Easy Travel Insurance
Easy Travel Insurance was established in 2012 to make travel cover easier and quicker for everyone.
Their clients can purchase business travel cover insurance online which results in cheaper, high-quality travel coverage for South Africans that want proper travel insurance for business purposes.
Travel insurance that's always there for you
They are always available for their clients to assist with all the requirements they might have and the questions on how their business can benefit from their business travel insurance options. Business travel insurance covers you for things that occur in a disruptive sphere during your business travel experience.
Business travel insurance covers
These can range from small matters such as your luggage being delayed, lost, or stolen due to a medical emergency that may require you to be hospitalized. What will give your business comfort, is knowing that from a low-priced premium, your travellers have the security of cover in the event of any situation that may arise.
Let Easy Travel Insurance covers your business needs and keep your travellers safe without exceeding your budget and making you incur excessive charges and expenses.
Easy Travel Insurance Services
Easy Travel Insurance provides business travellers with business travel cover insurance to the amount of R100,000,000 to assist with the risk mitigation which could occur during your travels.
This includes emergency assistance should you become involved in an accident or need medical treatment or hospitalization while travelling for business purposes.
We understand your Business travel needs
Through their experience, Easy Travel Insurance understands what is important to travellers, especially when they are travelling on business. This kind of traveller usually carries valuables with them including laptops, mobile devices, and possibly items that they are taking from their company to another client. Should any valuable items be lost or stolen during your business trip, they will have you covered for the replacement value.
Easy Travel Insurance benefits
Business travel insurance cover business clients travelling to a destination to provide a manual service or non-manual service – all business trips are covered. Business insurance for frequent flyers – travellers who travel on multiple occasions – group business travel options.
Easy Travel Insurance – Business Travel Insurance
Product

Business Travel Insurance
Easiest Business Travel Insurance You Can Get

Easy Travel offers you a vide range of travel insurances. If you are looking for business travel insurance or personal travel insurance they have everything online for you.

They Have Your Back Internationally

It doesn't matter where is the world your business is taking you as long as you are covered they take care of the hick ups that crosses your way.

They Cater For Any Age Group

They have packages for the young business entrepreneur or the senior that have been traveling around for years.
Benefits of Easy Travel Insurance
African and Asia Travel Insurance
Economy Travel Insurance
Business Travel Insurance
Corporate travel Insurance
Group Travel Insurance
Comprehensive Travel Insurance
Schengen Travel Insurance
Senior Travel Insurance
Student Travel Insurance
South African Visitor Travel Insurance
---
Meeting your insurance needs throughout your journey
Easy Travel Insurance allows customers wishing to purchase business travel cover insurance a unique and instant quote based on the length of the journey and the type of business requirements they need.
Payment is made by way of a credit card or debit card online or through EFT.
Secure and efficient technology
Their technology is used by hundreds of thousands of clients in the UK and USA and is extremely secure and efficient. If you have got any concerns about your business travel insurance requirements, feel free to contact them via telephone or email, as they are always there for their clients.
Easy Travel Insurance is also able to take your credit card info over the phone or process banking information for an EFT charge should you not want to do the payment online.
Providing inexpensive Business travel cover insurance
Once your business travel cover insurance is purchased the coverage policy contract is sent without delay to the client's email. This paperless system permits Easy Travel Insurance to provide inexpensive travel coverage to all business clients needing immediate cover when travelling.
Valuable added benefits
Easy Travel Insurance provides a range of benefits through their business travel cover insurance, which their clients find very valuable, and makes them competitive in the market.
Business travel insurance from Easy Travel Insurance is underwritten by Regent Insurance Company Limited. A wholly-owned subsidiary of Imperial Holdings, a listed corporation with a turnover of over 42 billion Rand.
A range of options for businesses
They have a wide variety of business travel cover insurance policies which include budget cover, business cover, student cover, group cover as well as Luxury Leisure (complete) and Senior cover.
They cover all aspects of your business no matter where you are travelling to. They also provide tour coverage from Hollard and Travel Insurance Consultants (TIC).
Medical assistance for clients
In case of an emergency, they offer global, 24-hour emergency assistance for all their policyholders. This will leave you with the peace of mind that your insurance cover gives you emergency and medical safety anywhere you are. Remember your South African medical insurance may not be valid overseas.
Compare their business travel cover insurance by obtaining an online insurance quote. Get a top-quality and secure cover from them and you can also call them at any time with questions or queries.
Customer Reviews & Testimonials
"
May 2021
What a great and innovative travel insurance provider for businesses. I have a few teams constantly on the road to see clients and this cover provides me with the peace of mind I need.
Hannes. G
— Port Elizabeth —
July 2021
I am the owner of a number of delivery trucks all over South Africa and having such a comprehensive cover in place is very crucial for me as anything can happen at any time. They cover a great ri...
Thomas. F
— Cape Town —
June 2021
I frequently have to travel overseas on business and knowing that I have the financial backing from the best travel insurer with the best service gives me great confidence.
Princess. T
— Port Elizabeth —
Easy Travel Insurance Contact
Contact Number
E-Mail
Website
Physical Address
Ascot Office Park1st Floor, East Wing Conyngham Road Green Acres

Port Elizabeth

Eastern Cape

6001

South Africa
Opening Hours
Monday

09:00 – 16:00

Tuesday

09:00 – 16:00

Wednesday

09:00 – 16:00

Thursday

09:00 – 16:00

Friday

09:00 – 16:00

Saturday

– Closed

Sunday

– Closed