Convinient travel insurance
Affordable rates
Includes baggage insurance
In-page navigation
---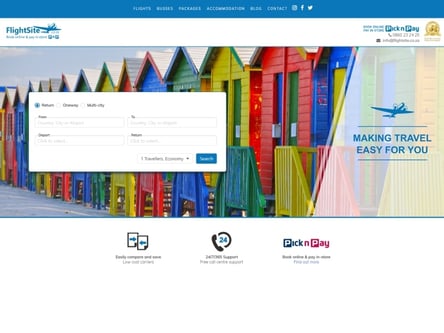 Author FlightSite. Screenshot of FlightSite website.


[Accessed February 7, 2023]
About FlightSite
When you travel for business purposes, FlightSite is the quality-driven and experienced insurer that will assist you with your business travel insurance needs in South Africa.
FlightSite has the benefit of being able to provide their clients with innovative technology resources, allowing efficient, fast, and dependable risk management protection to their business clients.
Global partners available to help
They have the widest diversity of partners throughout the globe, offering assistance in every aspect should your business travellers require it.
Cover for medical expenses
For medical emergencies, for example, they have someone on the ground wherever you are, to assist you with the arrangements needed to keep your travellers safe with the necessary treatment.
Meeting your needs at affordable rates
FlightSite provides complete business travel insurance throughout your journey allowing your business to choose the services and products that will meet your necessities at unbeatable rates. It is simple and quick to make all your business preparations when on the move no matter where you travel to.
FlightSite Services
They know that in the business environment, there are many risk factors to consider, and travelling can be one area where you need specific cover, to protect your employees.
Covered with Business travel insurance
FlightSite has created business travel insurance that keeps your travellers safe, with a unique product that covers all the risks. When you organize travel arrangements for your business travellers, the only thing you need to make your trip complete is business travel insurance.
Business travel is on the increase
In today's professional environment, with business travel increasing, travellers need to have some kind of security in place that will cover them in the event of a medical emergency, lost or stolen luggage, or anything else that could go wrong during their trip.
Special Business travel cover insurance rates
Your business can get an affordable negotiated rate should you have multiple travellers, or frequent travellers making use of your insurance for business purposes. Keep your employees protected the minute their plane leaves the ground. At FlightSite, they have your business insurance needs covered.
FlightSite – Business Travel Insurance
Product

Business Travel Insurance
Benefits of FlightSite
Business Travel Insurance
Online Flights
---
Flightsite - your business insurance partner for life
Why do you need business travel insurance from FlightSite? FlightSite gives you the peace of mind that no matter what happens during your business travel, you are covered.
Medical emergency cover
They cover you in the event of a medical emergency, ensuring you are provided with the medical assistance you need to allow you to come home safely. FlightSite provides R25,000,000 medical cover on your insurance, for medical emergencies or any medical requirements during your travels.
Delayed or cancelled flights are covered
FlightSite covers their business clients up to the amount of R20,000 for flights that have been delayed or cancelled. They also offer a lost luggage claim option, in case your bags go missing, to get your travel insurance, simply click on the prompts online from the FlightSite website.
Get a Business travel insurance quote online
Get an online business travel insurance quote and enter your travel details followed by a price update. If you are happy with the quoted price, click buy now and you can proceed to payment. You can get your business travel cover insurance in minutes and are safely on your way.
FlightSite will pay for your calls
If you are abroad and need to get hold of one of their consultants, you can simply make use of their reverse charge option; they will fit the charge on the call. The FlightSite call centre is available 24/7, so they can assist you whenever or wherever you are.
Make a Business travel cover insurance claim
If you need to claim your business travel insurance, simply follow the simple steps on the FlightSite website, everything can be done online for your convenience and to speed up the process for you.
Claims must be reported and submitted within 60 days of the incident. They pay out their claims fast, and you can have your insurance payout within 5 to 10 working days.
Should your claim need supporting documentation, they will inform you. This is usually if an incident has been reported to the police station, which would require a police report. If you have been admitted into the hospital, a medical report would suffice.
Claim while still abroad for Business travel insurance
If you are travelling abroad, you don't need to be back on home soil to claim. With the internet allowing access to the FlightSite website at any destination, you can claim at any point or destination you are at.
Customer Reviews & Testimonials
"
June 2021
I had to claim while I was seeing a client in Italy, they immediately paid out and I enjoyed fast and friendly service from them.
Jan. R
— Cape Town —
September 2021
Being a taxi owner can be stressful at times especially when there is an accident or injury to a client due to one of your workers. FlightSite has my back every time.
Siphelele. F
— Cape Town —
March 2021
They offer great value for money insurance and they payout fast and without trouble.
Jackie. H
— Cape Town —
FlightSite Contact
Contact Number
E-Mail
Website
Physical Address
5th Floor GIHON BUILDING Corner of Sportica & Bill Bezuidenhout Tygervalley,

Cape Town

Western Cape

7530

South Africa
Opening Hours
Monday

08:00 – 17:00

Tuesday

08:00 – 17:00

Wednesday

08:00 – 17:00

Thursday

08:00 – 17:00

Friday

08:00 – 17:00

Saturday

09:00 – 13:00

Sunday

– Closed