Flexible travel insurance
Fast and efficient payout
24 hour customer support
In-page navigation
---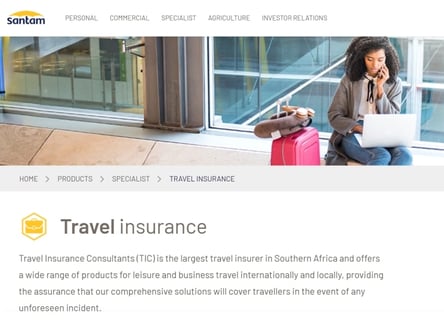 Author Santam. Screenshot of Santam website.


[Accessed February 7, 2023]
About Santam
Santam is known in South Africa for being a competitive insurance firm, offering the most beneficial business travel insurance cover.
They pride themselves on their ability to meet their client's needs. No matter what industry they are in and what budget they want to stay in line with.
Meeting Business travel insurance objectives
They can meet their objectives in the business world with their leverage of over 2700 channels of intermediaries and partner links. This gives them the upper hand in offering suitable and affordable products to clients all over the country.
Tavel insurance shows passion for people
Their business processes are created with people and their lifestyles in mind whether they are dealing with life insurance or travel cover for businesses. For busy businessmen, they are aware that your time is a valuable commodity and so, they have improved and developed time-saving processes to ensure your time is never wasted. Let Santam insure your business today, and allow them to provide you with the benefits of efficiency and value in one service offering.
Santam Services
Business travel insurance solutions through Santam can be the best move you've ever made when it comes to protecting the risks within your company.
They have experience in assisting all business industries and of all sizes. They put great detail into the development of an insurance solution. This is to ensure they don't miss anything that could become a risk to your business.
Offers good reasons to get insurance by Santam
They have over 100 years of experience in the insurance industry.
They are one of the country's largest insurance companies, listed on the JSE.
They offer business advice that will help eliminate risk factors, through their experience in assisting major business clients in the country.
They pay more out in claims than any other insurance firm.
They offer 24/7 customer support, no matter where you are.
Their processes are efficient and fast, allowing fast pay-outs.
They offer online insurance quotes in minutes.
They specialize in insurance – that's what they do.
Santam – Business Travel Insurance
Product

Business Travel Insurance
Tailor-Made Just For You

Santam provides you with premiums that have been adjusted and mended to all your travelling needs. They have premiums for business purposes and for people who just enjoy exploring the world.

Never off duty

They have a team of consultants that is ready and equipped with knowledge to assist you 24 hours a day 7 days a week. You should never hesitate to contact them in a sticky situation no matter where you are travelling and what time it is there.

One Click Away

Get Online Access Anytime
Benefits of Santam
What Travelling Insurance Look Like By Santam:
Emergency medical expenses
Worldwide 24-hour emergency assistance
Journey cancellation and journey curtailment
Repatriation and evacuation
Accidental death or accidental disablement
Personal liability
Any loss of luggage or bags with personal belongings, documents and cash while travelling
Hijack hostage and wrongful arrest
Travel supplier insolvency
---
Santam provides the security you need for your employees
Santam Business insurance solutions offer your company a safeguard and financial protection should there be any theft or damages within your business.
Santam values their most important resources in their businesses which are their people. They have a team of highly experienced insurance brokers onboard which allows great detail to attention in every aspect of your business travel cover needs.
Santam will cover your business in the event of:
Fire damages.
Interruption of business.
Office equipment and contents.
Goods in transit.
All business risks.
Accident damages.
Theft by employees.
Public liability.
Personal accident cover.
Vehicle cover.
Electronic and technical equipment.
Business interruption.
Stock compromise.
At Santam, they agree in principle that coverage should be affordable and in line with your business budget. It ought to offer peace of mind, and allow your business to flourish and carry on as normal, even with the risks that may occur.
Where their Business travel insurance wisdom comes from
Their knowledge comes from understanding what's vital to you and treating your commercial enterprise as critically as you do. Their commercial and business solutions are created to cover and fit your company in regards to your financial needs at the loss or damage of business contents through risks.
Big & small businesses welcome to get their Business travel insurance
Whether you are a small commercial enterprise or run a large agency their expertise permits them to recognize the specific dangers associated with your enterprise. They will provide you with business travel insurance cover that is tailor-made to your commercial enterprise requirements.
An award-winning Business travel insurance company
They are proudly one of South Africa's most influential insurers with a market proportion exceeding 22% of the country. They had been honoured to receive the award for the Financial Intermediaries Association for the past 4 consecutive years (2008, 2009, 2010, and 2011).
Providing quality Business travel insurance services
They always work to provide quality claims processes via their performance and effectiveness in claims management. This is aided by using their 24/7 emergency and claims helpline.
They have an intensive countrywide footprint of about 15 claims centres and sixty-eight local workplaces. Making an allowance for an inter-non-public point of guide for brokers with the simplicity of offering business insurance, and insurance for individuals with their financial products for their customers.
Customer Reviews & Testimonials
"
October 2021
They cover such a wide range of possible issues you may face as a business owner. I feel very secure with the policy I have with them.
Thando T
— Cape Town —
May 2021
Their 24/7 customer support is such a big help. Should I encounter an issue at an odd time I can still contact them for assistance.
Nicole V
— Johannesburg —
June 2021
I am glad I joined Santam, my monthly premium is so affordable.
Sean Z
— Cape Town —
Santam Contact
Contact Number
E-Mail
Website
Physical Address
1 Sportica Cres, Tygervalley

Cape Town

Western Cape

7530

South Africa
---
Postal Address
PO Box 3881, Tygervalley, 7536, South Africa
Opening Hours
Monday

09:00 – 17:00

Tuesday

09:00 – 17:00

Wednesday

09:00 – 17:00

Thursday

09:00 – 17:00

Friday

09:00 – 17:00

Saturday

– Closed

Sunday

– Closed