Online insurance quotes
Easy claims process
Unique products and services
In-page navigation
---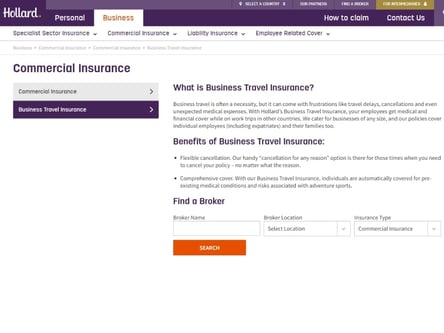 Author Hollard. Screenshot of Hollard website.


[Accessed February 7, 2023]
About Hollard
At Hollard they pride themselves on service delivery on the opportunities they offer their business clients.
With an intrinsic knowledge of the business arena, they have an understanding of what their business clients need to run their company smoothly. This is without having to worry about the hiccups along the way.
Additional forms of Business travel insurance
Besides the traditional insurance cover which includes life, funeral, car, household, and home owner's coverage, they additionally provide a number of niche coverages such as pet insurance.
In addition, they offer dynamic and innovative business travel insurance options that meet your business needs. They know each business is different so they can customize a solution that fits your company's profile.
Travel insurance that minimizes damage
Your role as a business owner is not only to create a safe environment for your employees but also to cut the losses and damages that can cause a risk to your company's progress.
They want your business to thrive, and not suffer from time, finance, and liability loss due to complications that may occur. Hollard offers business travel insurance that is true value for money.
Hollard Services
Hollard business travel insurance will provide your company with more than risk management cover.
They offer sound advice; experience and a passion for helping your business to carry on thriving, even through the tough times.
Vibrant and experienced teams to assist
Their teams are vibrant, excited, and experienced to assist your business through the application and claims processes. They know their products, which is often a misleading promise from many of their competitors.
Knowing what they offer and being able to communicate honestly without the fluff and empty promises puts them the upper hand in the insurance industry.
Their Business travel insurance is different
Because of their different ways of assisting and helping their clients. They have managed to come out on top winning the best commercial insurance and corporate insurance company in the country in 2013.
This just gives them the drive to create more and more creative and specialized solutions like their business travel insurance that their business clients can benefit from.
Hollard – Business Travel Insurance
Product

Business Travel Insurance
Do You Have Employees Who Travel Often

Whenever you have employees that travel for the business a lot of extra cost start adding up like medical bills, cancelation fees and even delayed flights cost the business money. At Hollard all those extra cost are taken care off.

Also Covered

Any of your employees covered by Hollard Business insurance, who have previous medical conditions and risk conditions is automatically covered with the premium.
Benefits of Hollard
Running A Business Can Be Stressful - Especially when you have employees working for you because you have to take in mind that they need to get the services, insurance and benefits that would help them in the long run and they need to survive and life a comfortable life. Below is a short list of package they offer for your employees, you can access online:
Employee Benefits
Accident & Health
Hollard Cigna Health
Specialist Life
Business Travel Insurance
---
Hollard offers a range of affordable business travel insurance policies
Hollard protects your business risks with their business cover.
They have clients from all over South Africa, signing up for their exclusive business insurance, which protects your business in every way. They take an in-depth look at the risks management of your business and create an effective solution. One that will protect you through any situation that may disrupt the smooth running of your daily business schedule.
Your business is as important to them as it is to you
They understand the pressure and the concerns involved in running a successful business. They know things can go wrong. That are just the risks involved in a business.
But there is a way to keep those risks covered with a proactive cover in place. One which financially supports those risks, and helps you keep running your business as normal.
Business travel insurance that takes its services seriously
Hollard takes its business travel cover insurance very seriously. They do their best to eliminate any risk factors that may become a problem in your business. So that it will have an as little interruption in the running of your company as possible.
They value your comments and questions for them to ensure you know everything you need to know about your business travel cover. This also allows them to learn from issues that may arise to grow and improve on their service delivery. For any of these queries, one of their consultants will be in touch with you in quick turnaround times.
If you have a complaint or query, feel free to contact them
Step 1: Contact their experienced and helpful customer care experts by emailing them. If you're looking for an online insurance quote you can also use their website.
Step 2: Should you need to escalate your matter further; you can contact their administration manager to discuss your problem.
Step 3: Should you not be satisfied with the outcome after speaking to the administration manager you can write to their internal dispute resolution committee.
Any problems will be investigated with the authority to take the matter further and you will get feedback within 2 weeks of your query or complaint.
Customer Reviews & Testimonials
"
September 2021
The system they have in place to submit queries is so simple to follow and I was contacted with a follow-up so soon after, I am impressed.
Thabo S
— Durban —
October 2021
I was happy with the quote I received, it's very affordable and worth it.
Sizwe B
— Johannesburg —
September 2021
The consultant that had assisted me had explained everything I needed to know in detail, and that was a major contributing factor in my deciding on the best plan for me.
Melissa G
— Johannesburg —
Hollard Contact
Contact Number
E-Mail
Website
Physical Address
22 Oxford Rd, Parktown

Johannesburg

Gauteng

2140

South Africa
---
Postal Address
PO Box 87 419, Houghton, 2041, South Africa
Opening Hours
Monday

08:00 – 17:00

Tuesday

08:00 – 17:00

Wednesday

08:00 – 17:00

Thursday

08:00 – 17:00

Friday

08:00 – 17:00

Saturday

– Closed

Sunday

– Closed