Insurance quotes from experts
Rapid insurance application
Added roadside assist
In-page navigation
---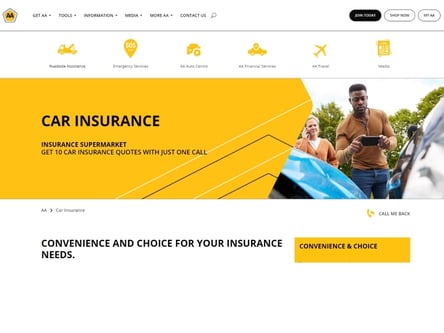 Author AA. Screenshot of AA website.


[Accessed February 7, 2023]
About AA
For more than 90 years, AA, also known as Automobile Association, has provided a range of products to ensure the safety of road users.
From roadside assistance to technical advice and vehicle-related legal matters, AA offers a complete package of great value for the best car insurance in South Africa. Those who sign up with AA car insurance will have access to an array of value-added products above and beyond general car insurance cover for every scenario one could think of.
Best Car insurance in South Africa
Within AA's car insurance, and a variety of insurance products, members will have access to more than 30 benefits including roadside rescue, roadside assistance, medical rescue, mechanical and accident towing, battery tests and jump starts, and mobile battery sales, and this is not where it ends.
Along with this, AA car insurance in South Africa offers a range of value-added services such as pothole damage assist, fine payment assist, accident claim assist, license renewals, battery services, and more. From the vast range of cover that AA car insurance in South Africa offers, it is easy to see that they provide the best car insurance in South Africa.
AA Services
AA is the best car insurance company in South Africa.
This question can be answered by looking at what AA offers when signing up for AA car insurance in South Africa.
Reasons to choose AA Car insurance:
AA is an independent insurance broker.
AA offers a variety of benefits, from expert insurance advice, assistance in handling claims, and many more.
AA members will not pay an additional service and admin fee when signing up.
AA members will be provided with ongoing support for all insurance products.
AA members will have access to SuperValue benefits for themselves, as well as for their families.
AA provides consumers with fairness, service excellence, and trustworthiness.
AA – Car Insurance
Product

Car Insurance
Get 10 quotes online

Fill in the form or call 086 100 1000 to get up to 10 insurance quotes for you to choose from

Advice on car insurance

AA advice is an independent broker who will assist you find insurance cover and will then assist with claims.
Benefits of AA
An AA membership gives you a world of possibilities including assistance with renewing your vehicle license.
Battery services will assist you with testing and purchasing your new battery.
Calculators on the website will assist you to work out your next trip and the costs of using your vehicle for work
---
Get value added insurance benefits with AA
Members of AA Car Insurance in South Africa, along with other insurance products, will have access to AA's SuperValue feature which is conveniently already included within the monthly debit order.
These SuperValue benefits include:
Crime-Victim Assist, which provides 24-hour support in the case of a hijacking, theft or break-in at the AA member's home.
Access to emergency medical consultations (access only).
Home Safe Chauffeur, which is available for emergencies within the South African borders and seeks to encourage individuals to drive responsibly, as statistics show that most car accidents that result from drinking and driving account for a large percentage of accidents on South African roads, especially at night.
Mental Health and Wellness, which has a general limit of R5000 per policy per year to use on a combination of products categorised as - Wellness Assist, Parenting Assist and Trauma Assist.
Mediation, which has a general limit of R5000 per policy per year to use on a combination of products categorised as - Mediation Assist, Workplace Mediation and Section 9 Justice Mediation.
Free Personal Will, which as a SuperValue member, will qualify individuals for a free consultation as well as the drafting of a WILL.
Free Insurance Advice, if the AA member or any additional members one adds to SuperValue need car and home insurance-related advice. This is made available on products where AA Insurance Supermarket has an intermediary agreement with the insurer. AA members can call 011 037 9000 or email info@aainsurance.co.za in order to speak to an AA agent.
Free accidental death benefit, which as a SuperValue member means that one will get R25 000 worth of accidental death benefit. For this benefit, members will need to register and a service provider will make contact.
Share and Earn, which means that members could potentially earn their insurance premiums by referring friends to AA and once their selected insurer receives a second full premium, AA will pay out R300 to the AA member that made the referral.
Family First, which means that AA members can sign up to five members to SuperValue, at no additional cost. Each SuperValue user will then get access to the SuperValue benefits, by calling the SuperValue Hotline and referencing the original member's ID Number or policy number.
The SuperValue can be easily accessed by contacting the SuperValue hotline on 0861 80 88 85.
Car insurance calculator
To get a certificate of vehicle rates, one can visit aa.co.za and make use of the online "Vehicle Rates Calculator" option. From this online function, one can choose to create a new vehicle rates certificate or retrieve an existing vehicle rate certificate, by selecting the necessary option. From here, one can complete the necessary fields of information according to personal details within the car insurance calculator.
Car insurance quotes
To get a car insurance quote, one can visit aa.co.za and within the "Car Insurance" category, select the "GET A QUOTE" option. From here, complete the necessary fields of information and select "Car Insurance" as the category within the last row and take one step closer to a cheap car insurance quote.
Customer Reviews & Testimonials
"
May 2020
They don't involve a middle man you insure with them directly. Which can save you a lot of money.
Janine T
— Gauteng —
July 2021
They literally come with a list of benefits and I'm talking about real benefits that can make you win in life and not always just receiving the bare min.
Vincent J
— P.E —
February 2020
They are one of the companies that have been around for the longest helping people arrive alive.
Kagisho L
— Tswane —
AA Contact
Contact Number
E-Mail
Website
Physical Address
Denis Paxton House 4 Hyperion Road Barbeque Downs Kyalami

Johannesburg

Gauteng

1684

South Africa
---
Postal Address
PO Box 596 , Johannesburg , 2000, South Africa