Online insurance quotes
Most comprehensive insurer
Low excess fees
In-page navigation
---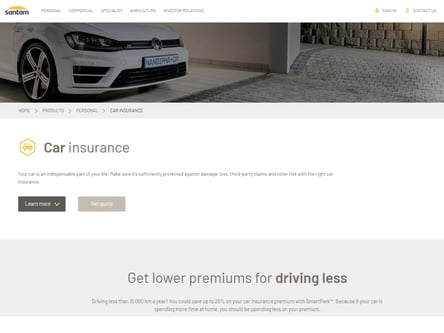 Author Santam. Screenshot of Santam website.


[Accessed February 7, 2023]
About Santam
The South African National Trust and Assurance Company Limited or as we all know it, Santam.
A general insurance provider that started in 1918 and continues on today in being one of the best providers of both cheap & comprehensive car insurance.
Why Santam Car insurance
Santam offers clients and future clients both long-term and short-term car insurance. With their brand putting an emphasis on being one of South Africa's leading short-term insurers, which for anyone who wants car insurance will be something everyone can be happy about.
How to apply for a Car insurance quote
With most insurers in the 21st century, the digital age has allowed anybody to be able to apply for car insurance with minimal hassle. The steps to apply for a quick quote are as follows:
Visit the website at Santam
Next, you're your to use the website navigation to either search the words "car insurance quote" or click on the Car tab that appears on the home page
You will be redirected to Santam's car insurance page where you can click on "get a quote"
Fill in your details as they have requested and a consultant will be in touch with you shortly.
You will receive an SMS from Santam asking you to save their contact details for you to know when they are contacting you.
Santam Services
Santam offers car insurance with benefits that range from Comprehensive, 3rd party only, and limited car insurance.
Santam comprehensive Car insurance
Comprehensive car insurance is the type of car insurance that will ensure the investment you made, that is your car, is fully protected no matter what. This is the highest level of cover that you can get for the protection of your vehicle.
Unlike 3rd party and fire and theft cover, comprehensive car insurance will ensure that damages to your vehicle do not have to come directly out of your pocket but are covered by Santam car insurance to a certain extent. This also means that in the instant you are the first party in an incident you are covered as a 3rd party.
Damages that are covered in Santams comprehensive car insurance plan are:
Accidental loss or damage
Tow costs and car safeguarding
Emergency repair up to R5000 (R 15 000 for 4x4's and luxury vehicles)
Delivery after repairs
Vehicle transfer cover
Replacement of your vehicle
Different in excess for rental vehicle
Keys, locks, and control units up to R2500
Medical expenses of passengers
Emergency accommodation
Recovery costs
Santam – Car Insurance
Product

Car Insurance
Best in SA

Santam is the first choice for insurance for most South Africans.

SmartPark

Do you work from home? Do you drive less than before? If your vehicle is more in the garage than on the road then you are eligible for the SmartPark saving. You can save on your car insurance for not driving around as much.

24/7 Claim process

You can log your claim on the website or app any time day or night. You can also track your claim using the client portal or app.
Benefits of Santam
SOS from Santam is there when you need a helping hand. Be it a dead battery or a burst geyser they will be there to assist.
Specialist insurance - Santam offers insurances for a niche market from aviation to insuring your crop. If you are looking for something specific you can search for a broker and discuss your needs with them to get advice on the best cover for you.
Business owners - Santam offers a wide range of insurance solutions to suit your business including your buildings and moveable assets.
Agriculture forms a large sector of our economy and Santam understands that cookie cutter insurance solutions may not be what farmers need so they have developed insurance solutions tailor made to the agriculture industry.
---
Get cheap car insurance with Santam.
This is cheap car insurance, which is tailor-made for anyone who wants car cover for cars that are generally old, have little value, are paid off, or if the car is not driven very often. It is also perfect for those who cannot afford comprehensive car insurance.
3rd Party cover
3rd party cover will also help in the instance that you are at fault for an accident and there is little you have to pay as your car insurance with Santam will cover it. If the incident is not your fault, you may then claim against the other party.
All this will be added to your insurance premium should you choose to add the selected benefits for your best car insurance in South Africa. Unfortunately, the maintenance of your vehicle including servicing and depreciation or wear and tear on things such as tyres are not included in what your car insurance covers, that is solely your duty and at your personal expense.
In the case of a write-off or a stolen vehicle, you will be able to claim up to the amount your car was insured for. This means if the amount is less than the market value of your car, in the instance where it is irreparable, getting a new vehicle means that said vehicle will be cheaper than the one you currently own. With Santam however, they have introduced that your comprehensive car insurance covers your vehicle for the absolute amount so that you do not miss out on any money that needs to be claimed.
Santam Car insurance made cheap
During the current pandemic, Covid-19, Santam's research has been able to show that fewer and fewer people are driving more than ever, most people now work from home and this means less risk. But not all car insurance will cover you based on how little you drive. Santam has a cheap alternative that will allow you to pay up to 20% less on your car insurance premiums. It's called SmartPark. SmartPark works within mileage bands, all you have to do is show Santam your current odometer reading and how much you are projected to drive each year.
The mileage bands are:
0 - 5000km
5001 - 10 000km
10 001 - 15 000km
How to claim with Santam
Submitting a claim with Santam can be done online where it is registered and handled by a trained claims handler. Or you can contact Santam on their emergency hotline, which is made free to any Santam customer, and no matter the time of day they will guide you through the processes needed to successfully submit a claim.
Documents are always required for a claim, these documents will vary from a standard motor collision, 3rd party claims, and a stolen vehicle.
Documents often required are:
Case Number (provided when filing for a case at the SAPS)
Drivers license
3rd party details
Public Driving Permit
VIN number (vehicle chassis number)
Vehicle engine number
Customer Reviews & Testimonials
"
February 2021
So car insurance allows me to have insurance for my daughter alone as she is still a new driver on the road.
Dorothy M
— Nelspruit —
May 2020
I use my car for work and if it breaks down it means no work for me luckily I'm covered by Santam and get emergency repair services by them.
Jake H
— Bloemfontein —
January 2020
After me and my friends got in an accident their medical costs were also covered I felt so relieved.
Sonja F
— Sandton —
Santam Contact
Contact Number
E-Mail
Website
Physical Address
1 Sportica Crescent Tyger Valley Bellville,

Cape Town

Western Cape

7530

South Africa
Opening Hours
Monday

09:00 – 17:00

Tuesday

09:00 – 17:00

Wednesday

09:00 – 17:00

Thursday

09:00 – 17:00

Friday

09:00 – 17:00

Saturday

– Closed

Sunday

– Closed