Compare insurance quotes
Save on car insurance
Efficient claims process
In-page navigation
---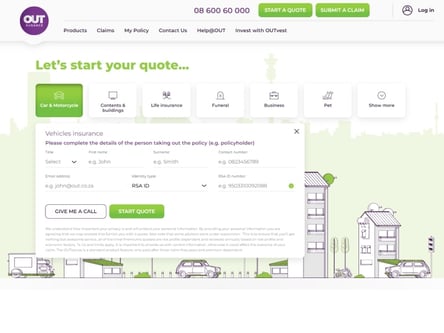 Author OUTsurance. Screenshot of OUTsurance website.


[Accessed February 7, 2023]
About OUTsurance
OUTsurance has taken old school insurance and made it affordable, easier to obtain, and created a long-term investment that can suit each client.
Since 1998, OUTsurance has been paving the way to simple insurance that offers clients more.
Car insurance that has your back
Although their processes are simple, the outcomes are always of great value, and their clients always get something out of it. In fact, they have already paid out over R3 billion in OUTcash bonuses to their clients to date.
Any client that obtains car insurance through OUTsurance, will always receive the lowest premiums from OUTsurance, than any other insurance brand.
SA's insurance provider of choice
OUTsurance is proud of its achievement in being the car insurance brand of choice in South Africa, their client satisfaction ratios are testimony to their ability to manage your car insurance choices.
OUTsurance company culture comprises a group of people who have a passion for making a difference in people's lives and fulfilling their insurance needs.
OUTsurance Services
OUTsurance covers all your car insurance needs and more. Enjoy getting a customized car insurance quote, in certain circumstances, they will even pay you some cash if they are not able to beat your premium on your current vehicle insurance.
Receive great benefits and service that will go above and beyond your expectations, especially at the claim stage, when it really matters who you are insured with.
Fixed excess and comprehensive cover
They cover car accidents, car theft, liability (third party cover), and much more. With this cover, you also receive a hands-down personal and efficient claims process, should you need to claim fast. OUTsurance car insurance offers a fixed excess and a twelve-month guarantee on your insurance premiums.
Get your OUTbonuses
Get cash OUT bonuses for paying premiums over three consecutive years without claiming. OUTsurance also offers the benefits of roadside assistance and if they cannot beat your current premiums that you are paying somewhere else, they simply reward you instantly with R400.
OUTsurance – Car Insurance
Product

Car Insurance
Car Insurance only a call or click away

Outsurance believes that the best car insurance is only a call away. The have designed insurance that will suit your needs and budget

Comprehensive car insurance

Enjoy a full range of insurance including fixed excess, 12 month fixed premiums and the famous OUTbonus

Essential car insurance

This insurance is specifically designed for unfinanced cars that are over 5 years old.
Benefits of OUTsurance
Life insurance - get comprehensive life insurance which can include death cover, disability cover and critical illness cover. You can add a funeral plan to cover you and your loved ones as well.
Business insurance - do you work out in the sun or in an office? It does not matter what your business is, Outsurance will cover it.
OUTvest offers you the opportunity to invest in a revolutionary product digitally. They also offer you advice to make sure you are making the best decisions.
Pet Insurance - the furry babies in your family are also important and they can be covered with their own insurance.
---
OUTsurance is a leading insurance company
OUTsurance also has a specialized cover for their female clients and some of their products include nice benefits like spa vouchers, etc.
OUTsurance always gives back to its clients
OUTsurance is easy to apply for, and even easier to claim from. Their online platforms are integrated and streamlined to ensure automated processes are in place, you can even claim on their app or press the call me button to receive a call back in less than a minute. So, when you are having an emergency, you can rely on them to give you super-fast service.
It's easy to claim
Claiming through their online platform means a simple completion of the outlined details on their website. Submit and one of their expert insurance consultants will be in contact with you shortly after.
You also have the option of contacting OUTsurance consultants directly through their claims department by calling them. All OUTsurance consultants work under supervision, so nothing during the process will be missed or fall through the gaps, and they will attend to every need professionally and proactively.
Comprehensive Car insurance
OUTsurance is popular for its high-quality comprehensive auto insurance. Millions of people in South Africa say that they are the best. This insurance option is in line with the majority of their clients' budgets and offers a long list of benefits which make it a valuable choice. Along with this option covering basically anything that could possibly happen to your car.
OUTsurance also Cover:
Dented bumpers
Scratches and dings in your car panels
Stolen vehicles
Hijacking or damages caused by attempted hijacking
Natural disasters like flooding, fire, or a tree blowing over from the wind onto your hood
They also cover third party damage and liability cover
Get more than you expect
When you insure your car with OUTsurance, you always get more than you expect to. If your vehicle is being repaired, and you have no way of getting around, they will organize a car rental for you for a maximum of 30 days, to ensure you can still get to work and drop the kids off at school
VIP Treatment all the way
With every stage of your car insurance journey, OUTsurance clients get VIP treatment. From getting an insurance quote online to claiming, their staff members and consultants will always provide superior customer service that you would expect. OUTsurance service delivery will always meet your turnaround requirements and where they can go the extra mile to help you – OUTsurance most definitely will.
Customer Reviews & Testimonials
"
March 2021
World-class service, high-quality products, and a company you can rely on when the worst happens, their claims process is fair and fast.
Julian. F
— Cape Town —
July 2021
I Have been an OUTsurance client now for more than 15 years and they are truly the best in the country when it comes to paying out claims, just do yourself a favour and look at the ombudsman stat...
Janmarie. J
— Pretoria —
May 2021
I'm enjoying a great premium for comprehensive cover, if something happens, I will even have a hire car while my car is being repaired. Thanks to OUTsurance I can have the peace of mind I need.
Bruce. B
— Durban —
OUTsurance Contact
Contact Number
E-Mail
Website
Physical Address
1241 Embankment Rd, Zwartkop

Centurion

Gauteng

0157

South Africa
---
Postal Address
PO Box 8443, Centurion, 0046, South Africa
Opening Hours
Monday

08:00 – 18:00

Tuesday

08:00 – 18:00

Wednesday

08:00 – 18:00

Thursday

08:00 – 18:00

Friday

08:00 – 18:00

Saturday

08:00 – 13:00

Sunday

– Closed