Online car insurance quote
Car experts
Flexible cover plans
In-page navigation
---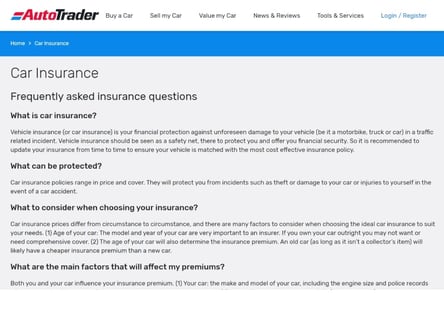 Author Auto Trader. Screenshot of Auto Trader website.


[Accessed February 7, 2023]
About Auto Trader
Auto Trader South Africa has over 21 years in the automotive industry.
They know everything there is to know about cars and this includes car insurance.
Get the Car insurance you deserve
Clients all across South Africa contact them daily, to get the insurance cover they need. They are professional in their business ethics. They take their clients very seriously by ensuring each one is given the second to none treatment they deserve.
Established connections and partnerships
As a large firm in the industry, they have established connections and partnerships throughout the market, allowing them to provide negotiated rates to their clients, with the added benefits that go with it.
Because Auto Trader services go far beyond insuring your vehicle, they provide more than just cover. Receive a full all-round service, from purchasing a vehicle to insuring it.
Auto Trader Services
Auto Trader South Africa offers clients fast turnaround times on getting a car insurance quote online.
They can provide you with multiple quotes in less than 5 minutes. Because they are a wholly-owned company, they don't rely on partners to tell them how to service their clients.
Everything you need, under one roof
Auto Trader provides a personal touch and quality-driven service to its clients. They give each client the customer care they deserve.
Not like the other Car insurance companies
They listen to the needs and requirements of their clients, they offer them a solution that they want, and not what Auto Trader thinks they need. Get proper guidance and advice, as well as answers to your questions whenever you need them. They offer incredible vehicle insurance packages, that will suit your budget, your vehicle details, and your lifestyle.
Auto Trader – Car Insurance
Product

Car Insurance
Search for your next wheels

Are you looking for a new or used car, bike, watercraft or commercial vehicle the Auto Trader is the place for you. Simply put in what you are looking for and which area. Then see the options available.

Sell your car

Reach up to 2 million people who may be interested in buying your vehicle. You can choose to manage your profile or have one of the consultants handle your profile.
Benefits of Auto Trader
Information - Auto Trader has a wealth of articles with information on car insurance and financing.
Finance calculator - use the online calculator to see how much you can afford to pay for your new car before you search the site for your new wheels or watercraft.
Free car valuation - simply add all your vehicle information to get a free valuation
Ask AutoTrader any question you may have. You can also have a look at all the questions already asked. You may find your answer there.
---
Auto Trader provides advice, insurance and so much more!
They will make sure that you benefit from the first day of cover.
Summary of services
Motor Vehicle Insurance
Watercraft Insurance
Caravan Insurance
Motorcycle Insurance
Car Insurance
Third-party Cover
Trailer Insurance
Full Insurance Car Cover
Auto Trader provides advice, Car insurance
Auto Trader South Africa provides Vehicle protection (car insurance) against unanticipated harm to your vehicle. Be it a motorbike, truck, or car, Auto trader will provide the cover you need for any situation.
Vehicle protection ought to be viewed as a priority and essential ongoing expense, they will ensure that you and your vehicle have financial security when things go wrong.
What they cover
Auto & General cover anything with wheels. They provide car cover in a variety of options to protect you from the hopeless financial situation an accident, vehicle damage, or theft can bring forth unexpectedly. When insuring your vehicle, you need to take into consideration the age of your car, as well as the model and year as this will affect the premiums.
Use the Car insurance calculator
Are you subsidized by your business? All these factors will be considered when purchasing car insurance in South Africa and establishing the right premium. Once you decide you need insurance, go onto their website, which allows clients to easily access an insurance quote online.
Complete the quotation form and submit it. It's as easy as that. They will call you back in an instant with a quote on what your premiums will be per month.
Setting up a debit order for your Car insurance
Once you are happy with their quote, they will initiate your debit order, so that your premiums can automatically be deducted from your account each month, ensuring you are covered in case of any unfortunate event.
If you need to claim, you will be informed of what will be paid out by the insurer, and if there is an excess that you need to pay.
Lower vs higher excess
Insurance cover options with a higher premium have a lower excess amount - just as life cover with higher premiums pays out more in the event of death. Make sure you choose the cover option you want, carefully. Your car insurance cover will insure your vehicle for several mishaps.
Auto Trader comprehensive cover, which is most popular, covers you against the theft of your vehicle, smashed windows, damage to your vehicle from severe weather conditions, and more. Don't get caught without cover, you never know when someone could drive into your car and drive away.
Customer Reviews & Testimonials
"
July 2021
I get great benefits and features on a very affordable and comprehensive cover for my vehicle, thanks to them.
Simon. F
— Durban —
February 2021
They have a streamlined and super smooth claims process and they paid out my claim in an instant, I am very pleased.
Felicia. R
— Pretoria —
May 2021
Wow, what a company. They are so reliable, fast, and transparent in everything they do, plus they truly care about their clients. It is so much more than just a car insurance cover.
Tristan. W
— Durban —
Auto Trader Contact
Contact Number
E-Mail
Website
Physical Address
Polifin House, 154 Bram Fischer Dr, Ferndale

Randburg

Gauteng

2194

South Africa
---
Postal Address
PO Box 4825, Randburg, 2125, South Africa
Opening Hours
Monday

08:00 – 17:00

Tuesday

08:00 – 17:00

Wednesday

08:00 – 17:00

Thursday

08:00 – 17:00

Friday

08:00 – 17:00

Saturday

– Closed

Sunday

– Closed