Online insurance quotes
Quick application process
Discounted premiums
In-page navigation
---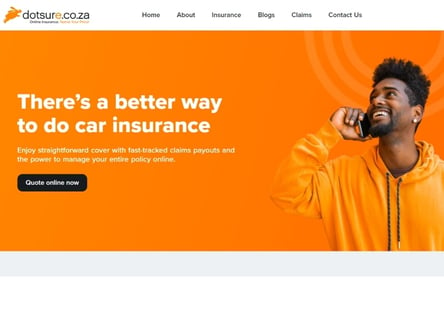 Author Dotsure. Screenshot of Dotsure website.


[Accessed February 7, 2023]
About Dotsure
Dotsure is a short-term insurance provider, ranked as one of the best in South Africa.
With 5 star reviews on Hello Peter and a 10/10 rating on the trust index, Dotsure's trendsetting short-term insurance can offer you as a cheap car insurance seeker an alternative option.
Applying for Car insurance
Dotsure has made the entire process of being able to get a car insurance quote & purchase that quote online within a matter of minutes. By visiting the website's car insurance section you can quickly apply for a quote online. The website is a massive help taking you through the process of your particulars such as your ID, your license details, and your car details.
Part of the reason that Dotsure is rated so highly amongst insurers is the flexibility they offer. During the process, you can select the amount you would like to pay for your monthly car insurance premiums based on your budget. In a few moments, it will give you a quote, along with an online discount.
Once your quote is prepared you can also use the slider to change how much excess you would like on your car. And it will be deducted from your total monthly premiums. On this page, you have full access to adding on benefits such as hail, nighttime driving, excess buster, and removing options that you do not require. You can also select the type of car insurance you want from comprehensive to a third party only and everything in between.
Dotsure Services
With Dotsure having car insurance is made simpler.
When applying for any type of cover you can personally tailor any benefits of the car insurance plan. This means being able to remove benefits. If you do not drive in the rain and avoid it at all costs, you can remove the hail cover from your plan.
The same goes for your windscreen option if you do not often use gravel roads and if you do not use your car between the hours of 9 pm and 5 am in the mornings. These simple cover options can either add to your monthly car insurance premiums or take away from it, especially if you do not drive under specific circumstances. This in turn can help save you hundreds if not thousands on your monthly premiums making for tailored cheap car insurance.
The standard benefits that you receive are:
Pothole protection for your rims
License protect, which will help facilitate license renewal and remind you to do it on time
Fines protect, Dotsure will also facilitate seamless payment and help negotiate discounts
Emergency services in the event of an injury from an accident
Accident protect, is another service where Dotsure will deal with the Road Accident Fund on your behalf so you do not have to
Roadside assistance to help in the event of a breakdown from fuel, battery, or any other mechanical or electrical issue.
Dotsure's comprehensive cover will also ensure non-standard equipment in your car is covered and they can provide you with a new set of keys in the event it is lost or stolen. Vehicle credit cover comes as part of your plan and your legal liability for causing damage to others is covered too.
Dotsure – Car Insurance
Product

Car Insurance
Savings in your pocket

Dotsure offers you not only the best premiums but also the opportunity to save up to 20% when buying your cover online

No paperwork

Dotsure allows you to get your quote, buy your insurances and manage your policy with no paperwork. They have a completely online solution for every aspect.

Unique services

Dotsure has included unique service with their car insurance. From pothole protection to a reminder when your license is close to expiration.
Benefits of Dotsure
Motor Warranty - not only does Dotsure offer comprehensive car insurance with extensive add on services but you can add a motor warranty to your portfolio. You can rest assured that you can afford that service for your vehicle or the unexpected mechanical breakdown. They pay directly to you and not the service provider. A claim can be paid out within 3 days.
Pet insurance - Dotsure offers comprehensive pet insurance. You can include your dog, cats, birds and exotic pets. You can choose your own vet and save up to 15% when adding more pets. Your policy is a month-to-month policy so you can cancel or upgrade as you wish.
Business insurance - Insurance with Dotsure offers you the opportunity to cover your buildings, vehicles, assets and liability into one simple portfolio.
---
Get affordable car insurance with Dotsure
Many car insurance providers are adding motor warranty cover as part of a separate plan that falls under car insurance.
Dotsure provides a motor warranty plan as well. For any car that runs out of its standard manufacturer warranty (which is usually for up to 5 years/150 000km), you can extend your motor warranty plan with Dotsure.
The benefit of an extended warranty as part of your car insurance is to ensure the vehicle you drive regularly operates smoothly at all times. Having an extended warranty with Dotsure can ensure benefits such as:
Payout within 3 days
Payouts are done directly to you not the mechanic or service centre
A grace period of up to 30 days for a missed service
Comprehensive cover of up to 45 mechanical parts
Cover for cars older than 15 years and up to 300 000km on the odometer
You can get an insurance quote for your extended warranty in 5 minutes online
And if your cover is too little or too much you can upgrade or downgrade that cover at any time
Dotsure provides 3 separate plans for 3 types of vehicles under each plan. The plans go according to the one that provides the least amount of coverage to the most, starting at silver, followed by gold and platinum. With a Plan A, B and C for each plan. With each plan placing a limit on the amount that will be covered for parts that are engine related, transmission related, front and rear differential related and lastly part of the turbo
Plan A is for vehicles that are not older than 5 years old with mileage under 110 000km's
Plan B is for vehicles less than 8 years of age with mileage under 180 000km's
Plan C is for vehicles older than 8 years and for mileage over 180 000km's
Claiming with Dotsure
The process for claiming your car insurance with Dotsure can be done online. To begin the process online you have to log into your Dotsure account. Log your claim, then submit all relevant documents. All documents can be submitted via the Manage portal or you can email them to Dotsure.
Documents needed will be:
Quotations
SAPS report
Images of the vehicle, usually done by yourself
A1 statement, or complainant statement in the event of theft
Third-party details if not mentioned in the A1 statement
After documents are submitted a consultant will be in contact with you to update you or request additional documentation and also advise on the process. Once the claim is verified against the terms of your policy and incident details the claim handler will contact you and help you from there.
Customer Reviews & Testimonials
"
May 2021
With this cover you can play around and remove and add covers as you want makes it convenient when you know you take care of your car.
Marion T
— Kokstad —
March 2020
I'm a speed racer sometimes because I'm always running late for meetings and thank to Dotsure they help me pay my fines when I cant.
Tamryn K
— Gaansbay —
November 2021
Fast and reliable i put a claim in a month ago and it has been paid out already. Really fast service.
Anita I
— Pretoria —
Dotsure Contact
Contact Number
E-Mail
Website
Physical Address
117A York Street

George

Western Cape

6529

South Africa
Opening Hours
Monday

08:00 – 18:00

Tuesday

08:00 – 18:00

Wednesday

08:00 – 18:00

Thursday

08:00 – 18:00

Friday

08:00 – 18:00

Saturday

08:00 – 13:00

Sunday

– Closed