Quick insurance quotes
Discounted premiums
Quick application process
In-page navigation
---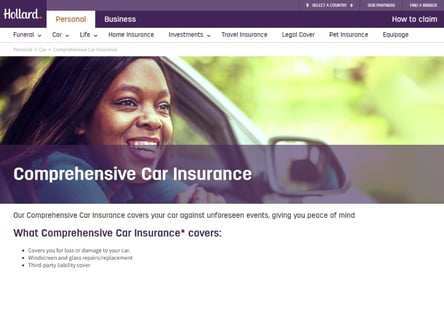 Author Hollard. Screenshot of Hollard website.


[Accessed February 7, 2023]
About Hollard
Hollard is one of South Africa's most well-known insurance companies, giving thousands of clients around the country access to car, life, and funeral insurance through easily accessible online platforms.
They have great financial stability and a turnover of more than R15 billion, securing their company as one of the largest in the industry.
A partner for life
Clients can rely on Hollard for a lifetime of services that take care of every aspect of their insurance needs. Hollard knows the insurance industry better than anyone. They have ongoing training carried through their divisions continuously, keeping their staff informed on the latest and most essential insurance trends in the market.
Long & short-term insurance for all
Hollard carries their knowledge through to their motor vehicle insurance and all products for every customer they assist. Hollard has licenses to implement long-term or short-term cover investing in the specific customized needs of each of their clients.
They provide specialty cover for a range of requirements, from life to death, and everything in between like travel insurance and long-term care cover.
Hollard Services
Hollard car insurance offers clients the convenience of cover for any damages you may acquire on your car.
They cover their clients with comprehensive insurance options that meet the demanding needs of their unpredictable lifestyles.
Car insurance when you need it
Hollard will cover your car in the case of any damages caused by an accident, theft, and damages to your vehicle in attempted robbery or hijacking. These are all stark realities in South Africa and must be dealt with accordingly.
Don't get caught off guard, you never know when you will need to be covered, and car damages can really put a knock on your bank balance. You can trust any of their 3000 team members in the country, with your home, car, funeral, and life insurance needs today!
Hollard cover areas where many other insurance companies don't, such as:
Natural weather disasters like floods, fire, hail, and explosions
They cover South African car drivers who drive for personal or business
They provide an accidental death cover free of charge with your car insurance
They have a third-party claim cover in case the accident was your fault
Hollard – Car Insurance
Product

Car Insurance
Comprehensive car insurance

Hollard has partnered with Dotsure to offer comprehensive car insurance. Hollard is a shareholder in Dotsure. You can be assured of great value and service from them.

Extended car warranty

You never know when your vehicle may need repairs. Mitigate these expenses by having an extended car warranty.
Benefits of Hollard
Legal cover that puts a lawyer at your disposal when you need them
Invest and Save - comprehensive investment and savings plans that plan for big spends like university and retirement or that trip around the world
Funeral Cover with optional value added benefits which you can tailor to your family's needs
Travel insurance from a company that understands the post Covid-19 world that we live in and all unexpected extra travel costs that this bring with it.
---
Hollard covers your assets for those unpredictable times
Hollard knows the complications that come with owning a vehicle. The wear and tear on your tyres.
The scratches on your doors and hail damages from an unexpected storm. Minor to the complications of being involved in a vehicle accident, or getting your car stolen. These are the realities of life, and out of our hands in most circumstances.
Your best move towards high-quality Car insurance
This is why getting your vehicle covered with Hollard is your best move. This protection can save you thousands of Rands in the long term, as it will allow you to get your vehicle repaired immediately. This is an added bonus that comes with having Hollard auto insurance in place.
Additional cover at no cost
They also include a free death cover for an accident that could claim the life of someone who is in the car with you at the time of a collision. They cover third-party claims up to R10 million, which pays for damages, legal implications, and if you are responsible for the accident.
Key benefits of Hollard Car insurance include:
In the event of your car being stolen, or damaged in an attempt to steal your vehicle, Hollard will cover the damages and theft. They cover cars should they be damaged in severe weather conditions, natural disasters, and fires.
Hollard provides 24-hour roadside assistance, including towing services if you break down on the side of the road.
How to make a claim
To claim on your car insurance, clients can make use of Hollard toll-free landline number, or the call me back option. Their consultants will be in touch with you immediately, as they know, if there is an emergency, they need to assist straight away. Get an online insurance quote from Hollard today, and get covered tomorrow.
Be prepared for anything
An accident can happen fast and at any time! Being covered for such a catastrophe will allow you to be covered for the damages, get paid out for a new vehicle, or have repairs done, and you can also qualify to get a vehicle to use while your car is being repaired. The choice is simple, the insurance is effective, the prices are affordable! Call Hollard today.
Customer Reviews & Testimonials
"
December 2020
Last week I got in an accident. Luckily, I was covered with Hollard and they did not even ask me too many questions and just paid out my claim in the fastest possible time, I was so pleasantly su...
Xola. H
— Johannesburg —
January 2021
If you like to have things done quickly and efficiently, but you are still looking for a good price, you won't regret signing up with Hollard. I have been a client for 5 years now and I will neve...
Stefan. D
— Johannesburg —
January 2021
Oh, what a great insurance provider, they have been so helpful to me and my daughter who is now both insured for our vehicles and household contents, they even gave us a 10% discount for taking o...
Karen. G
— Pretoria —
Hollard Contact
Contact Number
E-Mail
Website
Physical Address
22 Oxford Rd, Parktown

Johannesburg

Gauteng

2140

South Africa
---
Postal Address
PO Box 87 419, Houghton, 2041, South Africa
Opening Hours
Monday

08:00 – 17:00

Tuesday

08:00 – 17:00

Wednesday

08:00 – 17:00

Thursday

08:00 – 17:00

Friday

08:00 – 17:00

Saturday

– Closed

Sunday

– Closed