Insurance quotes online
Variety of plans to choose from
Affordable excess fees
In-page navigation
---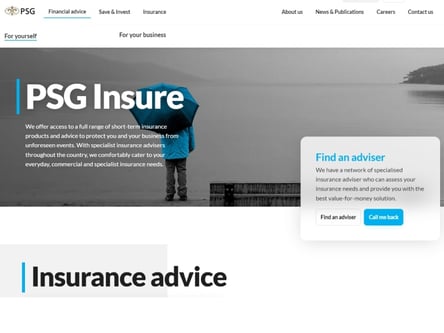 Author PSG Online. Screenshot of PSG Online website.


[Accessed February 7, 2023]
About PSG Online
PSG car insurance in South Africa allows clients to access all their car insurance needs in one spot.
PSG offers all the inclusivity and benefits you need to ensure your car is insured in the best possible way.
Taking care of your Car insurance needs
PSG Online can assist with all your financial needs, including your car insurance requirements. PSG was established in 1998, and since then has flourished in the business world of finance and insurance.
PSG Online owe their success to the motivated and passionate staff they have employed in their team. They continuously deliver a service higher than expected of their clients.
Quality and attention to detail
PSG Online quality and attention to detail when it comes to meeting your requirements are above the exceptional standards they portray in their training and development of their consultants. PSG Online always goes above and beyond. You can expect the best when partnering with PSG for your car insurance needs.
PSG Online Services
PSG Car Insurance in South Africa saves clients the trauma and the financial stress of dealing with damages to their vehicles. They understand how expensive a scratch or dent can be to repair.
Cover with a difference
Imagine having to have a full-body repair after a hail storm, or after you were involved in an accident. PSG Online knows the costs; they know the complications which is why they provide their clients with an auto cover that provides for and protects you in these times.
Comprehensive Car insurance
PSG Online can cover you for almost anything that could possibly happen to your car. This includes but is not limited to theft, weather damage such as hail, floods, fire or explosion, hijacking, or an accident. PSG Online also provides third-party insurance cover as well as value-added benefits such as windscreen and tyre repairs.
PSG Online – Car Insurance
Product

Car Insurance
Comprehensive car insurance

Insurance from PSG can help you cover anything that may happen to your car whether you are moving or standing still. It can include roadside and medical assist.

Third Party Insurance

This insurance covers and damage to property or people that your car may cause. It does not cover your own car

Value Adds

You can add car hire, excess waivers and tyre damage amongst others.
Benefits of PSG Online
Financial advice is available from one of their friendly brokers. Visit a broker to discuss your personal or business financial needs.
Medical Aid - PSG offers various medical aid options for in hospital procedures and savings options for day to day options with network options also available.
Gap cover will help you cover any shortfall that your medical aid may have.
Value added benefits - PSG offers insurances that you can add to your portfolio. These included Life Cover, dread and disability cover as well as critical illness. You can also insure your income with an income protection plan.
---
PSG Car Insurance - Revolutionising the value in insurance cover
They have tailored car insurance to suit just about anyone, and any risk. Contact PSG Online today.
Revolutionizing the value in insurance cover
PSG Car Insurance in South Africa offers clients wealth and asset management facilities along with the offering of the best car insurance which works in line with all their products. Car insurance is one of the most valuable assets you can have when owning a motor vehicle.
PSG Online assists you when applying
They are 100% focused on the needs of a vehicle owner and have designed their products accordingly. Get assistance from them throughout the entire online insurance application process and get the valuable benefits you deserve.
Car insurance that is simple and easy to understand
PSG Online tailor-make and create a solution that their clients can accept through their online, simple and straightforward application process. PSG Online terms and conditions are clear, with transparency and honesty.
PSG Online tell it like it is
No hidden agenda, no-frills and fluff, just the facts. Knowing you are covered in the event of natural weather disasters, dents, scratches, theft, hijacking, and accidents, will take away the financial strain that goes with replacing and repairing the damages.
They are well-known for good reasons
PSG Online is well-known in the country for its service offering and offers online insurance quotes. With them, you can be protected against the harsh and financially hopeless outcomes of the uncertainty and stress that come with any car insurance claim. PSG Online process for claiming is aligned with their promise to deliver fast and convenient service.
How to submit a Car insurance claim
Claims can be activated by contacting PSG Online consultants on their provided telephone number on their website, and they will assist you fast. They will assist with getting quotations of damages to your vehicle, through PSG Online preferred panel beater providers, who will provide an estimate on the damages and PSG Online will get them sorted out.
They help wherever they can to assist with the recovery, and repairs to your vehicle so you don't have to deal with the stress that goes with the insurance side of things.
Customer care and support
If you are hijacked, involved in an accident, or need medical assistance from your injuries, they will assist in a percentage of those medical bills, or assist with getting you the treatment you need. They assist wherever they can, to provide over and above customer care to PSG Online car insurance clients.
Customer Reviews & Testimonials
"
October 2021
They've helped me to get a cover that is super comprehensive and still I am enjoying the greatest premium.
Anri. V
— Pretoria —
June 2021
I did several quotes all around and PSG was the obvious choice, they offer great value for money.
Mphumlo. D
— Johannesburg —
January 2021
I have been a PSG client for so many years now and I never had any problems with them paying out any of my claims, very reliable.
Ruan. K
— Pretoria —
PSG Online Contact
Contact Number
E-Mail
Website
Physical Address
Building C Westend Office Park 250 Hall Street

Centurion

Gauteng

0046

South Africa
---
Postal Address
PO Box 1899, Witkoppen, 2068, South Africa
Opening Hours
Monday

08:00 – 17:00

Tuesday

08:00 – 17:00

Wednesday

08:00 – 17:00

Thursday

08:00 – 17:00

Friday

08:00 – 17:00

Saturday

– Closed

Sunday

– Closed