Quick insurance quotes
Affordable car insurance premiums
Fast claims process
In-page navigation
---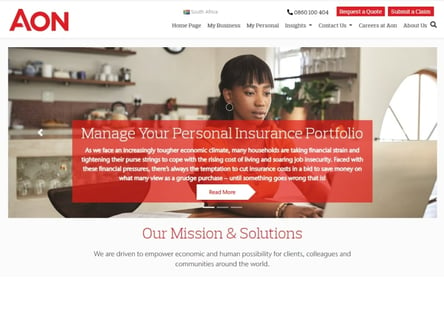 Author AON. Screenshot of AON website.


[Accessed February 7, 2023]
About AON
AON is a top insurance brand known across the globe for its solutions that match the needs of clients everywhere.
The advantage of partnering with AON is that they understand the risk factors faced by clients daily.
Assessing your Car insurance needs
Risks go hand in hand with the type of insurance coverage you would need. They assess their client's needs and provide a car insurance solution with a difference. Another advantage of partnering with them is their client-centric focus. They align themselves to the needs of their clients and deliver an exceptional service quality, which is carried through from top management right down.
AON Services
With AON's all-inclusive car insurance policy that covers all your insurance needs in a way that is precise, comprehensive, and affordable.
They assist clients with fast and easy-to-understand terms in regards to whichever option they prefer, and their premiums are in line with your budget.
Get Car insurance that will cover you
They offer car insurance options that cover you for vehicle theft, hail, flooding, fire, highjacking, and third-party claims. We spend a lot of time in our vehicles, and more often than we like, damages caused to your car can happen through another driver or something which is out of our control.
AON – Car Insurance
Product

Car Insurance
Aon expert advisers

Aon has expert advisers who will assess your needs with a comprehensive risk assessment. They will then find the best cover for you at the most competitive rates.

Claim help

Aon will assist you with your claim. The adviser will speak directly with the insurer to help with a fair and fast claims process.
Benefits of AON
Business solutions - Aon provides business solutions which include risk assessments and evaluations. They will recommend the best insurance options for you and your employees.
Health insurance - Aon believes in educating their clients. Health insurance does not always hinge on the best price but also the different cover that you receive. Aon will help you find the best cover at the best price.
Online solution offer you the opportunity to get your quotes online. You can also submit your claims online 24/7
---
AON provides unbeatable car insurance benefits
Get covered with AON, they will protect you. Contact them today and get the insurance cover you need to cover you for those vehicle mishaps that may occur.
They are there from application to claim
They are highly involved with every need their clients have, and from application to claim, they are there to guide you through each process. They make getting insurance easy, they make claiming simple and they create a partnership for clients that need that VIP treatment. Their business structure ensures they can assist all clients throughout South Africa, no matter where they are located.
Proper Car insurance when it's needed most
There are many different risks to anyone driving a vehicle. These are risks we take for granted and are often not even aware of. Having to pay for damages out of your pocket can cause tremendous financial strain. Don't get caught in the stress.
AON provides unbeatable Car insurance benefits
AON car insurance always looks at how they can help their clients. Financially, your car can bring about many financial aspects that can leave your pocket empty. They have implemented best-in-class car insurance quotes that alleviate that financial burden that goes alongside car damages and theft.
Contact them quickly and easily
Their experienced team of consultants can be reached via telephone or email, and they will answer you in a quick turnaround time. Your voice is important to them, whether you are enquiring about an insurance option, querying your current profile, just needing information, they will always take the time to contact you.
They also have a convenient footprint through South Africa, with branches located throughout the country. Clients have the convenience to find a branch near them and can have a face-to-face appointment with their consultant team.
They can meet your needs
Whatever your car insurance needs, they can accommodate it. Claims can easily be processed, by contacting one of their consultants through the contact number provided on their website.
Alternatively, you can also email them, any time you like. They encourage clients to submit their claims to them as soon as an incident occurs.
Claiming for vehicle theft on your Car Insurance
Should your car be stolen, they will require a police report along with your claim form. Claim forms can be downloaded directly from their website. They will assist you with finding a panel beater from their list of preferred suppliers, to cut unnecessary costs.
Third-party cover
They also cover third-party claims, which is in line with the terms and conditions of your car insurance policy. Each policy option they provide has its own unique set of benefits, and value adds for their clients. They work quickly with their claims, to ensure you don't have to be without your vehicle for too long whilst it's being repaired.
Your rental is on them
They can also arrange a rental vehicle for you if your car is going to take a while. Everything you expect from a world-class insurance company is available in South Africa through AON Insurance. Let them provide you with the insurance solution you need to cover your car essentials and get an insurance quote today.
Customer Reviews & Testimonials
"
July 2021
AON has delivered on every promise they made. Well done! I would definitely recommend them to anyone.
Patty M.
— Durban —
March 2021
I don't know why I waited so long to get insured. If I knew it would be that easy I would have been insured a long time ago.
Sally H.
— Cape Town —
September 2021
It was the best move to get insured with AON insurance. My needs are looked after and I am at ease knowing they will take care of everything.
Bernard S
— Pretoria —
AON Contact
Contact Number
E-Mail
Website
Physical Address
Black River Park 2 Fir Street 5th Floor, The Terraces, Observatory

Cape Town

Western Cape

7925

South Africa
Opening Hours
Monday

08:00 – 16:30

Tuesday

08:00 – 16:30

Wednesday

08:00 – 16:30

Thursday

08:00 – 16:30

Friday

08:00 – 16:30

Saturday

– Closed

Sunday

– Closed