Direct insurance quotes
Flexible premiums
Reduce excess to zero
In-page navigation
---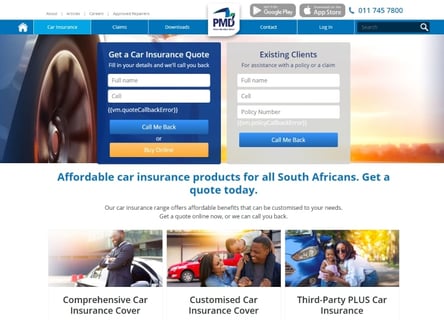 Author PMD. Screenshot of PMD website.


[Accessed February 7, 2023]
About PMD
Prime Meridian Direct or PMD is a short-term insurance provider.
PMD started in 2009 to fill a market gap by providing cheap car insurance out of necessity. This necessity was due to the fact that many drivers would be driving their vehicles on the road uninsured.
How To Apply for PMD Car Insurance
Apply for insurance online with PMD. These two methods have the same process, the only difference being that you can purchase and start your cover immediately with the one. The process is simple:
Visit the PMD website
Fill out your contact details at the section at the top of the car insurance page
By selecting "call me back" you opt for a call from a PMD sales consultant or
By selecting the "buy online" option you can choose to fill in all the parameters by yourself on their website and a quote will be given to you to accept and purchase and your cover can begin immediately
The details they request are simple details such as the use of your vehicle on a daily basis, the make and model, and your personal driving parameters that include how long you have had a license and have been accident-free.
PMD Services
When buying a new car that is being financed it is compulsory to have your car insured with comprehensive car insurance.
Generally speaking, comprehensive car insurance usually covers for the damages incurred to your vehicle if it were in an accident but also bears in mind the possible excess payments that need to be made. Comprehensive car insurance also covers third-party damage, this is either covered fully or partially.
Comprehensive Car Insurance benefits
Some of the standard benefits that are included in your comprehensive car insurance are:
Write-off and accident cover of your vehicle
Damage caused by fire or natural disasters like hail, flooding
Hijacking and theft of your vehicle
Up to 1-million in third-party liability protection
The full market value of your car is covered
24-hour roadside and emergency assistance
Glass cover for your windows in case it is accidentally damaged
As part of your car insurance premium, this is what will be covered. There are add-on benefits that can be added to your car insurance premium. These benefits include:
Car hire
Credit shortfall protection
Accidental death cover
Tyre and rim cover
PMD – Car Insurance
Product

Car Insurance
Car insurance quote in 10 minutes

Simply click on the get quote button and fill in your information.

Fixed Premiums

Get affordable premiums which can be fixed for a term

Zero Excess

You can add a zero excess to your policy so that you can avoid this large payment when you have already lost your vehicle.
Benefits of PMD
Choose your cover - PMD has Comprehensive cover, Customised cover and Third-party Plus cover
Road side assist - PMD offers road side assistance and towing as part of your car insurance cover. You can rest assured that if you are stuck on the side of the road someone will come to help.
Tailored insurance - PMD does not believe in a one size fits all approach. They take many different factors into account.
Convenience - PMD offers you the convenience of shopping and comparing insurance online, not only can you compare the quotes and cover but you can buy your insurance online also.
---
Get a quick and personalized quote
This car insurance option is deemed as the cheapest car insurance with any insurer.
It is a way of protecting yourself against any possible accidents that may be your fault, the damages that are incurred to the third party, or the person you have bumped into, are covered for by your car insurance.
It traditionally covers:
Up to R500 000 per incident in third-party liability protection
Cover for smaller incidents on a growing benefit basis, which is 100% of market value
Cover for hail damage up to R10 000
Customized Car Insurance
PMD also offers car insurance that is tailored to what you will need and what for your day-to-day protection and peace of mind. The minor differences are that premiums are fixed and in the event of a write-off, the excesses are reduced to zero.
The main benefits of customized car insurance with PMD are:
Total cover in the event of an accident that results in a write-off or
If the car is lost through a natural disaster or fire.
Up to R500 000 in third-party liability cover
The full market value of your car is covered by your car insurance
MCG (minimum cover guarantee) will be able to provide you with a guaranteed minimum level of cover in the event of an accident
Growing cover for smaller accidents
Hail damage cover up to R20 000
And windscreen damage cover
24-hour roadside assistance and emergency services
The additional car insurance options are the same as comprehensive car insurance with a few differences. The optional extras that can be added to your car insurance, that are different from comprehensive car insurance are:
The ability to add 2 additional drivers to your car insurance policy at an additional cost.
How To Claim
When you have been in an accident your duty to ensure you don't have to pay unnecessary amounts to a third party or payout of your pocket for any other damages done to your own car is to file a claim so the insurance can handle all the nitty-gritty for you. Filing a claim with PMD can be done via PMD's website in the claims section.
All you have to do is scroll down and click on "lodge a claim", this will mean you will speak directly with someone who will assist you throughout the process, or you can download the PMD mobile app through the Google Play Store or the App Store for iOS devices.
Customer Reviews & Testimonials
"
December 2020
They don't just cover the small things for your car they literally cover the full value of the car!
Patricia N
— Hartenbos —
July 2021
They customize your insurance, they believe everyone have different needs.
Gerhard T
— Grahamstown —
PMD Contact
Contact Number
E-Mail
Website
Physical Address
Prime Meridian House, Bryanston Gate 170 Curzon Road (Corner of Main Rd and Homestead Ave) Bryanston

Johannesburg

Gauteng

2021

South Africa
Opening Hours
Monday

08:00 – 17:00

Tuesday

08:00 – 17:00

Wednesday

08:00 – 17:00

Thursday

08:00 – 17:00

Friday

08:00 – 17:00

Saturday

08:00 – 13:00

Sunday

– Closed