Online insurance application
Affordable premiums
Multiple quotes to compare
In-page navigation
---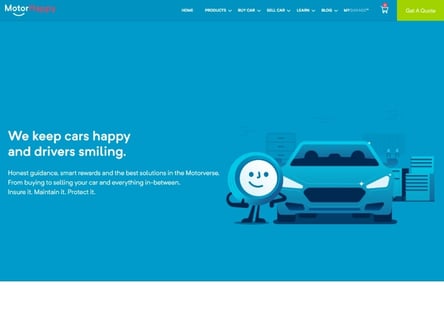 Author Motor Happy. Screenshot of Motor Happy website.


[Accessed February 7, 2023]
About Motor Happy
MotorHappy is a car insurance solution that facilitates the collection of car insurance quotes and then manages the car insurance on your behalf.
Applying through MotorHappy is much like applying directly through any other insurer. The only difference is MotorHAppy will collect quotes from multiple different car insurance quote providers. The benefits of using this are being able to apply with the same details to multiple companies and being able to do a side-by-side comparison of the types of cover, the amount you would pay, and the benefits that are similar or different for each car insurance quote.
The process for applying is simple:
Visit the website on /www.motorhappy.co.za/
Scroll till you see the car insurance section and request a callback or start the process online and wait for MotorHappy to get back to you with multiple quotes for you to look at
The type of cover that MotorHappy will try and get a quote on are:
Comprehensive
Third-party, fire, and theft
Third-party only
MotorHappy's website has an array of blogs to help you decide and pick the best car insurance quote of the ones they provide, and they will provide assistance to you at every turn, to ensure you are covered where you need the most and save where you possibly can.
Motor Happy Services
MotorHappy provides exclusive products that can be added to your basic car insurance.
These are extra types of cover that not only insure your car for accidental damage, malice, and legal liability as normal car insurance cover would provide, but also help keep the vehicle you use is kept in good running condition.
These products are:
Extended warranty
Maintenance Plan
Service Plan
Scratch and Dent Cover
Extended Warranty
MotorHappy insists on taking out an extended warranty with them for multiple reasons. They offer standardized benefits with a fixed monthly premium. In the event of an emergency due to a breakdown, or you cannot drive your vehicle due to a mechanical or electrical issue, the extended warranty option with MotorHappy will be able to cover the cost of the repairs and provide you with genuine parts and quality services to repair your vehicle.
An extended warranty can cover are:
Engine
Gearbox
Wheel bearings
Differential
Clutch
Suspension
Propshaft
CV Joints
Propshaft
Cooling System
Motor Happy – Car Insurance
Product

Car Insurance
Multiple quotes

Use Motor Happy to fill in all your details. One of their partner insurance companies will then offer you a quote. You can choose the best cover for you.

Affordable premiums

Motor Happy allows you to find multiple quotes and you can choose the best quote for your budget

Advice

Let a Motor Happy agent talk you through the process with advice on what questions you should ask and why you should insure.
Benefits of Motor Happy
Service plan - servicing your car can be a very costly event. If you have a service plan in place then you can rest assured that looking after your car can be covered financially.
Maintenance plan - works well with a service plan. This type of insurance can assist with paying for items not covered in a service plan. Wear tear happens every day to your car. The maintenance plan can cover these items.
Scratch and dent - a scratch can happen so quickly. Make sure that you can take care of all of these small imperfections with the help of a scratch and dent plan.
Extended Warranties - Take care of big mechanical failures with an extended warranty.
---
Get car insurance with Motor Happy.
As part of owning a car, it is your job to maintain it.
In order to keep up the routine maintenance of a new vehicle the dealership where you purchased it will offer a service plan up to a certain amount of mileage or years, usually 5 years and 150 000km. This routine maintenance involves the changing of fluids, spark plugs and filters, the wear and tear parts of the car.
These are the small parts of the car that ensure it runs smoothly every day of the week. With MotorHappy this service plan can form part of your car insurance, with the benefits of being able to be supplied with genuine parts, qualified technicians, and depending on your vehicle the use of OEM parts ( Original Equipment Manufacturer). This service will also be available at a fixed monthly cost and covers parts such as:
Air filter
Transmission fluid
Oil filter
Fuel filter
Coolants
Spark plugs
Brake and Clutch fluid
Engine oil
MotorHappy Maintenance Plan
The most commonly asked question is what would be the difference between a service plan and a maintenance plan. The short answer is that a maintenance plan covers the service plan as well as the replacement of any other car parts that require any maintenance to ensure the car is running efficiently, to avoid breakdowns and failures of any kind. You receive the same benefits as you would from the service plan as well as keeping a maintenance checklist every time your car goes in for its routine maintenance.
Parts the maintenance plan covers are:
Turbo assembly
Alternator
Rear wheel cylinders
Wheel bearings
Water pump
Starter motor
Locks and ignition
Fuel system
Steering components
Clutch and clutch cables
Rear brake discs
As part of signing up with each of these car insurances, you receive benefits directly from MotorHappy. These would be described as emergency or roadside assistance benefits in the event of breakdowns.
You will be able to receive towing services to take your car to a repair shop, as long as it was not directly caused by a roadside accident.
MotorHappy can provide you with overnight accommodation if it is too far from home and help with a rental vehicle while your car is being repaired.
MotorHappy will also be able to relay messages to your family in the event you are not able to.
Fuel can be supplied to wherever you are if you have broken down with no fuel.
If your keys are locked in a vehicle, MotorHappy will send a locksmith to assist with retrieving them.
And if your car battery has died they will help you jump start it
Scratch and Dent Cover
If the maintenance of the inside mechanical parts of your car is taken care of, in order to help keep the interior and exterior clean and undamaged, MotorHappy provides a separate scratch and dent cover car insurance in South Africa. By having this cover you can help keep the value of your car up and in the event of small accidents caused by stones, someone knocking on your door in the parking lot, or any small event that causes small damage either inside or outside your vehicle. It is a benefit that can be paid for at a fixed rate monthly with no excess.
The scratch and dent cover insures a variety of parts such as:
Light scratches
Minor dents
Windscreen and headlamp chips
Vehicle seat panel repairs
Dashboard
Respray of leather steering wheels
Seat stitching and more.
Customer Reviews & Testimonials
"
March 2020
This is very cheap affordable for anyone and also easy apply no hassles.
Tinus F
— Welkom —
February 2021
They offer you quality services and don't just fix your car at cheapest they get the original parts.
Markus L
— Pietermaritzburg —
Motor Happy Contact
Contact Number
E-Mail
Website
Physical Address
Building 4, The Bridge Office Park, 146 Boeing Road East, Elma Park, Edenvale,

Johannesburg

Gauteng

1609

South Africa
Opening Hours
Monday

08:00 – 17:00

Tuesday

08:00 – 17:00

Wednesday

08:00 – 17:00

Thursday

08:00 – 17:00

Friday

08:00 – 17:00

Saturday

– Closed

Sunday

– Closed