Comprehensive car insurance
Convenient emergency service
Choose the best cover
In-page navigation
---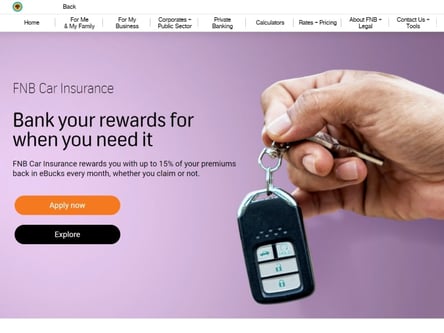 Author FNB. Screenshot of FNB website.


[Accessed February 7, 2023]
About FNB
FNB, South Africa's oldest bank that has roots stretching all the way to 1838.
The acacia tree that is their logo is a symbol of the deep roots they hold in South Africa. Providing car insurance means they can do it in a way that will benefit many South Africans that can also be cheap and affordable.
FNB Car insurance applications
Being able to apply for insurance with a bank can be done in one of many ways. One is to request a callback on the car insurance section of the FNB Car insurance website.
The second is to directly call FNB sales on 0860 328 328 or to email them on fnbibsales@fnb.co.za. The third option is to go into your nearest FNB branch and speak to a consultant there.
FNB Services
FNB offers its customers the traditional 3 types of cover that you can apply for with car insurance.
If you are financing a new car it is compulsory to have comprehensive car insurance, if it is a relatively new vehicle, it is also recommended that the option you pick is the comprehensive car cover.
FNB's aim is to make sure that you are able to remain in the relatively same position, financially, after the damage is done to your vehicle through accidents, malice, disaster, theft, or hijacking. For third party only and third party, fire, and theft your car insurance will only cover the legal liability and the damages done up to the amount your vehicle is covered for in the event is stolen (third party, fire, and theft).
FNB – Car Insurance
Product

Car Insurance
Save time

You can get a quote from one of FNB's partners by filling out the quick and easy online form.

Car insurance options

FNB offers 3 different car insurance options. You can get comprehensive, 3rd party fire and theft or 3rd party only.

Optional extras

You can add car hire or credit short fall insurance to your policy.
Benefits of FNB
Banking - FNB is one of the leading banking institutions in South Africa. This institution is able to offer you options for loans, savings and investments as well as cutting edge foreign exchange solutions as the official partner to Pay Pal.
Digital FNB - FNB offers you completely digital solutions with its innovative app and online banking. Most application and transactions can be done from the palm of your hand or the comfort of your home.
For Business - FNB has been helping small, medium and big business for years. With their expertise and tailor made business solutions they can help any business grow to its full potential.
---
Get affordable car insurance with FNB.
As either a separate cover or as part of your car insurance FNB offers a full roadside assistance cover.
What you get from FNB extends not just to basic car insurance. Car insurance with FNB will provide a personal claims broker to assist you with any claims that need to be made with your car insurance. You will be able to get multiple quotes from trusted and reputable insurance companies. FNB also includes the open driver policy with all insurance options.
They will also offer advice on what to insure on your vehicle and what not to insure, in order to save you valuable time and money. This cover will see multiple things to assist you in the event of a breakdown and in other incidents.
First and foremost the roadside assist will be able to cover you in the event of a breakdown. This will mean FNB car insurance can assist with:
Fuel in the event you have run out
Help to change a tyre
Jump starting your vehicle
Mechanical or electrical issues
Keys locked inside a vehicle or lost keys
Point-to-point pick-up and drop-off services. This is a taxi service that is available with FNB, where you can request a ride to be taken home or to any destination of your choosing as long as both pick-up point and drop-off points are within 50km of each other.
A similar service is offered called Take Me Home which works similarly, the only difference is this acts like an emergency service in the event you are not fit enough to drive your car home. Someone will pick you up and take you home and an added benefit is that another driver will ensure your car makes it home safely too. It is limited to 6 incidents per year.
In the event of an emergency FNB offers a Kiddies cab, which works exactly like the others and will ensure your children make it home safely or to a given destination in the event you could not. This service is also limited to 3 incidents per year and is only available to children under 18 and are a minimum of 6 years old.
Roadside safety support is the last of the benefits of roadside assistance with FNB car insurance. This is for a situation where you have been in an accident or breakdown in an unsafe area. FNB will send out designated personnel to wait with you as you await a towing service for your car. It will also give you a Point-to-Point service to make sure you are home safely.
Added Car insurance perks
With FNB you are able to apply for added services that give you benefits any standard car insurance in South Africa does not provide. Namely scratch and dent cover and something FNB call First Warranty.
First Warranty is an entirely separate option you can pay for at R199 per month. It is car insurance for specific vehicle components. This is mainly used for vehicles after their manufacturer warranty has expired, and will help protect your car's mechanical and electrical parts.
Scratch and dent cover are for the usual accidents that can happen due to acts of malice upon your vehicle or dreaded hailstorms that can cause serious damage to your vehicle. FNB offers this separately at a cost of R99 per month. And up to R3000 per repair done to the body of the car and rims.
FNB Car insurance claims
Claiming with FNB can be done through requesting a call back on the website, the same way you would do to apply for an online insurance quote, or directly calling the claims department on 0860 328 328 (option 4) or via email inbclaims@fnb.co.za. If you have insurance already you can also contact the personal claims broker assigned to you when you opened your comprehensive car insurance policy.
Customer Reviews & Testimonials
"
June 2021
They don't still offer you lots fancy premiums they keep it traditional and simple so you don't have to worry about your beauty on wheels.
Anastacia M
— Brakpan —
March 2021
You can get a quote from FNB car insurance in one click away by filling out the quick and easy online form.
Timothy D
— Cape Town —
November 2021
They offer the cheapest car insurance all around and I'm covered even when its not my car this is really something amazing.
Mandla M
— Durban —
FNB Contact
Contact Number
E-Mail
Website
Physical Address
Simmonds St

Johannesburg

Gauteng

2001

South Africa
Opening Hours
Monday

09:00 – 15:30

Tuesday

09:00 – 15:30

Wednesday

09:00 – 15:30

Thursday

09:00 – 15:30

Friday

09:00 – 15:30

Saturday

09:00 – 11:00

Sunday

– Closed