Leader in insurance
Effortless online application
No hidden costs
In-page navigation
---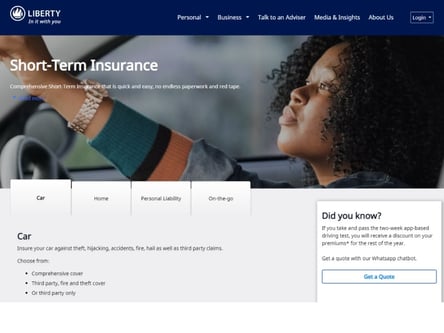 Author Liberty. Screenshot of Liberty website.


[Accessed February 7, 2023]
About Liberty
Within Liberty's products and services, they offer a range of short-term insurance products such as car, home, personal liability, and on-the-go insurance.
These insurance products are centred around improving the lives of its members by creating financial freedom through insurance and investment solutions. Liberty aims to allow its members to reach their financial goals, as well as offer protection for those unforeseen moments where life can create a financial impact, not only to Liberty members but loved ones as well. These policies are classified as short-term insurance because they are taken out only for the period that individuals need them for.
Liberty Car insurance South Africa
With Liberty Short Term Car Insurance in South Africa, one can insure their car for theft, hijacking, accidents, fire, hail as well as third party claims and choose between car insurance options of:
Comprehensive cover
Third-party, fire and theft cover
Third-party only
Liberty Services
When choosing Liberty's Short-Term car insurance in South Africa, one has access to value-added services.
These services are:
Emergency SOS Button - This service provides insured members with the feature of emergency assistance on a 24 hours basis. By simply pressing the SOS button on the Liberty Short-Term Insurance App, a notification will be sent to the emergency support line in the case of a vehicle emergency.
Medical Emergency Services - Liberty provides its members with a team of dedicated medical staff available to assist with medical emergency advice and information. With medical emergency services, car insurance members will receive emergency transportation from their homes to the nearest medical facility. Furthermore, this medical assistance is available to the policy member, their family as well as domestic workers.
Liberty – Car Insurance
Product

Car Insurance
Choose your cover

Liberty car insurance offers you comprehensive car insurance, 3rd party, fire and theft or 3rd party only

Savings

Save up to 30% by passing the in app driving test

Emergency Services

With Liberty you have medical advice available 24/7
Benefits of Liberty
Liberty App - you can use the Liberty app to request an SOS emergency service when you need it most
Calculators - Liberty has helpful calculators on their website to assist you with how much you need to invest and save to reach your goals.
Advisors - Liberty has advisors available to assist you. You can contact them via the website or you can find an advisor in your area to speak to them face to face.
Life cover from Liberty can include disability and critical illness and well as funeral cover
---
Insure your car with Liberty today
Liberty provides a hassle-free claims process and allows members to manage their policy details.
They can also log and track claims on the Liberty Short-Term Insurance App, which is available 24/7. One can also call a Liberty agent directly on 0860 456 789 or +27 (0)11 558 4871. For email, claims can be sent to info@liberty.co.za or faxed to 0861 106 05.
Car insurance benefits
Even more, a reason to choose the best car insurance in South Africa with Liberty, are the additional car insurance benefits. The following benefits can be easily activated and enjoyed:
Discount - Liberty Short-Term Car Insurance Members can save on their vehicle premiums by taking and passing Liberty's App-based driving test. From here, members can qualify for a safe driver discount of up to 30% off their monthly premium.
Uber Drive - Liberty Short-Term Car Insurance Members can earn up to R400 in Uber vouchers per year for participating in the Driver Coaching program. This Driver Coaching program will not negatively impact members' personal Short-Term Insurance premium and individuals can earn R100 directly into their Uber account every time they collectively travel 500km within a three-month period. This benefit can be activated on the Liberty App.
Cheap Car insurance quotes
To get a cheap car insurance quote, one can do so through a mobile device or PC with the Liberty Short-Term Insurance Chatbot, which is a feature made available 24/7 on the Liberty Short-Term Insurance App or website. One can get an online insurance quote quickly and easily with the Chatbot, by simply taking a picture of the licence disc and licence card. One can also download the Liberty Short-Term Insurance App to get access to other special features or chat with a Liberty agent via the web portal.
Furthermore, one can get car insurance quotes, lodge claims, manage a policy, and access emergency assistance through the SOS button on the Liberty App. For those that would like further assistance and questions answered regarding benefits, guarantees, fees, limitations, charges, premiums, or other conditions and associated risk, Liberty can be contacted by the Liberty Call Centre number at 0860 456 105.
Additional short term insurance options
Liberty's Short-Term Insurance additionally offers cover for the categories of home, personal liability, and on-the-go insurance and can be explained as:
Residential Buildings Cover, which covers damage to the house and all permanent structures, fittings, and fixtures, as well as household contents or belongings in the event that they are stolen, damaged, lost or destroyed.
Household Contents Cover, which protects household contents or belongings if they are stolen, damaged, lost, or destroyed. Members can choose from comprehensive cover, fire, storm, earthquake and theft cover, or fire, storm and earthquake cover.
Personal Liability Cover, which offers cover if one is legally responsible to pay compensation for the accidental death, injury or illness to any other person or for damage to the property of any other person.
On-The-Go Cover, which gives one's personal valuables cover for accidental loss or damage outside of the home and these items will be replaced if they are stolen, lost or damaged. These items can be described as watches, sporting devices, and jewelry as well as golf clubs, bicycles, photographic equipment.
Customer Reviews & Testimonials
"
April 2021
Liberty means freedom and that's exactly what you get when you insure with them freedom to adjust your premium as you want and feel that suites you best.
Anika Y
— Benoni —
June 2021
I'm so thankful for liberty for covering me and my wife, she not always a good driver so I had to insure our vehicles.
Vuyio S
— Nelspruit —
December 2020
My car was hi-jacked and in not even a day they found my car and there was no paperwork hassles afterwards.
Lawrence Z
— Mpumalanga —
Liberty Contact
Contact Number
E-Mail
Website
Physical Address
5th Floor, Menlyn Corner, 87 Frikkie De Beer St, Menlyn,

Pretoria

Gauteng

0181

South Africa
Opening Hours
Monday

08:00 – 16:30

Tuesday

08:00 – 16:30

Wednesday

08:00 – 16:30

Thursday

08:00 – 16:30

Friday

08:00 – 16:30

Saturday

– Closed

Sunday

– Closed